18-19 MAI 2015 NEWS: Neve Yaakov - Palmyre - Khousef -
18-19 MAI 2015 NEWS: Neve Yaakov - Palmyre - Khousef -
INSTITUT SUPERIEUR D'ANTHROPOLOGIE
INSTITUTE OF ANTHROPOLOGY
ONLINE COURSES / COURS A DISTANCE
FALL TERM : OCTOBER 2015
REGISTER NOW
ISRAEL –
Neve Yaakov - A wine press used 1,400 years ago was recently unearthed by teenagers in the Neve Yaakov neighborhood in Jerusalem. Local resident Tamar Simon was running with her dog in a nearby wooded area when she noticed the ancient remains. Simon alerted the Israel Antiquities Authority (IAA). The ancient measures 16.4 feet across, is carved out of a boulder, and has a large square treading floor where grapes were laid down and crushed by barefoot workers. The newly extracted grape juice flowed into a square distributing vat through a conduit also carved into the rock. From there, the juice was moved into a collecting vat. Amit Re'em, an IAA archaeologist assigned to the Jerusalem District, noted that the wine press had been excavated with care—but that archaeologists hadn't conducted any dig in that location. When inspecting the site, the archaeologists spotted a teenager who told them enthusiastically that he and his friends are archaeology buffs and had decided to dig out the wine press together. "The story touched our hearts and reminded us of our own childhoods," Re'em said. "However, it's important to know that a non-methodic excavation results in the loss of valuable archaeological information."
http://www.jns.org/news-briefs/2015/5/18/1400-year-old-wine-press-unearthed-by-israeli-teen-archaeology-buffs#.VVnwpd-c08o=
SYRIE –
Palmyre - Syrian government forces are trying to drive back Islamic State (IS) from the ancient ruins and famous World Heritage Site of Palmyra in the Syrian desert. The UN's top cultural official said the IS advance was "very alarming". Islamic State has ransacked and demolished several ancient sites in Iraq. Palmrya has already suffered damage during the Syrian civil war. The Unesco World Heritage site is strategically located on the road between the capital, Damascus, and the contested eastern city of Deir al-Zour. It is also close to gas fields and home to a major airbase. "Islamic State group jihadists are now 1km (less than a mile) from the archaeological site of Palmyra," the director of the Syrian Observatory for Human Rights, Rami Abdel Rahman, told the AFP news agency.
http://www.bbc.co.uk/news/world-middle-east-32756301
IRAN –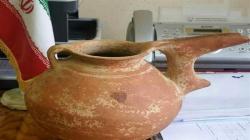 Khousef - Archeologists have identified 238 relics from the Paleolithic Age to the Qajar era in Khousef, South Khorasan province, said the head of an archeology team. Hossein Sediqian added that human settlements in these areas are closely tied to water resources. Based on findings, Khousef has remnants from the Arsacide era," he said. He said the human settlements reached its zenith during the Islamic era. Sediqian noted that the region has been mentioned as Qahestan in historical texts. He further said the archeological excavations in all historical sites in the region from the first human settlements until the end of Qajar era will be registered. "We also intend to draw up an archeology map of the region." The senior archeologist said remnants of ancient mines were identified during excavations in Khousef, which are located in a mountainous region. Sediqian hoped that valuable information will be obtained following excavations in Dokooheh Castle, Khor and Khousef historical sites.