INSTITUT SUPERIEUR D'ANTHROPOLOGIE
INSTITUTE OF ANTHROPOLOGY
ONLINE COURSES / COURS A DISTANCE
WINTER TERM : JANUARY 2016
REGISTER NOW
ISRAEL –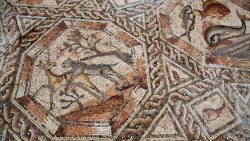 Lod - Israel's antiquities authority on Monday unveiled a 1,700-year-old mosaic floor in the center of the country that archaeologists found last year while building a visitors' center meant to display another mosaic, discovered two decades earlier at the same location. The authority said the newly discovered Roman-era mosaic measures 11 meters by 13 meters (36 feet by 42 feet) and paved the courtyard of a villa in an affluent neighborhood that stood during the Roman and Byzantine eras. The scenes include hunting animals, fish, vases and birds. The new mosaic was found just a few meters (yards) from the first one, in what is today the city of Lod. The authority said the mosaic discovered in the 1990s covered the villa's living room while the newly discovered one was in its courtyard.
http://www.timesofisrael.com/israel-uncovers-new-mosaic-as-it-builds-visitors-center-for-earlier-find/?
FRANCE –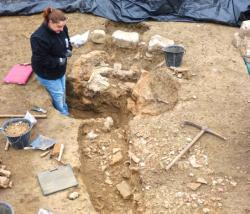 Montans - Depuis un mois, dans le cœur historique du village de Montans, des archéologues s'affairent, interrogeant le sous-sol. Plusieurs structures de la protohistoire à la période médiévale ont été mises au jour
http://www.ladepeche.fr/article/2015/11/15/2217668-visitez-le-chantier-archeologique.html
ROYAUME UNI – Manchester - At least 277 bodies have been discovered by railway workers updating a tram line in Manchester. The giant cemetery - believed to date from the 18th century - was found by construction workers working on the Metrolink expansion in the city centre. Previously experts and archaeologists studying the site who had studied Manchester's public records had expected to find fewer than 130 burials.
http://www.independent.co.uk/news/science/archaeology/nearly-280-bodies-have-been-discovered-under-a-tram-line-in-manchester-a6736041.html
INDE - Mahipalpur - Mahipalpur village in south Delhi is home to a number of historical monuments. However, over the centuries, most of these buildings have either been obliterated or reduced to ruins. But, in the heart of this village still stands a Tughlaq-era mahal that has survived the test of time. The 14th century monument is testimony to the village's legacy of being one of the oldest in the city. The mahal, with its three broad arches and sandstone pillars, stands proudly in a corner but is capable of drawing many visitors, if only they were aware of its existence and location. While the exact history of the mahal is unclear, the most popular theory is that it is one of the oldest structures in Mahipalpur and has been attributed to the Tughlaq period based on its architecture. It is believed to have been originally built as a hunting lodge but locals claim it was constructed by a famous zamindar called 'Mahipal' after whom the area is named. The Tughlaq-era theory possibly stems from the existence of a 'bund' close to the mahal built by Firoz Shah Tughlaq to retain water flowing in from neighbouring areas. "The mahal is located on the highest point in the village which indicates it was an important building. Like other structures from this period, the building has walls with tapered ends, dressed sandstone pillars, carved brackets with a 'chajja' above and vaulted ceilings. One of its most unique features, however, is the stone railing at the parapet level which can only be found elsewhere at Firoz Shah's tomb in Hauz Khas," said an expert. At one point, the monument served as a makeshift school run by the village panchayat. Today, it is used as a godown for construction material or for parking. Many stray animals have also made it their home.
http://timesofindia.indiatimes.com/city/delhi/In-South-Delhi-a-14th-century-palace-in-ruins/articleshow/49794888.cms
CHINE –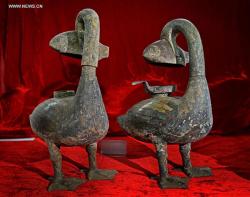 Nanchang - Chinese archaeologists excavating a noted Western Han Dynasty (206 BC - 24 AD) cemetery in East China's Jiangxi Province have unearthed two 2,000-year-old bronze lamps that can "swallow" smoke. The lamps are both the shape of a goose catching a fish in its mouth. The light is attached to the fish. Smoke emitted during the burning of wax can enter the bird's body via an intake on the fish, travel through its neck and be dissolved by water stored in its hollow belly, Xin Lixiang, who leads the excavation team, told Xinhua on Thursday.The Han Dynasty was the heyday for Chinese bronze lamps, but such smoke-absorbing designs were probably affordable only by high nobles. The two lamps were found in September in the tomb of "Haihunhou" (Marquis of Haihun). Located near provincial capital Nanchang, the Haihunhou cemetery is the most complete Western Han Dynasty cemetery ever discovered in China. It covers roughly 40,000 square meters and contains eight tombs and a burial site for horses used to pull chariots.
http://europe.chinadaily.com.cn/culture/2015-11/13/content_22447425.htm