17 JUILLET 2015 NEWS: Dorset - Oxford - Mitchell - Adana - Almus -
17 JUILLET 2015 NEWS: Dorset - Oxford - Mitchell - Adana - Almus -
INSTITUT SUPERIEUR D'ANTHROPOLOGIE
INSTITUTE OF ANTHROPOLOGY
ONLINE COURSES / COURS A DISTANCE
FALL TERM : OCTOBER 2015
REGISTER NOW


ROYAUME UNI –
Dorset - A scorched mound hanging from a Dorset cliff could have burnt during ritual feasting 3,000 years ago, say experts who have narrowly managed to examine the Bronze Age feature before its destruction by coastal erosion. Local archaeologist Anthony Pasmore spotted the mound disappearing into soft sands and clays as part of a cliff face near Seatown. Buried beneath more than a metre of sand and soil, the decay has made it slightly more visible. "This is the first burnt mound found in West Dorset," says Martin Papworth, the National Trust's regional archaeologist. "They are more common in the Midlands but nobody is sure what they were used for. "We don't know if this burnt mound was something used for ritual feasting, a sweat lodge or an industrial site but we hope to find enough clues to shed a little more light on it. "We'll take samples as we dig down through it to understand it better." Sections be radiocarbon dated alongside pollen which could show whether the original position of the mound was in a wooded or grassy area.
http://www.culture24.org.uk/history-and-heritage/archaeology/art531974-burnt-mound-discovered-by-archaeologist-on-dorset-cliff-could-have-been-used-in-bronze-age-ritual-feasts
ROYAUME UNI –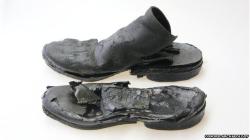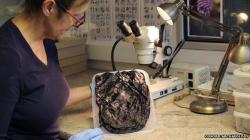 Oxford - "Rare and exciting" leather and wooden objects 700 years old have been found at an archaeological dig in Oxford. Experts uncovered 50 medieval leather shoes and a bag as well as a wooden bowl and timber posts at the Westgate Shopping Centre excavation. The objects which "tell us about everyday people" have been so well preserved because the Thames floodplain area is below the water level. Timber posts used to stabilise muddy stream banks and a sluice gate have also been found.
http://www.bbc.co.uk/news/uk-england-oxfordshire-33539442
USA –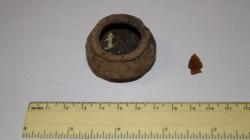 Mitchell - For the first time since 1928—when regular research started at the Mitchell site—archeology experts have found a ceramic vessel, or a small pot, that remains intact. Previously, every other piece of pottery found at the site has been crushed or broken at the time of discovery. The pot is tiny, measuring only a few inches wide and it will require further testing. The village will send it to Bristol, England, for residue testing, which might give a clue as to what the pot was used for. That process could take several months. She said the small size of the item could have been one of the reasons it has stayed as one piece after an estimated 1,000 years.
http://www.mitchellrepublic.com/news/local/3785040-indian-village-researchers-find-pot-completely-intact
TURQUIE –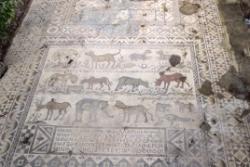 Adana - A 120 square meter (1,300 square feet) Byzantine mosaic dating back to the 5-6th cc. A.D. containing a Bible verse in Greek as well as depictions of various animals living together in peace was discovered at an archeological dig in Turkey's southern province of Adana. The mosaic depicts 16 wild and domestic animals, including a wolf, sheep, leopard, goat, bull, lion, bear and snake, peacefully living together, sleeping side by side, sharing food and grazing, Turkish BGN News reports. Near the depiction of animals co-existing peacefully, there is a Bible verse written in Greek, Isaiah 65:25: "The wolf and the lamb shall feed together, and the lion shall eat straw like the bullock: and dust shall be the serpent's meat. They shall not hurt nor destroy in all my holy mountain, saith the Lord." The mosaic was recently discovered at an archeological dig on private property by the Ministry of Culture and Tourism's Cultural Assets Directorate and the Adana Museums Directorate in the Karlık neighborhood of Adana's Sarıçam district. The mosaic has been transferred to the laboratory department at the 10,000 square meter museum complex at Adana's historic National Textile Factory for further study.
http://www.panarmenian.net/eng/news/194922/?
BULGARIE –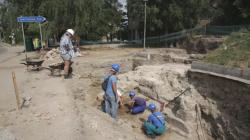 Almus - Bulgarian archaeologists carrying out rescue excavations in the Ancient Thracian and Roman, early Byzanine, and medieval Bulgarian city of Almus, whose ruins are located in today's Danube town of Lom, have discovered one of its gates. The rescue excavations at Almus have been staged after part of its fortifications, more specifically, part its of western fortress wall, has been stumbled upon during construction works for therehabilitation of Lom's water supply and sewerage system. Almus, originally a Thracian settlement, was a Roman city in the 1st-5th century AD, and was later an important settlement in Early Byzantium, the medieval Bulgarian Empire, and the Ottoman Empire. It has been excavated only partly, and none of its archaeological structures have been restored.
http://archaeologyinbulgaria.com/2015/07/14/bulgarian-archaeologists-discover-gate-of-ancient-roman-city-almus-in-danube-town-of-lom/