INSTITUT SUPERIEUR D'ANTHROPOLOGIE
INSTITUTE OF ANTHROPOLOGY
ONLINE COURSES / COURS A DISTANCE
FALL TERM : OCTOBER 2013
REGISTER NOW 
JAPON –
 Horikawain - A traditional composition called "irohauta" that was used in writing practice has been found on an ancient pottery dish that was unearthed here 30 years ago, in what is thought to be the oldest, largely legible example of writing practice in Japan. The dish was unearthed in 1983 from the site of Horikawain, a residence that belonged to the noble Fujiwara family, and is dated to the late 12th to early 13th centuries, according to the Kyoto City Archaeological Research Institute. Until recently, it was being been kept in storage and had not been carefully examined. Last year, a piece of pottery unearthed from the remains of the residence of Heian-period noble Fujiwara no Yoshimi, situated around one kilometer west of Horikawain, was identified as having possibly the oldest example in Japan of hiragana writing script. The Kyoto City Archaeological Research Institute took the opportunity to revisit a database of around 90,000 photos of artifacts from Kyoto's period as a capital, which led to the discovery of the writing on the dish. The clay dish measures nine centimeters wide and is 1.5 centimeters deep. The irohauta writing is on the back. Ten of the 47 characters in the composition are difficult to make out, and four are missing, but the rest are comparatively legible. The writer, who researchers speculate was a child, appears to have run out of space and returned to the beginning to write the last line of the composition.
http://mainichi.jp/english/english/newsselect/news/20130701p2a00m0na002000c.html 
ROYAUME UNI –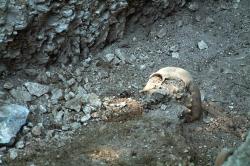 Salisbury - Operation Nightingale is currently in its second of three stages of excavation work at Barrow Clump. Current work centres around a Saxon cemetery dating back to the 6th Century AD. So far objects unearthed include a spear, shield, gold leaf brooches and beads. The team has also uncovered around eighteen skeletons thought to be men, women and children from the Anglo Saxon period.  DIO and Defence Archaeology Group worked with The Rifles and a number of other units to give injured Military Personnel the opportunity to learn a series of excavation, land survey, drawing and mapping techniques.
http://www.heritagedaily.com/2013/07/soldiers-on-the-award-winning-operation-nightingale-discover-a-saxon-spear-shield-and-burials/
ITALIE –
Vulci - During excavations at the Vulci Archaeological Naturalistic Park north of Rome, archaeologists have revealed an Etruscan tomb, dating to the late 7th century BC. The tomb, which is believed to have been that of a woman, contained intact grave goods, such as painted beads, an iron fibula, jars and a bucchero in Corinthian style. The Naturalistic Archeological Park of Vulci is spread over a scarcely inhabited section of the Tuscan-Lazio Maremma, between the villages of Montalto di Castro and Canino. Vulci was an economically thriving centre thanks to commercial contacts with Greece and the East that influenced its culture. It reached its peak between late 7th century BC and during the entire 6th century BC, when numerous stone, bronze and pottery workshops flourished. The remains from both the Etruscan phase and the period of Roman domination are in good condition. The park contains an Etruscan and Ancient Roman city, and necropolis. Excavations at the site are ongoing. Archaeologists hope they will discover more finds in order to build a picture of the daily life of the Etruscans and their burial practices. The grave goods have been transferred to a laboratory in Montalto di Castro for restoration.
http://www.archaiologia.gr/en/blog/2013/07/17/etruscan-tomb-revealed-in-vulci/
ROYAUME UNI –
 Royston - A project to search for signs of the earliest inhabitants of Wimpole Estate will get under way. Most of the test pits will be on sites where abandoned houses are shown on a map of 1638, to try to find evidence for the years they were occupied and to tell the story of the people who lived there. Others will be in a field where finds from fieldwalking, metal detecting, resistivity surveying and research suggest earlier occupation.
http://www.cambridge-news.co.uk/Royston/Archaeologists-on-hunt-at-Wimpole-Hall-20130717092047.htm 
ROYAUME UNI –
 Long Bredy - The bones from what could be three prehistoric bodies have been dug up in West Dorset.  The bones from the three adults were found during work to put in a new septic tank at the National Trust cottage Golly Knapp in Long Bredy. Another expert will look and see if a fuller picture of how many people are buried there and then the bones will be carbon dated.  From the position they were found Mr Bellamy thinks they are likely to be pre-historic and buried crouching - which makes them very early burials. While at the moment a lot is idle speculation he said, Mr Bellamy has discounted as unlikely the bones were Christian or belonged to murderers or suicides.  He said: "If the bones were out straight they were likely to be placed north south which makes them less likely to be Christian, especially as there is a church just up the road. "It is not the sort of place where murderers and suicides would be as they tend to be placed on parish boundaries."
http://www.dorsetecho.co.uk/news/10553143.Mystery_bodies_unearthed_in_West_Dorset/ 
SYRIE –
  Homs - Protect Syrian Archaeology posted photographs on its Facebook page [en, ar] and videos on YouTube, recording the moment the historic Khalid ibn al-Walid mosque (7th century) was bombed in Homs, Syria. This 5-minute video takes you inside the mosque as a fire rages in some parts of the building and this 8-minute video captures destruction from outside, with smoke rising from the building:
http://globalvoicesonline.org/2013/07/16/historic-khalid-ibn-al-walid-mosque-bombed-in-syria/ 
ROYAUME UNI – Manuden - An archaeological dig at Manuden has unearthed pieces of Anglo Saxon pottery – the first time any of its kind has been discovered in Essex. "We found numerous pieces of medieval pottery, oyster shells, worked flints, and part of a sword belt hilt circa 16th century, but our most significant finds were pieces of Anglo Saxon pottery," said Fiona Bengtsen, chairman of Manuden and Berden History Society. "Anglo Saxon pottery is notoriously difficult to find and although we know that Manuden is an Anglo Saxon village by its field names this is the first time we have been able to prove it. It is also a first for Essex.  "Even in the whole of Cambridgeshire, Suffolk and Norfolk where the Higher Education Field Academy operate these digs Anglo Saxon finds are very scare and scattered, so, we are delighted with the results." The pieces of Anglo Saxon pottery were found in a pit dug deeper than the standard one metre. A 19th century Army badge was discovered in a test pit off The Street, and the 1500 to 1700 copper alloy sword belt fitting was unearthed on the outskirts of the village at the site of a former Tudor hunting lodge.
http://www.hertsandessexobserver.co.uk/News/Uttlesford/Scarce-Anglo-Saxon-pottery-unearthed-at-Manuden-20130716143431.htm 
CHYPRE –
 - According to an announcement from Walk of Truth, "some of the world's finest religious art, recovered through a unique police sting operation in 1997, were finally restored to the people of Cyprus by the German authorities.  "The objects are part of a cache of thousands of mosaics, icons and other cultural objects which were found in the possession of Aydin Dikmen, a Turkish-born art dealer, during and after a police raid on his Munich apartment on October 10, 1997.  "Most of these objects had been looted from churches in the Turkish-occupied north of Cyprus in the wake of the island's invasion in 1974. Their discovery followed a sting operation carried out by 70 officers of the Bavarian police and Walk of Truth's founder, Mrs Tasoula Hadjitofi, who was acting for the Church of Cyprus. The operation also involved Michel van Rijn, a Dutch art dealer who acted as an intermediary.  "The objects which they recovered had been stolen from many Cypriot sites. They included a mosaic hacked from the walls of the sixth-century Kanakaria church, one of the oldest surviving places of Christian worship, and frescoes from the medieval Antiphonitis church which depict the ancestry of Jesus Christ. The art works have remained in the custody of the Bavarian police for the last 16 years, pending the outcome of legal battles over their fate. In March, a German court finally ruled that more than 170 of the looted objects definitely belonged to the churches of Cyprus, clearing the way for their restitution.
http://www.archaiologia.gr/en/blog/2013/07/17/religious-artifacts-finally-returned-to-cyprus/