INSTITUT SUPERIEUR D'ANTHROPOLOGIE
INSTITUTE OF ANTHROPOLOGY
ONLINE COURSES / COURS A DISTANCE
WINTER TERM : JANUARY 2016
REGISTER NOW
ROYAUME UNI –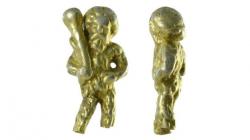 Woodbridge - A 500-year-old artefact is one of the earliest depictions of a mythical figure from medieval Europe, an expert has claimed. Metal detectorists found the spoon handle with an engraving of "Wild Man" near Woodbridge in Suffolk. A leading historian has hailed the discovery as a "rare find". Some of the earliest writings about The Wild Man come from Spain in the 9th Century and he was described as "barbaric, chaotic and unrestrained". Covered in leaves and brandishing a club, the hairy Wild Man was a popular medieval mythical figure mostly found in pictures and literature rather than on objects.
http://www.bbc.co.uk/news/uk-england-suffolk-35050026
PAKISTAN –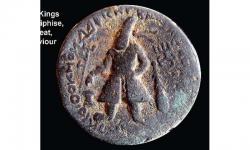 Ban Faqiran - The Federal Department of Archaeology has discovered coins and arrowheads dating back to the 1st century AD at the site of a Buddhist stupa that dates back to somewhere between 200 to 500 AD in Taxila. The discoveries were made during excavations in a remote part of the Margalla Hills. The archaeology department director general, Mohammad Arif, told Dawn at the site on Tuesday that the stupa and monastery were from the Kushan period, between 200 and 500 AD. The stupa is locally known as Ban Faqiran. It is located about two kilometres from the Giri Buddhist monastic complex in Taxila valley. He said remains of the complex were scattered around a 1,000 square metre area on a hilltop. According to Mr Arif six copper coins and four iron arrowheads have been recovered during the excavations. He said the preliminary study revealed that five coins belonged to the 1st century AD, while one to the 1st century BC. Mr Arif said the exposed architecture of the stupa presented the semi ashlar and diaper masonry of the kind used in the reconstruction of the Dharmarjika Stupa in Taxila, which dated back to the 3rd century AD.
http://www.dawn.com/news/1226642/1st-century-ad-coins-arrowheads-discovered
TURQUIE -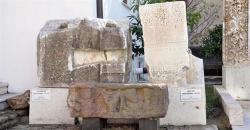 Ereğli - Officials from the Ereğli Museum Directorate have found a nearly 2,000-year-old and 100-kilogram wall frieze in a village in the Ereğli district of Zonguldak province in northern Turkey. The frieze is a sculptured stone depicting a number of figures and is around one meter long. "It may be a piece from a one-ton wall frieze that was found by an engineer in December 2013 and is currently on display at the Ereğli Museum," museum director Ahmet Mercan said. Mercan added that the historic artifacts did not draw the attention of locals in the village up to now. "But now we will display it alongside the other wall frieze," he said.
http://www.hurriyetdailynews.com/ancient-wall-frieze-found-in-zonguldak-.aspx?pageID=238&nID=92564&NewsCatID=375
TURQUIE –
Amos - Excavations are soon set to start on the 2,200-year-old Amos, one of the most important ancient cities in the southwestern province of Muğla's Marmaris district. Baysal said they planned to start excavations next fall. "The ancient city of Amos has never been excavated. One of the most important cities of the Union of Rhodes, Amos means "the Goddess Temple" in a dialect of Ancient Greek. Known as Samnaios in the Hellenistic era, Apollon was considered the leading god of the city. The city is surrounded by 1.8-meter-thick and 3.5-meter-high walls and towers. The city, whose most important surviving structure is a theater, was settled from the Hellenistic era until the Eastern Roman era. The ancient city also has terraces where the coves around the area can be seen, together with the sunrise and sunset.
http://www.hurriyetdailynews.com/excavations-to-start-in-city-of-amos-for-the-first-time.aspx?pageID=238&nID=92562&NewsCatID=375
ARMENIE –
Ererouyk - Sitting on a rocky plateau close to the Turkish‐Armenian border, Ererouyk was once one of the most important centers of worship in the region. Despite some restoration works undertaken in the last two decades, the 6th century basilica remains highly endangered. The surrounding archaeological area is at risk of being lost before it can be comprehensively studied. The Centre of Studies and Documentation of Armenian Culture in Italy (CSDCA), which made the nomination for 'The 7 Most Endangered' 2016, proposes a multidisciplinary project in order to study and rehabilitate the site and the establishment of a transnational archaeological park along the Akhurian River.
http://asbarez.com/142942/archaeological-site-and-village-in-armenia-among-europes-most-endangered/