17 DECEMBRE 2014 NEWS: Hampi - Qingyang - Roche - Tonto - Rome -
17 DECEMBRE 2014 NEWS: Hampi - Qingyang - Roche - Tonto - Rome -
INSTITUT SUPERIEUR D'ANTHROPOLOGIE
INSTITUTE OF ANTHROPOLOGY
ONLINE COURSES / COURS A DISTANCE
WINTER TERM : JANUARY 2015
REGISTER NOW
INDE –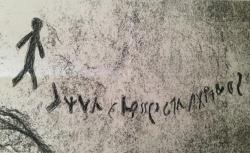 Hampi - "On the goddess Kotamma temple woollen market way there is a rocky roof shelter for shepherds and sheep to stay at night up to morning." This innocuous sounding statement could actually be a revolutionary find linking the adivasi Gond tribe to the Indus Valley civilisation, which flourished between 2500 B.C. and 1750 BC. The sentence emerged after a set of 19 pictographs from a cave in Hampi were deciphered using root morphemes of Gondi language, considered by many eminent linguists as a proto Dravidian language. Eleven of the Hampi pictographs resemble those of the civilisation, according to Dr. K.M. Metry, Head and Dean, Social Sciences, Kannada University, Hampi; Dr. Motiravan Kangali, a linguist and expert in Gondi language and culture from Nagpur, Maharashtra; and his associate Prakash Salame, also an expert in Gondi. "Gondi is a proto Dravidian language and gives enough scope for studying the pictographs though its root morphemes," observed Dr. Kangali. "Application of the root morphemes helped us in deciphering the 19 pictographs," he added. If the discovery stands the scrutiny of experts in the field, it would mean that the Gonds living in central and southern India could have migrated from the Indus Valley civilisation. "Meanwhile, we will continue with our work applying it to other paintings in the Hampi area to establish a Gondi-Harappan link," the Professor said.
http://www.thehindu.com/news/national/telangana/gonds-may-have-migrated-from-indus-valley/article6698419.ece?
CHINE - Qingyang - More than 80 stone Buddha statues and statue fragments were unearthed in southwest China's Sichuan Province, archaeologists said on Tuesday. The red sandstone statues were found in a 500-square meter plot near the ancient walls in Qingyang District, Chengdu, the provincial capital, according to the Institute of Archaeology in Chengdu. Dating estimates have put ages of the finds to be from around the Northern and Southern Dynasties (420-589) to the Tang Dynasty (618-907), the peak of China's stone Buddha statue art, said Yi Li from the institute. This discovery will contribute to research on religious art in China. The statues have been sent to be restored. In addition, porcelain, pottery, building material and coins were also found during the excavation.
http://www.china.org.cn/china/2014-12/16/content_34333724.htm?
ROYAUME UNI – Roche - A treasure hunter who found a rare piece of Bronze Age gold strap in a farmer's field in Roche (Cornwall, England) thought he'd initially unearthed a worthless piece of brass. Shane Swanson uncovered the jewellery in a gully in gravelly clay in a field, around 8in below the surface. Mr Swanson found it in March 2013 but an inquest to decide whether it was indeed treasure was only held at Truro Coroners' Court. He said he had been scanning the field for around two and a half hours when he came across the gold strap: "I thought it was a piece of brass," he said. "I put it in my pocket and carried on. I took it home later and washed it and wondered exactly what it could be." He then contacted Anna Tyacke, finds liaison officer at the Royal Cornwall Museum, who confirmed that it was gold and it was then sent off to the British Museum for further analysis. The strap is around 95mm in length and around 10mm wide. It is 86 to 88 per cent gold and weighs just over 5g. The inquest heard the British Museum was interested in acquiring it, although it has yet to be valued. The owner of the land is entitled to 50 per cent of any money received by Mr Swanson once a price is agreed. However, Mr Swanson said the money was not important and he would rather have kept it for his collection. "If it just gets put away in a drawer and is never seen then that would be a shame," he said. Dr Emma Carlyon, coroner for Cornwall, concluded that the item should be classified as treasure.
http://www.cornishguardian.co.uk/news
USA –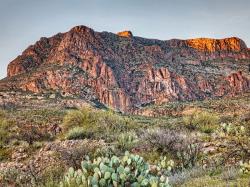 Tonto National Forest - What is at stake is a landscape that has remained essentially unchanged, except for a few modern roads, since the Hohokam people lived there more than 500 years ago, says J. Scott Wood, an archaeologist for the Tonto National Forest. The area was once a trade center where the Hohokam exchanged goods from as far away as the Pacific Coast. It also preserves a full range of Apache archaeological sites, which are rare. Little is known about Apache history prior to contact with Europeans. The most important historic site is called the Apache Leap, where a group of Apache who were being pursued by U.S. cavalry plunged off a cliff to their deaths rather than be captured. The land exchange rider exempts Apache Leap from becoming part of the copper mine, but it's right next door, says Vernelda Grant, who is the tribal historic preservation officer for the San Carlos Apache Tribe. She says that having a working copper mine next to the site will change how people experience it. The same holds true for other culturally sensitive sites nearby, such as a place called Devil's Canyon "where the spiritual beings that represent healing live," Grant says. "We have songs and ceremonies that are sung there—it's a place to just pray and pray for healing."
http://news.sciencemag.org/archaeology/2014/12/planned-arizona-copper-mine-would-put-hole-apache-archaeology
ITALIE -
 Rome - The calendar of feast days imposed by Rome's first emperor to reconcile the public and private spheres is at the centre of the closing exhibition in the programme of events to mark the 2,000th anniversary of Augustus' death this year. 'Revolution Augustus. The emperor who rewrote time and the city' runs at the Museo Nazionale Romano in Palazzo Massimo near Termini train station until June 2, 2015. "It is an exhibition on the calendar that Augustus manages to impress upon the city," explains archaeological superintendent Mariarosaria Barbera. "In his role as Pontifex Maximus the emperor took up certain novelties introduced by Caesar in 46 BC and mastered time to create an insoluble link between the public feast days of the empire he was founding and the private festivities of the imperial family," she continued. Other events marking the bimillennium of the death of the great statesman, military commander, diplomat and reformer have included the reopening of the basilica Julia in the Roman Forum, two houses on the Palatine hill and the Villa of Livia at Prima Porta. Augustus ruled the ancient Roman empire for 41 years from 27 BC until his death in 14 AD. His reign ushered in an era of relative peace known as the Pax Romana (The Roman Peace), during which the Roman world was largely free from large-scale conflict for more than two centuries. Among his many monuments in Rome is the Ara Pacis Augustae (Latin for Altar of Augustan Peace, commonly shortened to Ara Pacis), commissioned by the Roman Senate in 13 BC and dedicated to the Roman goddess of Peace in honor of Augustus' return to Rome after a three-year military campaign in Spain and France.
http://www.ansa.it/english/news/lifestyle/arts/2014/12/16/augustan-revolution-at-centre_30082356-19c6-4946-b1ce-34fb0ccb1739.html?