17 AVRIL 2014 NEWS: Simav - Pompéi - Brighton - Bletchley Park - Pulau Nangka - Famagouste -
17 AVRIL 2014 NEWS: Simav - Pompéi - Brighton - Bletchley Park - Pulau Nangka - Famagouste -
INSTITUT SUPERIEUR D'ANTHROPOLOGIE
INSTITUTE OF ANTHROPOLOGY
ONLINE COURSES / COURS A DISTANCE
SUMMER TERM : JULY 2014
REGISTER NOW
TURQUIE –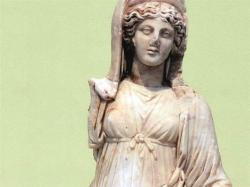 Simav - A Greek statue has been found during an illegal excavation in the western province of Kütahya's Simav district. The statue, which is 610 kg in weight and 2.8 meters in height, is assumed to be in the image of the goddess Demeter, mentioned in Greek mythology. The head of the statue was not in the area during the raid, but it was later found in a house in the Hisarardı neighborhood in the city center. The altar of the statue was also seized during the operation. The statue is thought to be the figure Demeter, known as "one of the wives of Zeus, the goddess of agriculture, abundance, seasons and motherly love." 
http://www.hurriyetdailynews.com/goddess-statue-found-in-illegal-excavations.aspx?pageID=238&nID=65131&NewsCatID=375
ITALIE –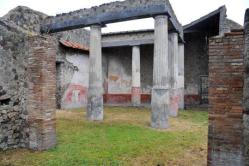 Pompéi -  Culture Minister Dario Franceschini was attracting Easter visitors by inaugurating three restored domus (houses) at the ancient archaeological site of Pompeii on Thursday.The domus are those of Marcus Lucretius Fronto, Romulus and Remus, and Trittolemo, according to a statement by the office of the special superintendent for archeological heritage in Pompeii, Herculaneum and Stabia.The domus of Romulus and Remus and Trittolemo "were aristocratic houses," said Superintendent Massimo Osanna."They're near the entrance and also the large sanctuaries of Venus and Apollo". Both were badly damaged during World War II bombing raids and have never been open to the public. The domus of Marcus Lucretius Fronto, a prominent politician during the second century AD, was opened "because it did not require a great amount of resources," added Osanna. All three domus are open to the public through May 1, when a personnel agreement with labor unions expires.
http://www.ansa.it/english/news/lifestyle/arts/2014/04/17/three-restored-pompeii-domus-unveiled_90f2b9bf-791f-4df7-acf2-6b736931b206.html?
ROYAUME UNI - Brighton -Indiana Jones wannabes can dust off their trowels in an archaeological expedition aimed at delving deeper into 5,500-year-old remains in Brighton.Thanks to a £99,300 grant from the Heritage Lottery Fund, local residents are being encouraged to work with professional and skilled volunteers in finding out more about Whitehawk Hill. The aim is to focus on the collection of objects excavated from the Neolithic site in the 1920s and 1930s. Experts believe the land, near Brighton racecourse, used to be used for ritual ceremonies 500 years before Stonehenge was created. It is also thought to be one of Britain's first farming communities.
http://www.brightonandhovenews.org/2014/04/17/archaeological-dig-planned-at-whitehawk-hill/28938?
ROYAUME UNI –
  Bletchley Park - Foundations believed to be of a house that predated the iconic Mansion at Bletchley Park have been found as part of the £8 million Heritage Lottery Funded restoration at the codebreaker HQ. Water Hall was built in 1711 but by the late 18th century it had fallen into disrepair and was demolished by 1806. A section of in situ bricks were found during the digging of trenches for electricity cables to power soundscapes; part of the highly atmospheric interpretation of the parkland.
http://www.mkweb.co.uk/News/Foundations-of-18th-century-house-found-in-exciting-discovery-at-Bletchley-Park-20140417135109.htm?
MALAISIE –

 Pulau Nangka - The treasure hunt at Pulau Nangka takes an interesting turn as one of the companies commissioned to search for the relics reports finding some in a cave. However, the nature of these relics have not been divulged and it is not known if these finds will be systematically recorded. Hundreds of relics in Pulau Nangka have been sighted in a cave that is believed to have been used as a hideout for Sultan Mahmud when he fled from the Portuguese armada that invaded Malacca in 1511. One of the companies given a state government approval to survey and gather pictorial evidence of the treasures hidden in the little island, 17km from here, said they have sighted hundreds of relics inside the cave. Smart Partnership International (M) Sdn Bhd director Mohammad Fuad Khushairy Mohd Said revealed that his team used state-of-the-art scanning technology and geo-technical methods to sight the treasure.
http://www.thestar.com.my/News/Nation/2014/04/17/Hundreds-of-relics-sighted-inside-cave-Quantity-and-value-yet-to-be-determined/
CHYPRE –
 Famagouste - Restoration work on the Othello Tower in the Turkish-occupied Cypriot city of Famagusta will begin in the next few days, according to Takis Hadjidemetriou, chairman of the Joint Technical Committee on Cultural Heritage. The Othello Tower built by the Venetians in 1496 above the gates of the eastern coastal wall in the old town of Famagusta. The restoration project is one of the largest that the committee, comprised of both Greek and Turkish Cypriots, has ever undertaken, and will be funding by the committee's savings from previous European Commission grants.
http://greece.greekreporter.com/2014/04/15/famagustas-othello-tower-to-be-restored/