INSTITUT SUPERIEUR D'ANTHROPOLOGIE
INSTITUTE OF ANTHROPOLOGY
ONLINE COURSES / COURS A DISTANCE
SUMMER TERM : JULY 2014
REGISTER NOW
PEROU –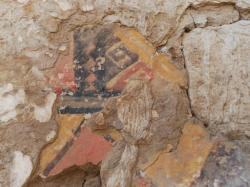 Tambo Colorado  - Archaeologists working at the Tambo Colorado archaeological complex in the Pisco province of Ica have discovered a multicolored geometric mural created before the arrival of the Spanish in Peru. Andina news agency reports that the mural (part of which is pictured above) consists of a geometric design in red, black, and yellow, colors which are also seen in other parts of the Tambo Colorado complex.. Archaeologists say that the recent find is an example of the "Chincha-Inca" style. According to Andina, the mural was discovered under a lay of white plaster, which may indicate that the mural's creators intentionally covered it in order to protect their work from the Spanish. The white plaster could also have been applied for symbolic or protective reasons, Andina reports. Investigators at the site hope to know more as the excavation progresses. Andina reports that investigations at the site are planned to continue for the next five months. Mural conservation specialists from the Huaca de la Luna in La Libertad will assist with the investigation, as will a number of local women from the small towns around the complex.
http://www.peruthisweek.com/news-archaeologists-discover-pre-hispanic-mural-in-southern-peru-102982
AUSTRALIE –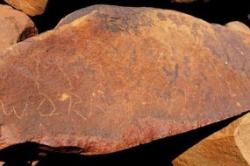 Burrup - Rock art in Western Australia's Pilbara region believed to be up to 60,000 years old has been attacked by vandals. Tourist guide and Ngarluma man Clinton Walker said he had discovered a defaced piece of rock art on the Burrup Peninsula in Murujuga National Park. The Burrup Peninsula is home to the world's biggest collection of Aboriginal rock art and gained national heritage listing in 2007.
http://www.abc.net.au/news/2014-05-14/ancient-rock-art-being-defaced-in-pilbara/5450424/?site=indigenous&topic=latest