INSTITUT SUPERIEUR D'ANTHROPOLOGIE
 INSTITUTE OF ANTHROPOLOGY
ONLINE COURSES / COURS A DISTANCE
 INSCRIPTION : Année Universitaire 2012/2013
   REGISTRATION : Academic Year  2012 / 2013
AUTRICHE –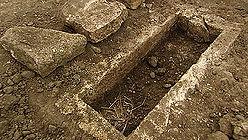 Schützen am Gebirge -  Builders digging up land for a bypass at Schützen am Gebirge in Burgenland have unearthed a child's grave dating back to Roman times. Archeologists say that the tiny grave surrounded by heavy stones had been undisturbed until it was found by the road workers, and that it dated back to the first century after Christ. They said the grave still had pottery and glass items inside which in many other cases had been stolen by grave robbers. Archeologist Kurt Fiebig from the organisation PannArch that is doing the dig said: "It was a child's grave, which unusually for the time was a whole body burial and not a cremation. We have found milk teeth in the skull that will help us identify the age of the body."The team said they had also found another grave nearby and what was the foundations of a house. The second grave however had already been plundered.
http://austrianindependent.com/news/General_News/2012-10-15/12400/Baby_grave_found_by_builders
SUEDE –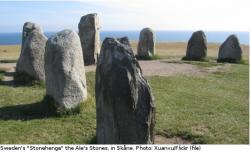 Ale - Swedish archaeologists have unearthed what is presumed to be a dolmen, or a portal tomb, that is believed to be over 5,000 years old near the megalithic monument Ale's stones in southern Sweden. "The findings confirm what we have believed; that this has been a special place for a very long time," said archaeologist Bengt Söderberg to news agency TT. On Saturday, the first day of the dig, the scientists already had a hunch that they would find something on the site, expecting a Stone Age grave and a Bronze Age monument. And since, the hunch has become stronger. Despite a few days of rain, the archaeologists have managed to uncover enough of the site to see that what they have found is like to be a dolmen, a type of megalithic tomb, most often consisting of three or more upright stones supporting a large flat horizontal capstone. "It doesn't have to be a chieftain buried here, it could be a wealthy farmer," said Söderberg to local paper Ystads Allehanda.  According to reports, the archaeologists have found what they believe is an imprint of the tomb, which must have consisted of very heavy rocks as the impression was solid. The archaeologists have also found what they believe to be the wall imprints. The archaeologists have also found what they believe to be the wall imprints. "The imprints are very clear. Our hypothesis has definitely become more likely. This dig has all the recognizable components," said Wallebom. While digging up the barrow, the archaeologists also found a flint scraper tool. "It is a standard tool from the stone-and bronze age," said Söderberg to Ystads Allehanda. According to the experts, a full excavation would be necessary in order to get a full view of what is buried on the site. The Ale's Stones (Ales stenar) is a megalithic monument sometimes referred to as "Sweden's Stonehenge" and located about 10 kilometres southeast of Ystad in Skåne overlooking the sea in southern Sweden. The site consists of 59 large sandstone boulders weighing about 1.8-tonnes each and arranged in the shape of a 67-metre long ship.According to Scanian folklore, a legendary king named King Ale lies buried there
http://www.thelocal.se/43820/20121015/
ROYAUME UNI –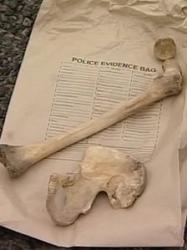 Crimdon - Human remains found on a County Durham beach are likely to be thousands of years old, experts have said. The remains, thought to be of a teenaged boy, were discovered by a group of schoolchildren in sand dunes at Crimdon, near Hartlepool, on Monday. Archaeological experts have concluded the body was buried in the "distant past", possibly thousands of years ago. Rachel Grahame of Tees Archaeology, said: "The crouched position of the body and the lack of grave goods strongly suggest that this is a prehistoric burial. "The location of the burial in the cliff, covered by many metres of sand, suggests that the burial took place in the distant past, perhaps several thousand years ago."
http://www.bbc.co.uk/news/uk-england-tees-19951228
ROYAUME UNI – Northampton - From Sunday 21 October to Thursday 25 October, there will be an archaeological evaluation within the footprint of the new station building. In medieval times Northampton Castle was situated on part of the current station site. However, it is believed that most remains were destroyed and displaced over time as the railway was developed. Led by experts from Northamptonshire Archaeology, an exploratory trench will be excavated within the area currently used for short-stay car parking.
http://specificationonline.co.uk/news-article/2367
CHINE –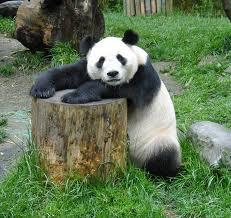 Chongqing – A Chinese scientist says that humans used to eat pandas. In a newspaper interview, Wei Guangbiao says prehistoric man ate the bears in what is now part of the city of Chongqing in southwest China. Wei, the head of the Institute of Three Gorges Paleoanthropology at a Chongqing museum, says many excavated panda fossils "showed that pandas were once slashed to death by man." The Chongqing Morning Post quoted him on Friday as saying: "In primitive times, people wouldn't kill animals that were useless to them" and therefore the pandas must have been used as food. But he says pandas were much smaller then. Wei says wild pandas lived in Chongqing's high mountains 10,000 to 1 million years ago. Pandas don't eat much apart from bamboo.
http://abcnews.go.com/International/wireStory/chinese-scientist-prehistoric-man-ate-pandas-17473320#.UH4riMUzy2Z
USA –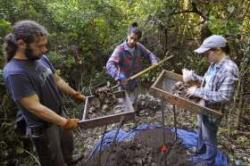 Fort Caroline - No one ever said it would be easy to crack the biggest mystery of Fort Caroline: Where is the exact location of the isolated, blood-soaked outpost of the doomed French expedition to the New World? People have looked for it over the years. But it's as if it has just vanished, as if there never were that tenuous foothold somewhere on the banks of the St. Johns River.Still, a team of University of North Florida archaeologists and students kept up the search on Friday, plunging into palmetto thickets, digging through ancient oyster shells, sifting through the thin soil near Spanish Pond, deep inside the Timucuan Ecological and Historic Preserve. The fort didn't give up its secret on that day. French Protestants built their fort in 1564, before St. Augustine and Roanoke, before Jamestown and Plymouth. They were wiped out 15 months later, victims of a surprise attack by Spanish soldiers who slogged through a hurricane from their new stronghold at St. Augustine. So the mystery continues. UNF students, however, didn't go away empty-handed Friday. Anthropology major Chris Rangel found several large pieces of broken pottery, pulling them out of a bed of oyster shells about a foot below the surface.His were almost certainly the first human hands to have touched the pottery since someone left it on a garbage pile, 1,200 to 1,500 years ago, long before the French.
http://jacksonville.com/news/metro/2012-10-14/story/unf-students-and-professors-keep-search-fort-caroline#comment-form
FRANCE –
 Noyal-Châtillon-sur-Seiche - De mars à septembre, l'Inrap (Institut national de recherches archéologiques préventives) a réalisé une fouille préventive rue des Potiers, à Noyal-Châtillon-sur-Seiche, avant la construction d'une maison, dans un lotissement. Pendant un peu plus de six mois, la dizaine d'architectes a décapé le sol, gratté, réalisé des relevés topographiques et mis au jour les vestiges archéologiques d'une des plus importantes villas gallo-romaines connues à ce jour en Bretagne, la Guyomerais. Pour des raisons de sécurité, le chantier était interdit au public.
http://www.ouest-france.fr/actu/actuLocale_-Noyal-Chatillon-sur-Seiche.-Le-bilan-des-fouilles-archeologiques-presente-mardi-au-public_40771-2122963-pere-region--29232-abd_filDMA.Htm