16 MARS 2016 NEWS: Satala - Liangzhu - Dobromirtsi -
16 MARS 2016 NEWS: Satala - Liangzhu - Dobromirtsi -
INSTITUT SUPERIEUR D'ANTHROPOLOGIE
INSTITUTE OF ANTHROPOLOGY
ONLINE COURSES / COURS A DISTANCE
SPRING TERM : APRIL 2016
REGISTER NOW
TURQUIE –
Satala - An application has been lodged with the Culture and Tourism Ministry to conduct a surface survey to investigate the ancient city of Satala, which served as a military headquarters in the Roman Empire in the northern province of Gümüşhane's Kelkit district. According to historical records, the city, which is 28 kilometers from the city center, was established by the 15th Apollo Legion, a legion of the Imperial Roman army. It served as a headquarters in the ancient era and also served as an intersection of military roads passing through Anatolia and Cappadocia. The city was controlled at various times by the Assyrian, Macedonian, Roman and Byzantine civilizations. A 47-arched aqueduct was built to bring water to the ancient city of Satala but only one arch survives today. The city is believed to cover a very large area. Candles, rings, arms, pots, metal pieces and coins have all been discovered at the site and are now on display at the Istanbul Archaeology Museum, while a bronze bust of Aphrodite is at London's British Museum.
http://www.hurriyetdailynews.com/scholars-to-explore-secrets-of-roman-city.aspx?pageID=238&nID=96427&NewsCatID=375
CHINE -
Liangzhu - An ancient Chinese settlement built levees to control floods and water paddy fields in the third century BC, according to a recent find in southern China. Chinese archaeologists have discovered a water system that they say represents a complex model of flood control and irrigation mechanism 5,000 years ago. As many as 11 dikes have been found in excavations near the ancient city of Liangzhu, in Hangzhou's Yuhang district, about 1,300km southeast of Beijing. Carbon dating of the levees' material suggests that the water system was constructed between 4,700 and 5,100 years ago. The discovery is said to be the oldest large water system ever found in China, the Xinhua news agency reported.Archaeologists said the vastness of the system indicates that the settlement at Liangzhu, which thrived about 4,500 to 5,300 years ago, was highly advanced. The dikes suggest that the region may have had three reservoirs. Liu Jianguo at the Institute of Archaeology of the Chinese Academy of Social Sciences said that high and low dikes were erected along the mountains to control water levels following rainfall. High dikes were effective in checking water level from continuous rainfall of more than 800mm while low ones were functional for 1,900mm of rain. Liangzhu people are known for making jade items from grain, which suggests that another possible purpose of the dikes was irrigation, researchers said. The dikes may have been used to water large paddy fields. "There were many craftsmen who made jade articles in Liangzhu 5,000 years ago, so they needed a large amount of grain," professor Xu Shijin of Nanjing University said.
http://www.ibtimes.co.uk/5000-year-old-levees-control-floods-discovered-china-1549527
BULGARIE –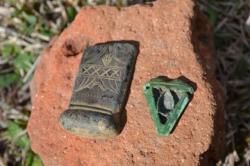 Dobromirtsi - A reliquary (right) and a fragment from a decorated bronze cross from the 11th-12th century AD have been found amid the ruins of a medieval monastery near Dobromirtsi, Kirkovo Municipality, in the Rhodope Mountains in Southern Bulgaria. The reliquary probably contained relics of a Christian saint during the Middle Ages but has been found empty. The other artifactis part of the arm of a largedecorated bronze cross featuring the image of theHoly Mother of God (Virgin Mary)"Orans" (Oranta – "Praying, Panagia, Lady of the Sign" – a type of Orthodox icon of the Virgin Mary with raised arms in ornate position).
http://archaeologyinbulgaria.com/2016/03/07/medieval-reliquary-discovered-at-christian-monastery-looted-by-treasure-hunters-ahead-of-archaeological-excavations/