16 Mars 2015 NEWS: Kocabaş - Runcorn - Birka - Mosul - Bhamala -
16 Mars 2015 NEWS: Kocabaş - Runcorn - Birka - Mosul - Bhamala -
INSTITUT SUPERIEUR D'ANTHROPOLOGIE
INSTITUTE OF ANTHROPOLOGY
ONLINE COURSES / COURS A DISTANCE
SPRING TERM : APRIL 2015
REGISTER NOW
TURQUIE –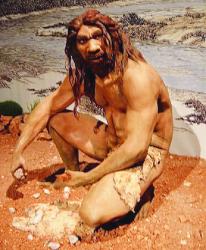 Kocabaş - Archeological studies in the western province of Denizli's Honaz district have unearthed tools from the Paleolithic age.  The tools were found in the same area where a 1.2 million-year-old skull fossil, called "Denizli man," was found in 2002.  The head of the study, Ankara University academic Kadriye Ceylan said the skull was found in a travertine source and they had started further examinations at the site. Ceylan said the goal was to determine the places where the man had lived and find archaeological proof. "Along with geologist Professor Mehmet Cihat Alçiçek, who is among the team members, we have determined a few areas where these people might have lived. Surface explorations in Kocabaş have unearthed Paleolithic tools created by these people 1.2 million years ago. These tools completely overlap with this skull in terms of their historic techno-typological features," she added. Alçiçek said the findings moved Denizli's known history back even further. "These findings are physical  remains and archaeological materials from 1.2 million years ago. They characterize an era," he said.  Alçiçek said they had achieved very good results in the first years of their research and have applied to the Culture and Tourism Ministry to continue works in 2015.
http://www.hurriyetdailynews.com/paleolithic-peoples--tools-found-in-western-turkey.aspx?pageID=238&nID=79752&NewsCatID=375
ROYAUME UNI –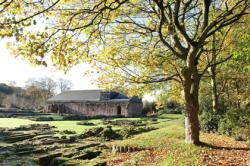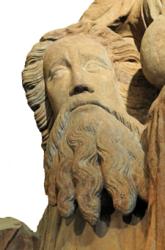 Runcorn - The first Victorian tiles have been lifted from the floor of the 900-year-old undercroft at Norton Priory, the museum and medieval complex in Cheshire which is considered among the finest excavated monastic sites in Europe. Archaeologists are conserving the building after escalating water damage caused the floor to sink and the tiles to crack. "It's a bit like a giant jigsaw," said Will Walker, of Earthworks Archaeology. "Each tile has to be numbered and its location marked on to a plan so that once the stabilisation works have been completed, the tiles can all be replaced from the exact location from which they were taken."The site was founded as a priory in 1115, becoming a mitred abbey during the late 14th century and a family home for 400 years following its dissolution by Henry VIII in 1536. An 18th century walled gardens and scheduled ruins are spread across the 47-acre priory, including the twelve-foot tall, 14th century statue of St Christopher, described by Tate Britain as one of the most important medieval sculptures in the world.
http://www.culture24.org.uk/art520854-public-asked%20to-sponsor-900-year-old-floor-as-archaeologists-begin-giant-jigsaw-at-excavated-monastic-priory
SUEDE –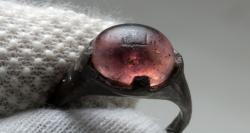 Birka - More than a century after its discovery in a ninth century woman's grave, an engraved ring has revealed evidence of close contacts between Viking Age Scandinavians and the Islamic world. Excavators of a Viking trading center in Sweden called Birka recovered the silver ring in the late 1800s. Until now, it was thought that it featured a violet amethyst engraved with Arabic-looking characters. But closer inspection with a scanning electron microscope revealed that the presumed amethyst is colored glass (an exotic material at the time), say biophysicist Sebastian Wärmländer of Stockholm University and his colleagues. An inscription on the glass inset reads either "for Allah" or "to Allah" in an ancient Arabic script, the researchers report February 23 in Scanning. Scandinavians traded for fancy glass objects from Egypt and Mesopotamia as early as 3,400 years ago (SN: 1/24/15, p. 8). Thus, seagoing Scandinavians could have acquired glass items from Islamic traders in the same part of the world more than 2,000 years later rather than waiting for such desirable pieces to move north through trade networks. Ancient texts mention encounters around 1,000 years ago between Scandinavians and members of the Islamic civilization, which stretched from West Asia to Mediterranean lands. Archaeological evidence supporting those accounts, though, is rare. The inner surface of the Birka ring's silver body shows virtually no signs of wear. Filing marks made in the final stage of its production are still visible. That suggests that the ring made by an Arabic silversmith had few or no owners before it reached the Viking woman, the researchers say.
https://www.sciencenews.org/article/ring-brings-ancient-viking-islamic-civilizations-closer-together
IRAQ – Mosul - The video showed the group toppling statues and carvings from plinths in the Mosul museum and smashing them with sledgehammers and drills. It also showed damage to a huge statue of a bull at the Nergal Gate into the city of Nineveh. "They were copies. The originals are all here," Baghdad's museum director told Germany's Deutsche Welle, according to RT.com. According to the report, experts say that this is why they crumbled so easily. "The reason they crumble so easily is that they're made of plaster. You can see iron bars inside," Mark Altaweel of the Institute of Archaeology at University College, London said. Mosul's exiled governer however says that Isis did destroy real artifacts after the video. "There were two items that were real and which the militants destroyed," he told Iraq television. "One is a winged bull and the other was the God of Rozhan." They had also apparently stolen several items.
http://www.timeslive.co.za/scitech/2015/03/16/isis-destroyed-fake-artifacts-in-video-the-originals-are-all-here-baghdad-museum
PAKISTAN –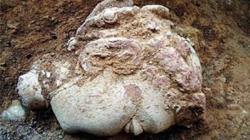 Bhamala - The archaeologists have made unique and rare discovery of a huge statue depicting "death scene of Buddha", which is biggest ever in the archaeological history of Gandhara besides making another remarkable discovery of "image of Buddha with double halos", never before found in history, during excavations at UNESCO World Heritage Site of Bhamala of Taxila valley.Department of Archaeology and Museums Director General Dr Abdul Samad while talking to APP here on Saturday said that UNESCO World Heritage Site of Bhamala Buddhist complex enjoys an extremely important geographical location as it connected Taxila valley with Kashmir. He added that it is one of the very few sites to have a cruciform Stupa, a Stupa that was usually reserved for Buddha himself. Revealing details about new discoveries made at the site, Dr Samad said that the death scene of Buddha known as "Maha Pari Nirvana" made of Kanjur stone measuring 14 metre in length is the largest ever death scene of Buddha ever discovered in the archaeological history of Gandhara. He said that remnants of this colossal image including right leg and portion of left leg are covered with drapery, feet and shoulders. The image is placed on a huge platform measuring 15 metres in length in the northwest direction facing towards east. He added that head of the Buddha was also found missing as this area was also disturbed most probably by the illegal treasure hunters. Dr Samad said that other parts of the image especially the upper left leg and arms were found in a damaged condition which were fallen towards east due to some unknown reasons. He added that Pari Nirvana scene was also flanked by other images in terracotta exposed in fragments during the course of excavation. Pari Nirvana scene, he said, was exposed from a long chamber to the west of the main Stupa facing towards east. He added that access to this chamber is given through three openings at regular intervals. The chamber is made of stone in semi-ashlar masonry. He further said that another discovery which also brought to light another important discovery is images of Buddha with double halos which is very unique and do not exist in the rest of the Buddhist site in ancient Gandhara. He said that this discovery has been made from a Cruciform stupa with chapels on its eastern side facing towards west. The stupa is cruciform containing stucco sculpture fragments on its plinth. Responding to a question, he said that a total of nine chapels were exposed during the current season and some of these chapels contain stucco sculptures mostly with unique style at this picturesque site located in Taxila valley. Dr Samad further revealed that recent excavation conducted at the site has unearthed a total of 510 antiquities, which include terracotta, stucco sculptures as well as architectural elements like iron objects including nails, hooks, door fitting and hair clip, copper artefacts and 14 coins of later Kushan period. He said that samples of organic materials were also taken for Radio Carbon Dating by Prof Dr Mark Kenoyer, Director of the Centre for South Asia and Professor of Anthropology at the University of Wisconsin Madison. 
http://www.dailytimes.com.pk/national/15-Mar-2015/huge-statue-depicting-death-scene-of-buddha-discovered-near-taxila