16 MARS 2012 NEWS : Mound of Down - Delos - St.Simons Island - Somerset - Graniteville - Annapolis -
16 MARS 2012 NEWS : Mound of Down - Delos - St.Simons Island - Somerset - Graniteville - Annapolis -
INSTITUT SUPERIEUR D'ANTHROPOLOGIE 
INSTITUTE OF ANTHROPOLOGY
ONLINE COURSES / COURS A DISTANCE
INSCRIPTION  2012 /  Session II : Avril 2012
REGISTRATION 2012 /  Term II : April 2012
IRLANDE –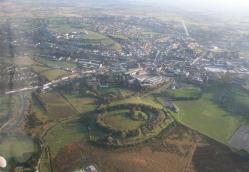 Mound of Down - One of Northern Ireland's most mysterious, but impressive, monuments is soon to reveal its secrets. Alex Attwood, Environment Minister, revealed today that trial excavations have started on the Mound of Down, a monument on the edge of the Quolle Marshes on the outskirts of Downpatrick. Attwood said: "The Mound of Down is one of our most important and impressive ancient monuments yet very little is known of its origins or use. One theory is that it was a royal stronghold and that it was built by John de Courcy, the Anglo-Norman knight who led the Norman invasion of Ulster, soon after his victory in the area in 1177. "I am hopeful that the Mound will soon begin to give up its secrets and that excavation of the site will reveal why and when it was built. A geophysical survey has already helped to define the excavation trenches. The Mound is a huge earthwork with a bank and ditch area covering an area of over three acres. Within the enclosure, there is a second U-shaped mound, 1.25meters high, with spectacular views of the surrounding countryside.
http://insideireland.ie/2012/03/16/excavation-begins-at-800-year-old-mound-of-down-61325/
GRECE –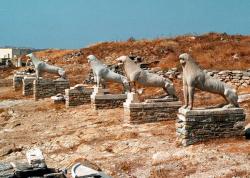 Delos - The Central Archaeological Council (KAS) of the Greek ministry for culture and tourism has given green light to the restoration of the ancient theatre of Delos, one of the most important religious centres of ancient Greece, an islands of the Cyclades where Apollo, god of light, was born according to mythology. It is no coincidence that the centre of the theatre, the orchestra, is considered to be the brightest point in the Mediterranean in a study of the University of Athens. The ancient theatre of Delos is one of the few that were completely built in marble. Its construction started around 314 BC and ended around 70 years later, in 250 BC. In 88 BC, the theatre, which has a capacity of up to 6,500 spectators, was abandoned after the Mithridates plundered the island. Today, exactly 2,100 years later, the Central Archaeological Council approved a project for the restoration of the monument. The project was presented by engineer Constantinos Zampas and his collaborators Gerasimos Thomas and Irini Doudoumis, and is an initiative of the "Diazoma" organisation. It is based on a study carried out by Philip Fraisse and Jean Ch. Moretti of the French School of Archaeology, who started the first excavations by the end of the 19th century. Several small interventions and cleanup operations will protect the theatre against the ravages of time and will restore its lost splendour. The actual restoration work will include moving and labelling the architectonic pieces in the area, protection of the rock surfaces to make it easier for rainwater to flow away and the protection of containment walls.
http://www.ansamed.info/ansamed/en/news/sections/culture/2012/03/15/visualizza_new.html_132802909.html
USA –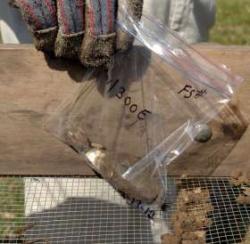 St.Simons Island - A team of archaeologists sampling the soil in an island park found plenty of Native American pottery but no signs of a 400-year-old Spanish mission that was once located on the south end of the island. University of North Florida professor Keith Ashley and Brunswick archaeologist Fred Cook believe the site was at or near what is now Neptune Park and the commercial village on the island's southernmost tip. The Spanish built the Santa Cruz y San Buenaventura de Guadalaquini Mission on St. Simons in 1606, and relocated it in 1684 to Black Hammock Island near Jacksonville. In hopes of finding evidence of it, the archaeological team dug sample holes 50 to 60 centimeters deep and 50 centimeters in diameter in a grid of sample sites about 20 meters apart. Cook, whose previous findings on the island include pottery shards from the Swift Creek Indians, said the land near the lighthouse and Neptune Park was probably best because of the deep, natural channel just off the beach "where they could get ships in close."
http://jacksonville.com/news/georgia/2012-03-14/story/st-simons-island-archeological-dig-yields-no-signs-400-year-old

ROYAUME UNI – Somerset - Somerset is still the home of undiscovered archeological treasures, Professor Mick Aston told an audience in Wells this week. "It is still possible to go out in this area and find a completely undiscovered medieval settlement," said Professor Aston. Professor Aston has been co-ordinating a project in Winscombe and Sandford, with a largely, non-professional team of volunteers. The remains of a medieval settlement in the village are among many new discoveries. Dr Jodie Lewis, of Worcester University described how earthworks known as Priddy Circles are now thought to be part of a much larger 'spiritual landscape' developed by a community changing from being hunter-gatherer's to a more precarious agricultural existence. "5,000 years ago 'pilgrims' travelled from Europe to this area and an axe-head found near Priddy by the late Dr Willie Stanton, of Westbury-sub-Mendip, and bought by one such 'pilgrim', had been made in the Alps and was already 500 years old when its owner left it here for the gods," she said. Dr Richard Brunning, archaeologist at Somerset County Council, has re-studied a set of skulls found in 1928 in a sand quarry south of Street. The skulls have now been found to be more than 10,000 years old, and from the oldest open-air cemetery in the UK.
http://www.thisissomerset.co.uk/New-medieval-discovery-shows-unearth/story-15523458-detail/story.html
USA – Graniteville - George Wingard and Dr. Keith Stephenson of the Savannah River Archaeological Research Program are continuing their study of old Graniteville by excavating in the yards of the mill workers' cottages along Gregg Street, known as Blue Row. Their objective is to gain a better understanding of the early homes - the locations of outbuildings, wells and gardens - and how the mill workers lived, primarily from 1846 to 1870. So far, Wingard, Stephenson and volunteers have unearthed broken glass, some broken ceramics that are indicative of plates and cups, rusty nails, some marbles and one Civil War-era button.
http://www.aikenstandard.com/story/031612-graniteville-savannah-river-archaeological-research-program-william-gregg--3858833
USA –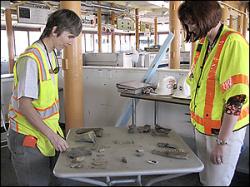 Annapolis - Annapolis is as old as dirt. And any time a construction worker sticks a shovel in city soil, he's almost guaranteed to find something old as — well, you know. Such has been the case with a project at downtown Annapolis' Market House over the past two months, as contractors drill 22 geothermal wells for a new heating and cooling system. Workers have found traces of an old brick walking path, cattle and other animal bones, a shard of pottery, a handle for a jug, a hand-wrought nail and a handmade spike. While the cache is not extensive, the finds leave archaeologist Kathleen Child, who is consulting with the city on the project, hoping for more. Child believes that if there is anything significant buried at Market House, it would likely be closer to the building. The construction workers will be digging the trenches closest to the building in coming weeks. And the finds don't compare to those from the 2010 excavation next to the Gotts Court parking garage, which revealed thousands of centuries-old pieces of china, bottles, pottery and bones in historic garbage pits. Child is unsure of the ages of the Market House bones, and even the pottery and nails say little about their age without other evidence. For instance, a shard of whiteware pottery made in England could be as little as 200 years old, and a brownstone jug handle with a salt glaze, found closer to the plaza, could be close to the same age. The hand-wrought nail and spike could have been made in the 1850s, she said, because it wasn't until later in the 19th century that people began manufacturing them.
http://www.hometownannapolis.com/news/top/2012/03/16-25/Artifacts-found-at-Market-House.html