16 MAI 2017 NEWS: Penpahad - Dura Europos - Reading -
16 MAI 2017 NEWS: Penpahad - Dura Europos - Reading -
INSTITUT SUPERIEUR D'ANTHROPOLOGIE
INSTITUTE OF ANTHROPOLOGY
ONLINE COURSES / COURS A DISTANCE
SUMMER TERM : JULY 2017
REGISTER NOW
INDE –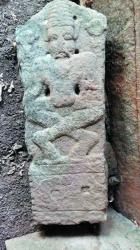 Penpahad - Archaeologists have discovered an early historic site in Penpahad village in Suryapet district. A rare Yoga Narasimha idol and several other idols were found at the site, which date to between the 1st century and the 3rd century. The ruins of a Shiva temple was also found, which had idols of Maisasuramardhini, Nandi, Naga, Naga Devatha and Bhairava. Some red ware items, a black ware hookah, terracotta beads and three ratna symbols of Buddhists were also discovered during excavations. P. Nagaraju, assistant director of the department of archaeology and museums, is undertaking excavation at the site under the supervision of director N.R. Visalatchy. He said the Shiva temple dates to 13th and 14th century. "We found a rare Yoga Narasimha idol at the site. Lord Narasimha is in a yoga posture," he explained.
http://www.deccanchronicle.com/nation/current-affairs/140517/rare-yoga-narasimha-idol-found-in-penpahad-village.html
SYRIE –
Dura Europos - Videos and reports from the Syrian media tell of Daesh dynamiting and destroying statues and pieces in Dura Europos site, also known as Al Salhiye, built in the 8th century BC and were part of the Silk Road. The site, located near the Euphrates River and very close to the Iraqi border, is one of the 83 in existence in the province of Deir Ezzor, more than 460 km north of Damascus.
http://www.plenglish.com/index.php?o=rn&id=12895&SEO=terrorists-destroy-syrian-archaeological-site-in-deir-ezzor
ROYAUME UNI –
Reading - Live Science reports that librarian Erika Delbecque found a page from a Latin text of instructions for priests known as the Sarum Ordinal or Sarum Pye in an archive at the University of Reading. The book was printed in late 1476 or early 1477 by William Caxton, who introduced the printing press to England, with black text, red paragraph marks, and double-sided pages. Delbecque said that the page is one of only two surviving fragments of the medieval book, which fell out of use after the Reformation.
http://www.livescience.com/59087-page-from-medieval-priests-handbook-discovered.html