INSTITUT SUPERIEUR D'ANTHROPOLOGIE
INSTITUTE OF ANTHROPOLOGY
ONLINE COURSES / COURS A DISTANCE
SPRING TERM : APRIL 2014
REGISTER NOW
OMAN –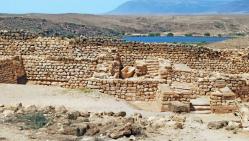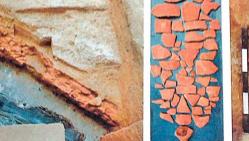 - Khor Rori - History researchers from India will be visiting Oman in the coming weeks to learn more about the links between the Sultanate and Kerala. "A team of researchers from Kerala Council for Historical Research (KCHR) is set to join the team involved in the excavations at Khor Rori in Salalah this month itself. The excavations are being carried out to establish links between Khor Rori, the archaeological site near Salalah, and Pattanam, a town near Kochi in Kerala. The site is being excavated by the University of Pisa, Italy, since 1997," a top official from the KCHR said. According to historians, Khor Rori/Sumhuram was discovered by James Theodore Bent during his trip to the region in late 19th century. The site was excavated by the American Foundation for the Study of Man (AFSM) in the early 1950s and by the Italian Mission to Oman (IMTO) since 1994. The excavations uncovered the ground plan of the settlement and  attested maritime contacts with the Hadramite homeland, India and the Mediterranean. It was classified in 2000, with other sites along the Incense Route in Oman, as part of the Unesco World Heritage Site "Land of Frankincense"."Khor Rori, located 40km east of Salalah, and Pattanam in Kerala, are contemporary sites. Both sites have produced substantial archaeological evidence to reveal the interfaces during the third century BCE to fourth century CE period. The beads and shards of Indian pottery found in Khor Rori and the South Arabian pottery and frankincense crumbs found in Pattanam are clinching evidence of the contacts between the two sites. The KCHR researchers would also engage in the preliminary analysis of the Indian artefacts excavated at Khor Rori," the director of KCHR explained. Pattanam excavations director P. J. Cherian had participated in the Khor Rori excavations in November 2013.

http://www.timesofoman.com/
COLOMBIE –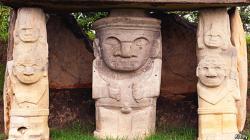 San Agustín - Mystery surrounds the fate of a large number of Pre-Columbian statues kept so far at at San Agustín archaeological park in Colombia, 227 km. SW of the capital Bogotá. The statues, set to move to the capital for an exhibition commemorating 100 years since their discovery, have been replaced by replicas but it is unclear whether the originals are already in Bogotá or they are temporarily kept in an unidentified museum within the area near the park. According to a report by the local NTN 24 television, the statues are kept in "a local museum", showing an official from the park stating that the statues will be moved to the capital "later"."This looks like a prank… and tourists are mad", NTN 24 reports. "To me, it is a really big fraud," says one visitor to the park, where signs already indicate that the statues are already in the capital. A couple of months ago, locals and authorities based on San Agustín had made headlines due to their negative reaction of the prospect of moving the statues to Bogotá for the exhibition. Stating issues of safety but also cultural reasons, San Agustín's inhabitants were fighting a battle against Colombia's National Museum authorities, fearing that should the statues move to Bogotá, they would never return. The exhibition had finally opened without the statues on November 28th 2013, inviting the visitors to to consider "the emptiness and silence that emerge when a few people claim exclusive right over our heritage, trampling the cultural liberties of all Colombians.". Still, after the latest news, it seems that the locals might had a reason to protest.
http://www.archaiologia.gr/en/blog/2014/01/16/almost-missing-the-statues-of-san-agustin/
ROYAUME UNI –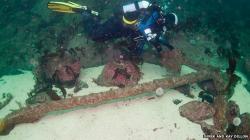 Ecosse -An underwater archaeology project that has discovered dozens of previously unrecorded sites has been given funding for a further two years. Project Samphire is a community-based initiative led by WA Coastal and Marine and Royal Commission on the Ancient and Historical Monuments of Scotland.It will allow the research work to continue off Scotland's west coast. Archaeologists involved draw on the local knowledge of divers, fishermen, coastguard personnel and harbour masters to help them investigate previously unrecorded wreck sites.Over the last year, more than 40 archaeological sites, including wooden shipwrecks, cannons, ancient anchors, prehistoric fish traps and more recent small fishing vessels have been noted. Archaeologists have also recorded a series of metal-hulled shipwrecks near Loch Torridon from the 19th and early 20th Centuries. They have also found wreckage from a large unidentified 19th Century wooden ship wreck near Kinlochbervie harbour and a similar site at Loch Laxford. The team has also investigated the remains of two early 20th Century steam drifters on the beaches of Lewis and near Applecross. A cannon that is a feature on the main street of Shieldaig, and mistakenly thought to be from the Spanish Armada, was confirmed as a Napoleonic weapon. The remains of two World War Two flying boats were also recorded on the seabed near Oban.This year, the project team plans to work with communities around Oban and the Inner Hebrides.
http://www.bbc.co.uk/news/uk-scotland-highlands-islands-25757943
ROYAUME UNI –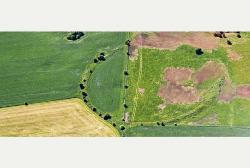 Priddy - Archaeological work has taken place at the site of a damaged prehistoric earthwork in Priddy. In May 2011, large-scale damage took place on one of the four Priddy Circles, a group of large, circular earthworks of prehistoric date which are protected as Scheduled Monuments.Work to reinstate the circle and investigate it archaeologically has been taking place for the last year. English Heritage argued that some archaeological investigation should be an important part of an overall package of restorative justice works but the court was clear that the focus of the work funded by Penny should be on aspects of physical reinstatement as opposed to archaeological investigation of the damaged areas. In spring and summer 2013, English Heritage, with archaeological contractors AC Archaeology, undertook a programme of assessment and evaluation, including a geophysical survey of the damaged parts of the site. This helped with an archaeological excavation that was carried out in late 2013 which focused on an area of deep wheel-rutting caused by the creation of a track way through the site during the unauthorised works.The spokeswoman added: "The final part of the reinstatement works is due to take place in the next couple of months, when some reconstruction of the bulldozed circle bank will take place."This is a limited piece of work with two objectives – firstly, to restore some of the form and legibility of the circle and secondly to cover over and protect important Neolithic archaeology which had been left exposed by the damage.
 http://www.wellsjournal.co.uk/Digs-probe-carried-damaged-earthwork/story-20447035-detail/story.html#ixzz2qa9HtAgb
ROYAUME UNI -  East Sussex - East Sussex County Archaeologist Casper Johnson will talk about the findings so far from the ongoing excavations on the Bexhill to Hastings Link Road that have been carried out by Oxford Archaeology with as many as 40 staff. Cllr Emily Westley, lead member for leisure and amenities at Hastings Borough Council, said: "Some impressive findings have already been made, with evidence of past human activity from almost every period since the end of the last ice age, covering the periods of hunter gatherers, early farmers, iron workers and more recent settlements. "The earliest evidence includes flint scatters from possibly the Upper Palaeolithic onwards, and at one site on the edge of Watermill Stream, over 20 separate scatters of worked flints were revealed. "They have also found evidence that points to a significant early native British iron industry.
http://www.ryeandbattleobserver.co.uk/news/local/archaeology-talk-on-the-link-road-1-5813307