16 DECEMBRE 2014 NEWS: Larissa - Newmarket - Gwynedd - Anthée - Ribe - Le Caire -
16 DECEMBRE 2014 NEWS: Larissa - Newmarket - Gwynedd - Anthée - Ribe - Le Caire -
INSTITUT SUPERIEUR D'ANTHROPOLOGIE
INSTITUTE OF ANTHROPOLOGY
ONLINE COURSES / COURS A DISTANCE
WINTER TERM : JANUARY 2015
REGISTER NOW
TURQUIE –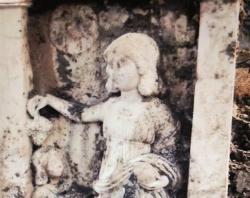 Larissa - A large ancient relief has been revealed during renovation works on the Gediz River delta in İzmir's Menemen district. The relief has been delivered to the İzmir Archaeology Museum.  The 1.8 meter-long, 1.5 meter-wide, 30 centimeter-thick relief depicts a woman carrying grape and a girl with a tray in her hand.  According to information provided by the General Directorate of State Hydraulic Works, the relief was discovered in the alluvial deposit of the river. After their suspicions were aroused about the shape of the rock, workers discovered that it was a historical artifact.  Works are ongoing to clean the relief and find out its era. Officials say the area where the relief was discovered is close to the ancient city of Larissa, and the relief could have drifted away in the current of the river.
http://www.hurriyetdailynews.com/ancient-relief-revealed-in-izmir.aspx?pageID=238&nID=75608&NewsCatID=375
ROYAUME UNI –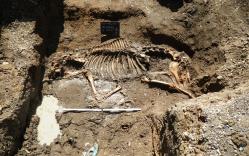 Newmarket - He was the Frankel of his day, winning 36 races from 1814 to 1823 and becoming one of the most famous racehorses in British history. Now archaeologists may have discovered the skeleton of the legendary 19th century stallion Doctors Syntax. The bones were uncovered during the excavation of the former royal stables of Palace House, one of the homes of King Charles II, in Newmarket, Suffolk. The skeleton is almost completely intact and measures the same height as the horse, 15 hands. Doctor Syntax was put down in 1838 but his exact resting place was never known.
http://www.telegraph.co.uk/news/science/science-news/11294140/Could-mystery-horse-skeleton-be-legendary-18th-century-racehorse-Doctor-Syntax.html
ROYAUME UNI –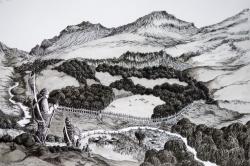 Gwynedd - A medieval deer park has been identified in Gwynedd after an excavations led by university students. The 13th century Royal deer park, called Plas Brynkir, was probably built at Bryncir near Porthmadog during the reign of Llywelyn Fawr. It has been dated to pre-1230 when Llywelyn moved his regional centre to Criccieth. The now derelict medieval hall was later the home of the wealthy Huddart family. The former royal deer park of the native Welsh Princes, set within a far larger landscape designed for hunting and other sports, illustrates how much there is still to learn about the lives of the Princes.
http://www.dailypost.co.uk/news/north-wales-news/deer-park-welsh-princes-discovered-8286563
BELGIQUE –
 Anthée- En 2014, la Commune d'Onhaye décidait de se lancer dans la rénovation de l'ancienne ferme Delhalle à Anthée. Problème: la terrasse et les parkings dessinés par l'architecte se situaient à l'emplacement présumé des dépendances agricoles de la villa gallo-romaine d'Anthée, la plus vaste découverte à ce jour sur le territoire wallon. Le service provincial de l'archéologie a dès lors mené des fouilles préventives pour sonder des vestiges potentiels inédits qui n'avaient pas retenu l'attention de la Société archéologique de Namur. Celle-ci avait entrepris une première campagne de fouilles en 1863. Pendant neuf ans, en effet, le chanoine Charles Grosjean avait dirigé les opérations archéologiques, mettant au jour un riche patrimoine qui fait le bonheur du musée archéologique de Namur. La campagne menée par le Service de l'Archéologie de la Direction extérieure de Namur a permis de compléter les données acquises il y a 150 ans. Le plan de la villa a ainsi pu être complété et affiné par l'ajout d'une série de fondations qui prolongent une cave déjà fouillée au XIXe siècle. L'équipe des archéologues, placée sous la direction de l'archéologue Elise Delaunois est aussi tombée sur une fosse d'où ont été exhumés des ciseaux, une coupelle en bronze ainsi que de la céramique qui a permis de dater cette cavité entre 230 et 280 ap. J-C. Comment la villa gallo-romaine d'Anthée a-t-elle pu prendre une telle extension? Plusieurs facteurs l'expliquent, selon Christian Frébutte, l'archéologue responsable de la cellule namuroise. «La proximité de la route Bavay-Trèves, mais aussi la présence de ressources naturelles. On sait qu'on exploitait le fer en Etre-Sambre-et-Meuse. »
http://www.lavenir.net/article/detail.aspx?articleid=dmf20141214_00573417
DANEMARK –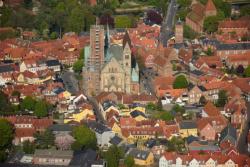 Ribe -If you thought Ribe was the oldest town in Denmark, you're still right, but now a new study from Aarhus University shows the town may be almost 100 years older than originally thought. Archaeologists previously believed that Ribe was established in the late 700s, but new research points to its establishment being in the earlier part of the same century, reports Videnskab. Ribe, in southwest Jutland, is not only Denmark's oldest town, but is Scandinavia's oldest town as well. "Ribe is the place urbanisation started in Scandinavia," Sarah Croix, the study's author, told Videnskab. "If Ribe began as a city in the early 700s, then it was long before the Vikings and thus casts new light on our understanding of this period." Ribe's location on Jutland's west coast meant it was perfectly positioned as a commercial area for trade and for boats to berth. Croix argues, however, that it was more than just a short-term, seasonal stop for seafarers. Her research points to more permanent habitation. Croix's research is based on archaeological data from an excavation undertaken between 1985 and 1986 by Stig Jensen, an archaeologist who died before the results were analysed. The data remained untouched until Croix dug it up. Croix bases her findings on evidence of particular tools, such as millstones used to grind grain that show wear and tear in line with daily household use, and the excavation of part of a house. The excavation done in the 1980s of St Nicholas Street will not be enough to convince the archaeological community of Ribe's new founding date. Croix would have liked the original excavation to have been of the whole house to find evidence of a fireplace – a strong indicator of it being a more permanent living space.  Croix has been scouring the city to find evidence of other similar houses and believes she has found signs that the house on St Nicholas Street is not one-of-a-kind.
http://cphpost.dk/news/oldest-danish-town-possibly-older.12031.html?
EGYPTE –
 Le Caire - The Cairo government unveiled on Dec. 15 four newly renovated halls of the famed Tutankhamun gallery in the Egyptian Museum as the facility undergoes a complete overhaul. The renovation of the museum has been aided by funds from the European Union and other international donors.
http://www.afp.com/fr/info