INSTITUT SUPERIEUR D'ANTHROPOLOGIE
INSTITUTE OF ANTHROPOLOGY
ONLINE COURSES / COURS A DISTANCE
WINTER TERM : JANUARY 2014
REGISTER NOW
TURQUIE –
 Kurşunlu Monastery- The historic Kurşunlu Monastery, in the Samson Mountains of the western province of Aydın, is at danger of collapsing. Growing trees are pressing against the top of the 11th century monastery, in the Kuşadası district of Aydın, and damaging the building. The monastery is perhaps the second most important ancient building in Aydın, after the Stylos (Arapavlusu) Monastery in the nearby Beşparmak Mountains.  The monastery has stood since the 11th century, and was still used until 200 years ago.  The Kurşunlu Monastery is situated in an area that became an outstanding religious center for education in the aftermath of the immigrations of early Christian believers. Overlooking the Aegean Sea, the monastery has an excellent view of the coastal towns of Kuşadası and Davutlar, and is hidden from view as it is located among thick trees and plants. The monastery consists of a dining room, a cellar, a kitchen and bedrooms for monks, a small chapel and a necropolis. The ceiling of the across-planned chapel was ornamented with the geometrical decorated frescoes from the Iconoclastical period. The rest clearly represent religious events and personalities. Painted either on an overcoat or directly on the walls, the frescoes are based on the life of Jesus Christ and scenes from the gospel.
http://www.hurriyetdailynews.com/kursunlu-monastery-in-danger-of-collapsing.aspx?pageID=238&nID=59586&NewsCatID=375
ROYAUME UNI –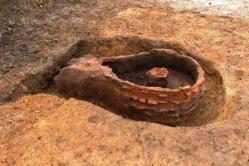 Rainham - Archaeologists working at the site of an £80 million housing regeneration have unearthed evidence of a prehistoric settlement dating back around 2,000 years.Excavators at the Orchard Village site in Rainham have discovered farming equipment and Roman materials, including three kilns that it is thought were used to make pottery in the 3rd century AD. Archaeologists working on behalf of social landlord Circle Housing have also found two pots with broken bases which are believed to date back to the late 1st century, and could have been deliberately damaged as part of a ritual.
http://www.24dash.com/news/housing/2013-12-16-2-000-year-old-settlement-unearthed-at-housing-regeneration-site
EQUATEUR –
 Explorers claim ruins found deep in a dense and dangerous Amazonian jungle could represent one of the great archaeological discoveries. The multinational team has located the site in a remote region in central Ecuador.nThey have already unearthed an 80m tall by 80m wide structure, made up of hundreds of two-tonne stone blocks, and believe there could be similar constructions over an area of about 2.6sq km. Some of those involved believe the site in the Andes mountain range could be the mausoleum of Atahualpa, the last Incan emperor who was captured by the conquering Spaniards, or hold the Treasure of the Llanganates, a vast haul of gold and other riches amassed by his followers to pay for his release. In exchange for his freedom, Atahualpa is said to have offered to fill a room with gold. But the offer was rebuffed and he was executed in 1533. His body is said to have been exhumed, mummified and later hidden by his followers in the region in which the new site has been found.According to legend, great treasures - which had been amassed for the ransom - were either buried with him, or separately. Others believe the newly discovered site dates back far earlier, to unknown, pre-Inca cultures from before 500BC, citing what appear to be rudimentary tools found there. The site is being investigated by a team of British, French, American and Ecuadorean explorers.
http://www.nzherald.co.nz/world/news/article.cfm?c_id=2&objectid=11173026&ref=rss
CHILI –
 Ile de Pâques - Bishop Museum's assistant anthropologist, Dr. Mara Mulrooney, conducted a six year study on Rapa Nui (Easter Island) about the island's theoretical civilization collapse. Results from her groundbreaking doctoral dissertation entitled "Continuity or Collapse? Diachronic Settlement and Land Use in Hanga Ho'onu, Rapa Nui (Easter Island)" are outlined in an article published in the December issue of the Journal of Archaeological Science. This new evidence debunks previous theories that the islanders "self-destructed" before Europeans first visited in 1722. As popularized in Jared Diamond's 2005 book Collapse, Rapa Nui is often viewed as a prime example of what happens when people lose sight of what they are doing to their environment. According to the popular narrative, the Rapa Nui people committed "environmental suicide" by deforesting their island home. But new evidence collected by Dr. Mulrooney and colleagues is challenging that story."The new picture that emerges from these results is really one of sustainability and continuity rather than collapse, which sheds new light on what we can really learn from Rapa Nui," said Mulrooney. "Based on these new findings, perhaps Rapa Nui should be the poster-child of how human ingenuity can result in success, rather than failure." Dr. Mulrooney analyzed over 300 radiocarbon dates from across the island, including 15 dates from new excavations in the northern area of the island. These new findings, along with the re-analysis of previously collected dates, showed that large tracts of Rapa Nui's interior continued to be used for agricultural production of foods like sweet potatoes and taro, even after European contact with the island. This directly challenges the previous belief that these areas were abandoned as the island chiefdom supposedly collapsed. These results, together with recent results from Dr. Mulrooney's colleagues Thegn Ladefoged, Ph.D. (University of Auckland), Christopher Stevenson, Ph.D. (Virginia Commonwealth University), and Sonia Haoa (an archaeologist from Rapa Nui), who have been analyzing the ancient gardens of the island, suggest that the Rapa Nui people managed to transform their island home into a more productive and sustainable environment. These new findings suggest that it was not until the fatal impacts of European contact in the 18th century that Rapanui society experienced a real societal collapse due to introduced diseases.
http://www.bishopmuseum.org/media/2013/pr13029.html#.Uq9mzvTuLVS