16-17 OCTOBRE 2014 NEWS: George Town - Laodicea - Leyburn - Guadalupe Nipomo - Swinton - St Augustine -
16-17 OCTOBRE 2014 NEWS: George Town - Laodicea - Leyburn - Guadalupe Nipomo - Swinton - St Augustine -
INSTITUT SUPERIEUR D'ANTHROPOLOGIE
INSTITUTE OF ANTHROPOLOGY
ONLINE COURSES / COURS A DISTANCE
WINTER TERM : JANUARY 2015
REGISTER NOW
CAYMAN –
 George Town - Marine archaeologists and volunteers are cleaning and cataloging 18th-century artifacts found in the "George Town Step Well," which was discovered by National Museum staff in 2003.. "Back in 2003, when they were bulldozing the land and the old buildings on it, they ended up finding lots of historical material – ceramics, glass, and material remains from the past – and they encountered some old step wells where the water was gathered in the early days in the 1700's," said Peggy Leshikar-Denton, archaeologist and director of the Cayman Islands National Museum.  Ms. Leshikar-Denton said the project to clean and identify the items was put on hold when Hurricane Ivan hit in 2004 and the artifacts have been bagged in storage since then.  The step well, which has eight roughly hewn steps leading to a spring-like pool of water that is still deemed potable by the Cayman Islands Water Authority, was a major water source for residents in Hog Sty Bay in the 1700's. However, it later became a dumping ground due to contamination of the well, archaeologists believe.  "It looks like the well was filled in with trash ... It is not uncommon to find wells with trash in it," said Ms. Scott-Ireton.  The step well effectively became a time capsule, containing items from different time periods, including: English slipware [pottery] from 1750, clay smoking pipes and tin glazed enamel wear from the 1700's, and intact bottles that date from the mid 1800's to the early 20th century. 
http://www.compasscayman.com/caycompass/2014/10/16/Secrets-of-18th-century-well-explored/
TURQUIE –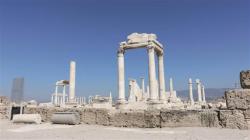 Laodicea  - One of the "Seven Churches of Asia" mentioned in the Bible, the Laodicean Church in the ancient city of Laodicea will be opened to tourism at the end of this year. The head of the excavations at the ancient site in the western Turkish province of Denizli, Professor Celal Şimşek, said this year's excavations continued in the northern part of the holy agora, a special area of the temples.  Şimşek said works had been conducted in a structure called the "C structure." "We have completely opened the peristillium (courtyard) of the structure. There is both a settlement and a graveyard from the early Bronze Age in the western side. This area dates back 5,000 years and we excavated there. This year we also restore the Septimius Severus fountain." The church is a very special structure with wall coverings, wall paintings and geometrical mosaics. "The opening of this church is very important because it is nearly a 1,700 year-old unique structure. The city completely collapsed in an earthquake in the 7th century A.D. and was abandoned. The church has survived so far because there were no settlements around it," Şimşek also added.
http://www.hurriyetdailynews.com/church-in-ancient-city-of-laodecia-to-open-to-tourism-.aspx?PageID=238&NID=73011&NewsCatID=375
ROYAUME UNI – Leyburn - Archaeologists have unearthed ancient human remains and evidence of a medieval church on the site of a new extra care scheme. The discovery in Leyburn, North Yorkshire, has been described as an "intriguing conundrum" by experts. Tests and further digging is now underway to learn more about the finds. "At the top of the slope there appears to be an enclosure within which is a stone structure which is aligned east to west and features two rooms, one of which is smaller than the other." Mr Pearson believes the rooms could be a nave and chancel from a church. The archaeologist said they had not found any sign of a church at the site on maps or records for the town, but believed it could date back to the early medieval period.
http://www.thenorthernecho.co.uk/news/11537977.Ancient_bones_and_evidence_of_medieval_church_found_on_building_site/
USA –
 Guadalupe-Nipomo  - Archaeologists parted the sands in California to excavate one of the last remnants of old-time Hollywood: a giant plaster sphinx from the set of Cecil B. DeMille's The Ten Commandments.The director buried props from the epic movie (the 1923 silent black-and-white version, not the color 1956 Charlton Heston blockbuster) in the Guadalupe-Nipomo Dunes after the film wrapped. Among the props: 21 plaster sphinxes that were 12 feet tall and weighed 5 tons each. Archaeologists in 2012 managed to unearth the head of a sphinx they uncovered. Short on time, they left the body behind, and hoped to pull it out of the sands this time.
http://www.cincinnati.com/story/news/nation/2014/10/16/sphinx-uncovered-california-desert-ten-commandments/17350293/
ROYAUME UNI -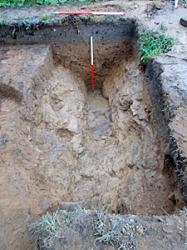 Swinton- "In the bottom of the ditch we found a large amount of Roman pottery which appeared to be dated to the 1st century AD," says Alex Sotheran, the Archaeology Manager of the company, describing a trench measuring five metres by three metres. "This measured about 1.5 metres deep and ran across Andrew's garden from the north to the south. "This ditch was probably used as a boundary ditch or cattle enclosure and was cut through the natural sandstone bedrock. "Other features in the trench included several post holes of unknown use. One of these produced some Roman pottery fragments. "It appears that the garden has remains dating to the Roman period. The work adds to our knowledge of Roman South Yorkshire, although this was only an evaluation trench.
http://www.culture24.org.uk/history-and-heritage/archaeology/art502821-archaeologists-find-remains-of-roman-south-yorkshire-during-crowfunded-back-garden-dig
USA –
 St Augustine - Discoveries are coming out of the dirt in St. Augustine. At an archaeological dig, pieces of history are seeing the light of day for the first time in more than 400 years. Carl Halbirt is the city's Archaeologist in St. Augustine. "These are some of the oldest artifacts we've ever found here in St. Augustine." Halbirt is finding European pottery and artifacts that he says date back to the 1572 – 1586. In downtown St. Augustine, you don't get much older than that. Artifacts may be older at the Fountain of Youth site where Pedro Menendez landed in 1565. Within a few years, colonists left that site, moved to a location on Anastasia Island, and then moved to what is we know as downtown St. Augustine in 1572. "Finding that many 16th century features in a small area is almost unprecedented here in St. Augustine," he said. "Normally you maybe find 1 or 2 during a dig, but now we're up to 8 or 9." They're finding rare things too such as a burned corn cob that may have been used to keep mosquitoes away when burned with other corn cobs. A tiny metal star was found. Halbirt described it as a "flagellation star. This is rare." Many of these tiny metal pieces would be on ropes or leather straps and for religious reasons, colonists "literally would whip themselves on the back." Another rarity found on site was what looked like an arrowhead, and Halbirt said "That's a natïve American knife. Very rare."
http://www.firstcoastnews.com/story/news/local/st-augustine/2014/10/13/augsutines-oldest-artifacts/17176039/