16-17 NOVEMBRE 2014 NEWS: Akrotiri - Bangalore - Luotuo -
16-17 NOVEMBRE 2014 NEWS: Akrotiri - Bangalore - Luotuo -
INSTITUT SUPERIEUR D'ANTHROPOLOGIE
INSTITUTE OF ANTHROPOLOGY
ONLINE COURSES / COURS A DISTANCE
WINTER TERM : JANUARY 2015
REGISTER NOW
CHYPRE –
 Akrotiri - Following on from the success of last year's dig in the RAF Akrotiri area, the Defence Archaeological Group have continued its excavation work on the site of what is believed to be a 7th century monastic complex. Working in conjunction with the Cyprus Antiquities Department, the dig site, which is believed to be approximately three times the size of Westminster Abbey, could prove to be one of the most historically significant finds ever in Cyprus. Last year the team uncovered a basilica and numerous mosaics during the excavation but this year has so far proved even more rewarding according to Senior Archaeological Officer, Eleni Procopiou, from the Antiquities Department.  She said: "We have already excavated a transit basilica to the west and we have already completed an atrium and this year we have entered and are excavating a new structure which has 20 metres width.  "It is too early to say anything yet but I believe it is a new church and we expect over the next years to find the answers. I believe it is part of the same complex we discovered last year as the walls are continued and belong to the same architectural design." She also enthusiastically revealed that this latest discovery could only be the tip of the iceberg: "I feel this is only the south wing of the complex; there is another, an eastern wing and a north wing, where I believe we would discover the main church of the whole monastic complex.  "It is very exciting and I think it is a unique monument for the whole island, something that is very important for the whole byzantine archaeology empire. It is not a monument that is related only with Cyprus, it is an imperial, patriarch monument."
http://incyprus.philenews.com/en-gb/local-news/4422/42628/dig-site-continues-to-unearth-major-findings
INDE –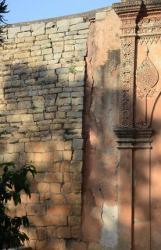 Bangalore - Once the nucleus of an ambitious plan to build a new city – Bengaluru – by the city's founder Kempe Gowda, Tipu Sultan Fort or Bangalore Fort today is a far cry from its former state of glory. Visitors are now greeted by cracks that have developed in the fort walls above the temple that one sees after entering the protected monument nestled in the busy K.R. Market area.The cracks, it is learnt, appeared recently although the fort was restored only two years back. The Archaeological Survey of India (ASI) officials blame it on the age of the monument. "Essential steps for its conservation were taken two years ago, but there are no major plans as of now," an official said. The ASI will now to analyse the cracks to ascertain their width and depth before taking up conservation work.
http://www.thehindu.com/news/cities/bangalore/tipus-fort/article6603410.ece?utm_source=RSS_Feed&utm_medium=RSS&utm_campaign=RSS_Syndication
CHINE - Luotuo Hill - Archeologists say they have discovered another important site of human activity dating back 300,000 to 500,000 years, roughly contemporary with Peking Man. Dozens of stone, animal bone and horn tools have been excavated at a limestone quarry site on Luotuo Hill in the northeast coastal city of Dalian in Liaoning Province. Researchers have obtained more than 1,000 samples since a joint excavation began in August by the Institute of Vertebrate Paleontology and Paleoanthropology of the Chinese Academy of Sciences and the Dalian Natural History Museum. Stone tools and large animal bones that appear to have been cut or smashed by humans suggest an important site of early human activity, said Huang Weiwen, an institute researcher. Deer and antelope horn tools were also used at the Zhoukoudian Caves in Beijing's suburbs, where the skulls of Peking Man, or Homo erectus, were found in the 1920s and 1930s. Peking Man was first believed to have lived in Zhoukoudian about 400,000 to 500,000 years ago. But some Chinese scientists later said they were 200,000 years older. "The discovery of the Luotuo Hill site of early human beings is of great significance," said Gao Chunling, deputy head of the Dalian museum. It is likely to be the earliest cultural ruins in northeast China, making it important for the study of human evolution and the origin of culture in the region, Gao said. Fossils of ancient mammals such as elephants and tigers were also similar to those unearthed at Zhoukoudian, according to the researchers.
http://www.shanghaidaily.com/national/Peking-Man-era-site-revealed/shdaily.shtml?