15 OCTOBRE 2014 NEWS: Amphipolis - Villajoyosa - Seyitömer - Foca - Hisarluka - Streedagh -
15 OCTOBRE 2014 NEWS: Amphipolis - Villajoyosa - Seyitömer - Foca - Hisarluka - Streedagh -
INSTITUT SUPERIEUR D'ANTHROPOLOGIE
INSTITUTE OF ANTHROPOLOGY
ONLINE COURSES / COURS A DISTANCE
WINTER TERM : JANUARY 2015
REGISTER NOW
GRECE –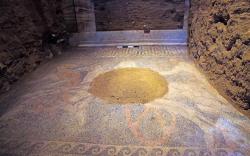 Amphipolis - Archaeologists should know on Tuesday or Wednesday whether a third figure is depicted in the mosaic found in the tomb being excavated in Ancient Amphipolis, according to a top Culture Ministry official. Speaking to Skai TV on Tuesday morning, Culture Ministry General Secretary Lina Mendoni said that efforts to uncover the two sides of the mosaic should be completed "today or tomorrow." The mosaic was discovered last week in the tomb's third chamber. Archaeologists have yet to discover the identity of who was buried in the tomb, with Mendoni saying that there may even be more than four chambers. "It is not clear if the next chamber will be the last one," she said.
http://www.ekathimerini.com/4dcgi/_w_articles_wsite1_1_14/10/2014_543707?
ESPAGNE –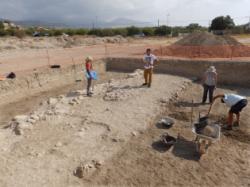 Villajoyosa - Excavations for the new road between the Ermita roundabout and Avenida Pianista Gonzalo Soriano revealed what was probably a side road leading to a villa, archaeologists said. It would have later joined the main Roman road beneath the existing Calle Canaleja that later passes though La Creueta and La Creu de Pedra before continuing inland to Alcoy. This is the tenth time that excavations have revealed part of one of La Vila's six Roman roads.   This latest section, which is 3.6 metres wide and runs east to west, was edged with stone kerbs.  It had clearly been repaired as potholes had filled with stones and pottery shards, said the archaeologists who also found a wealth of other objects. These included loom weights and fine pottery from the 1st or 2nd Century AD as well bronze and iron nails, a bronze ring, a fishing hook and several 4th Century AD coins.These objects, together with the side-road, indicate a nearby villa, the experts said, although this has yet to be located.
https://www.euroweeklynews.com/news/costa-blanca-north/item/123542?
TURQUIE – 
 Seyitömer  - Wall paintings of animal and human shapes, as well as geometric designs, have been found by researchers at the Dumlupınar University Archaeology Department in the 5,000-year-old Seyitömer burial mound. With a history dating back to the third millennium B.C., the mound in the western province of Kütahya offers clues about people who lived in the early Bronze, middle Bronze, Achaemeni, Hellenistic and Roman eras. Professor Fikret Özbay said they found a new, pear-shape space enclosed in earth during the recent excavations, adding that it was the first time they had encountered such a structure. "There are wall paintings in the wide side of these structures of different forms. Since they were made on plaster 5,000 years ago, it was not possible to protect them very well. Red dye was used in these paintings and they are human and animals figures and geometrical shapes. Such paintings are generally seen in inns in the excavation areas in Anatolia. But for the first time we have seen them in a settlement. The new spaces were covered with wattles and woods," Özbay said. Özbay said the existence of a very large coal mine had also been discovered below the mound. Excavations at the Seyitömer mound have been continuing since 2006.
http://www.hurriyetdailynews.com/centuries-old-wall-paintings-discovered-at-seyitomer.aspx?pageID=238&nid=72958&NewsCatID=375
TURQUIE –
 Foça - A Genoese Ottoman castle in İzmir's Foça district has recently opened following one year of restoration, while providing lessons to other restorers about how to restore historical buildings. Because the castle walls were reinforced during the restoration without using cement, the castle has succeeded in being included on UNESCO's Temporary List of World Heritage Sites. 
http://www.hurriyetdailynews.com/refurbished-genoese-ottoman-castle-in-foca-provides-lessons-on-restoration.aspx?pageID=238&nID=72956&NewsCatID=375
BULGARIE –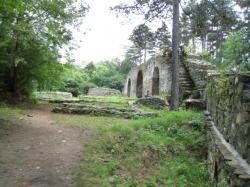 Hisarluka - Archaeologists excavate remains of late antiquity basilica and a medieval fortress at the Hisaluka hill near Bulgaria's Kyustendil. According to the Darik national radio, the remains are facing north beneath an alley from 1966. The basilica remains consist of a part of an apse, the south wall and stone pavement at the south western corner of the southern nave. The archaeological remains at the Hisarluka hill uncovered so far are an early Christian basilica and a medieval fortress. Most of the artifacts are exposed in a lapidarium.
http://www.novinite.com/articles/164069/Archaeologists+Excavate+Late+Antiquity+Basilica+At+Hisarluka?
IRLANDE –
 Streedagh- A 20ft Rudder from the 1588 Spanish Armada Wrecks at Streedagh was discovered recently by a local Farmer on the beach at Streedagh. The Farmer contacted local Armada enthusiasts and the Underwater Archaeology Unit of the Department of Environment Heritage and Local Government about the find and has kept it in safe storage at his yard since.
Earlier this month the Grange and Armada Development Association (GADA) invited Dr. Nessa O Conner Assistant keeper with the National Museum of Ireland and the first state employed Archaeologist to dive on the Streedagh Site along with Dr. Douglas McElvogue Senior Research Fellow and Archaeologist at the Mary Rose Trust to examine the find and offer advice on what action should be taken. Both Archaeologists having examined the find confirmed that it could be of major importance in putting together the story of the Spanish Armada. There is they believe another fully intact Rudder from the Juliana (requisitioned in Palermo Sicily) which they have both dived on in the 1980s and they believe this one is either from La Lavia (From Venice) or the St Marina De Vision (From Dubrovnik)  Both Archaeologists having examined the find confirmed that it could be of major importance in putting together the story of the Spanish Armada. There is they believe another fully intact Rudder from the Juliana (requisitioned in Palermo Sicily) which they have both dived on in the 1980s and they believe this one is either from La Lavia (From Venice) or the St Marina De Vision (From Dubrovnik)