15 NOVEMBRE 2023 NEWS
INSTITUT SUPERIEUR D'ANTHROPOLOGIE
INSTITUT OF ANTHROPOLOGY
COURS ONLINE – COURS A DISTANCE
INSCRIPTIONS OUVERTES
REGISTER NOW
PUERTO RICO –
- A mysterious series of cave art drawings, which includes what resembles an African lion, has been discovered inside a Puerto Rican cave, according to a new study that raises questions as to why images depicting animals native to Africa would appear in Puerto Rico. The same study also pushes back the dates of Puerto Rico's first inhabitants by thousands of years. If confirmed, this finding directly contradicts previous estimates made by early European invaders, as well as later studies dating artifacts found in and around the caves. First, they selected 11 caves out of the more than 60 that contain various types of ancient drawings suspected of being from different periods of Puerto Rico's history. Next, the collected samples of the pigments used to make the drawings, including the mysterious drawing of an African lion, to determine when the art was made. Although the tests produced various ages for the pictographs, the first one to catch Acosta-Colon's eye was the oldest date of 700-400 BC, also known as the Archaic Age. That date goes directly against the more commonly reported age of Puerto Rico's first occupation by as much as two thousand years but is more consistent with the ages he and his colleagues hoped to find. Perhaps the most stunning finding was the mysterious drawing of an African Lion in one of the caves, an animal that shouldn't be there. "We have an image that looks like a lion," said Acosta-Colon, "but in Puerto Rico, we don't have lions." After running a sample of the pigment used to draw the lion through their Carbon-14 test, the team discovered it was most likely drawn sometime around 1,500 A.D. As a result, Acosta-Colon and his team say they think the likeliest explanation for the presence of the lion was African slaves brought by the Spanish to Puerto Rico in the 1,500s.
Mysterious Drawing of an African Lion Found in Ancient Puerto Rican Cave, Where There Are No Lions - The Debrief
MEXIQUE –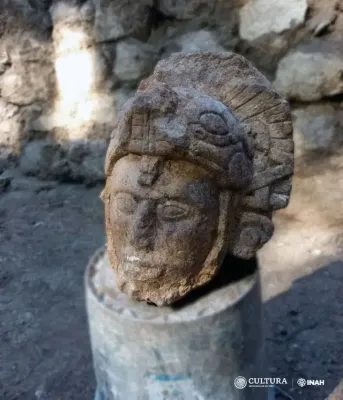 Chichen Itza - Des archéologues ont mis au jour l'étrange statue d'un guerrier maya portant un casque en forme de serpent au sous-sol d'un temple précolombien au Mexique. La statue de 33 cm de haut et 28 cm de large a été découverte à Chichén Itzá, dans la péninsule du Yucatán, selon l'Institut national d'anthropologie et d'histoire (INAH) du Mexique. Il semble représenter un guerrier vêtu d'une robe à plumes et d'un casque en forme de serpent avec ses mâchoires ouvertes, et les chercheurs soupçonnent qu'il pourrait avoir fait partie d'une sculpture plus grande construite il y a environ 1 000 ans.
Archaeologists find strange Maya warrior statue with helmet shaped like snake | The Independent
SERBIE –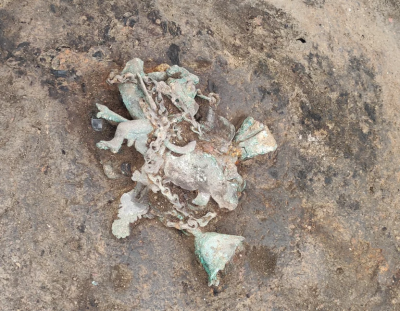 Viminacium - Archaeologists have unearthed a Roman phallus wind chime known as a tintinnabulum, during excavations at the ancient city of Viminacium in the Kostolac region of eastern Serbia. Viminacium was the capital of the Roman province of Moesia and an important military camp, founded around the 1st century. The city thrived throughout the centuries, eventually gaining the status of a colony during the reign of Emperor Gordian III. It's estimated that the city was home to 45,000 inhabitants. Two Roman legions were stationed here, Legion VII and Legion IV. Tintinnabulum, which was hung near the doorways of houses and shops, was believed to serve as magical protection for the premises. This one was discovered on the porch of a large home on a main street in Viminacium. "The building was destroyed in a fire, during which the porch collapsed and fell to the ground," Ilija Danković, an archaeologist at the Institute of Archaeology in Belgrade, told the Serbian-language website Sve o Arheologiji. The object is cast from bronze and depicts a magical phallus at the center with two legs, wings, and a tail. This central figure was adorned with four bells, noted the archaeologists. However, the original appearance of the Viminacium wind chime will be revealed following its conservation. The ancient equivalent of modern wind catchers is wind chimes, but their significance and function in the Roman world were far more complex. They are hung in front of the doors of houses or rooms so that when they make a sound in the wind, and also with their unusual appearance, they dispel evil forces and evil eyes. Phallus-shaped objects are found on a wide range of Roman objects, from amulets to frescoes to mosaics and lamps, and even as far as on Hadrian's wall at the other extreme of the empire. For the Romans, such objects did not have an erotic character. This part of the human body was considered an effective weapon in the fight against the evil eye, and was also a bringer of good luck.
Magical Roman Phallus Wind Chime Unearthed in Serbia - Arkeonews
TURQUIE –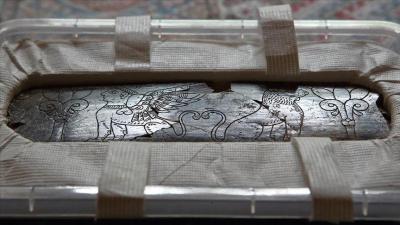 Hattusa - An ivory-decorated piece, estimated to be approximately 2,800 years old, was found during the archaeological excavation in the Hattusa Ancient City in Çorum, the heart of Turkey. The ivory piece, which is approximately 30 centimeters long and 10 centimeters wide, features a sphinx (a statue with a human head and an animal body), a lion, and two Tree of Life figures drawn on a shiny background. Scientific studies are ongoing regarding the piece on which the figures can be seen under suitable light conditions due to the layer on it. Excavation Director Prof. Dr. Andreas Schachner told AA correspondent that the artifact was found in the Iron Age layer at the Hattusa Archaeological Site, which bears traces of many civilizations. Schachner, stating that the well-preserved piece is approximately 2,800 years old, said, 'In its period, it was most likely added as a decoration to a wooden box or furniture made of wood. The artifact is broken on the right and left sides, and the upper and lower sides are in their original state. Therefore, we guess that the piece is longer."
A unique 2,800-year-old ivory-decorated piece was discovered in the Ancient City of Hattusa - Arkeonews
NORVEGE –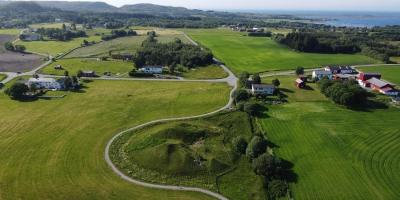 Leka - In Leka, a municipality in Norway's Trøndelag county, archaeologists have uncovered Scandinavia's oldest identified ship burial, dating back to around 700 AD. This summer, archaeologists carried out a small survey of the 60-meter mound Herlaugshaugen, a site mentioned in Snorre's royal sagas as the final resting place of King Herlaug. Herlaugshaugen is one of the country's largest burial mounds. In the late 1700s, it was excavated three times. According to reports, findings included a type of wall, iron nails, a bronze kettle, animal bones, and a seated skeleton with a sword. The aim was to date the pile and find out if it contained a ship. They carried out the surveys on behalf of the National Archives, and in collaboration with Trøndelag County Municipality. The team became extremely excited when they discovered big nails, which are a clear sign of a ship burial. The findings pushed back the origins of ship burial customs, placing the mound's creation in the Merovingian period, roughly 700 CE. According to Geir Grønnesby, archaeologist and project manager of research at the NTNU Science Museum, the discovery reveals the region's advanced maritime capabilities much earlier than previously thought. This discovery sheds light on the pre-Viking period, when ship development was critical. The ship's size and sophistication imply a society with extensive maritime knowledge and resources. Furthermore, the Herlaugshaugen mound, one of Norway's largest burial mounds, is regarded as a symbol of power and wealth, indicating that the region's prosperity was likely derived from trade and maritime activities rather than agriculture alone. The development of the ship has been central to the discussion about when and why the Viking Age began. We cannot say that the Viking Age started earlier based on this dating, but Grønnesby says that you do not build such a large ship without having a reason for it. The Herlaug mound is dated to the Merovingian period (approx. 550 to 800 AD), which is just before the Viking Age. This is an era that is generally quite poor in terms of archaeological finds, but early in the period, the first boat burials appeared. Among these are the spectacular boat graves from Vendel and Valsgärde in Sweden, where people were buried lying on down pillows with flashy weapons and helmets. There has been speculation about a connection between these sites and Namdalen, Norway, which has similar large mounds. Namdalen is home to roughly 10% of Norway's large burial mounds. This link continues to Sutton Hoo in England, another important Merovingian site. Researchers are eager to delve deeper into these possible historical ties.
Scandinavia's Oldest Identified Ship Burial in Trøndelag "Rewrites History" - Arkeonews
CHINE -Longgupo - A collection of ancient stoneware has been unearthed from the Longgupo Site in the Three Gorges area in southwest China's Chongqing Municipality. This was reported by The Xinhua News Agency. Longgupo Site is located in Miaoyu Township in Wushan County, covering an area of about 1,300 square meters. The site is believed to be 2 million to 2.5 million years old and is one of the earliest ancient human sites in Eurasia. The fifth phase of archaeological excavation work on the site has been recently completed. According to the Chongqing China Three Gorges Museum, a considerable number of stoneware have been unearthed which revealed valuable information such as relic strata and three-dimensional coordinates. This discovery has laid a foundation for further exploration of artifacts with distinct manual traces and related research. During this excavation, scientific and technological methods such as three-dimensional digital scanning modeling were used, and some innovations in excavation concepts, methods, and technologies were introduced during the process.
Ancient stoneware unearthed from China's Three Gorges area | Ukrainian news (ukranews.com)
CANADA –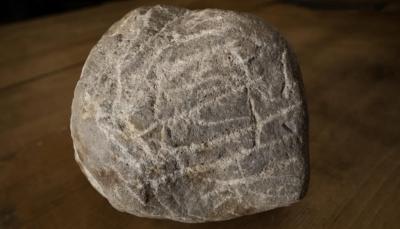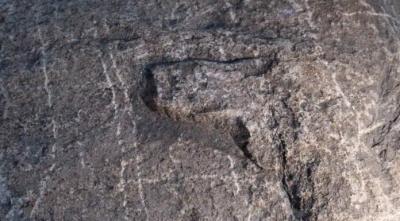 Wanuskewin - In a remarkable and inspiring occurrence, the reintroduction of plains bison to ancestral First Nations lands in Canada saw the beasts unearth important petroglyphs, and in doing so fulfill a prophecy held by the elders of the Dakota Tribe. With a lack of organic material, the two petroglyphs carved into a pair of boulders were dated to between 300 and 1,800 years ago, a span of time when the Dakota, Nakota, Assiniboines, Ojibwa, Cree, and Blackfoot all inhabited the area of Wanuskewin at various periods. Noticing a part of the rock had a deep groove cut into it, he began to remove dirt and dig the rock out a bit, revealing the crisscrossing lines of a "ribstone," a ceremonial petroglyph carved to appear like the bison's ribcage. "We'd found the detritus of everyday living: broken stone tools… and things like that," Walker says. "But [we] didn't find ideas. [We] didn't find emotions. The petroglyphs brought that. They're that other dimension… They're a glimpse into somebody's hopes and dreams."
Bison Herd New to Park Uncover Ancient Petroglyphs With Their Hooves Fulfilling Indigenous Prophecy (goodnewsnetwork.org)
ANGLETERRE –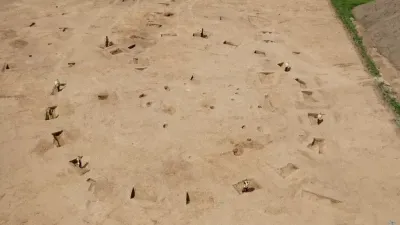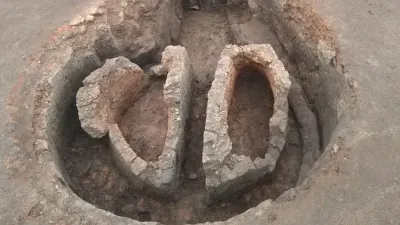 Nottinghamshire. - Archaeologists called in to survey the Middlebeck housing site near Newark said they uncovered evidence of human activity going back 12,000 years. Their finds included 73 Roman kilns, which they said made it a pottery site of "national importance". A circular ditch dotted with upright timbers was also found near a spring. The first major find was the enclosure, which is dated to about 3,300 BC and contained the remains of a series of internal posts and pits, possibly forming one or more concentric arcs of upright timbers. It was also situated at the head of a spring, which the archaeologists said might mean it had cultural and religious significance to prehistoric people. Another significant find was a polished stone axe head from Langdale, Cumbria, probably of a similar date to the enclosure. However it was found buried with Iron Age pottery, from about 3,000 years later and bore marks likely to show its re-use as a whetstone, suggesting it had been valued for generations.The site also contained 35 cremation burials from the Bronze Age, necklace beads of a similar date, and traces of a sizeable Iron Age farming community. But one of the biggest surprises was the 73 "remarkably well-preserved" Roman kilns and "vast quantity" related pottery. A spokesman for Oxford Archaeology said: "This number of kilns is largely unprecedented, certainly in the Newark area, and more widely across the Midlands. "It probably represents a previously unknown pottery production centre that is of regional, if not national, importance."
Henge monument and Roman kilns found at housing dig - BBC News
Pays de GALLES –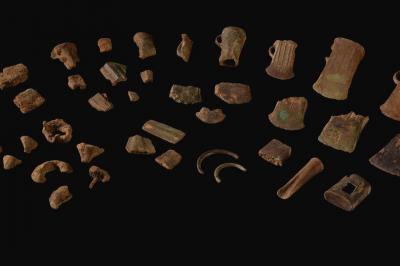 - A "significant sized" late-Bronze aged treasure hoard has been discovered in a Welsh field. The items were found by Dr Peter Anning, formerly of Cardiff University, whilst metal-detecting. The hoard, which dates back to between 1000 and 800 BC and was likely deliberately buried within a pit in the ground. It is thought to have been gathered together by a local community and buried in the field as part of a ritual ceremony marking the community's social customs or religious beliefs and comprises fragments of 38 bronze artefacts, including socketed axes, spearheads, a diverse range of casting-jets and ingot fragments, and several even more unusual items including a socketed gouge for woodworking and two case bronze rings, possibly used as horse-harness fittings. Chris Griffiths, a researcher with Amgueddfa Cymru/Museum Wales and the University of Reading, explained: "This collection of mostly small artefact fragments offers a fascinating glimpse into the rich tapestry of life in Late Bronze Age Cardiff. The chape and one of the socketed axe fragments are more unusual and of particular interest, with the latter likely made within and imported from south-eastern England. Through these objects, we gain insight into the array of connections with distant communities, which would have helped people to thrive in this part of Cardiff, around 3000 years ago."Adam Gwilt, Principal Curator of Prehistory at Amgueddfa Cymru/Museum Wales added: "This is a significant sized Late Bronze Age hoard from south-east Wales, containing a diverse range of tools, weapons and bronze casting products. It adds to a bigger regional picture of people choosing to bury many bronze hoards at this time, often near to rivers and streams. This discovery in St Fagans Community adds to a known clustering of hoards found along the River Ely and its tributaries.
'Significant' Bronze age treasure hoard found in Wales field - North Wales Live (dailypost.co.uk)
GRECE –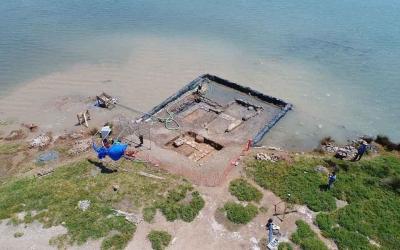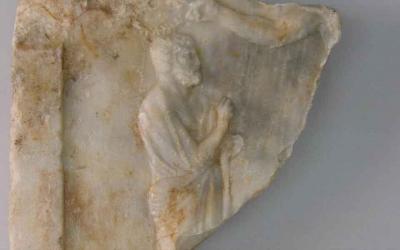 Salamis - The 2022 underwater survey, successfully conducted by a 12-member team on the northwest side of today's Bay of Ampelaki, systematically investigated submerged remains of the Classical city of Salamis in recent years, including large parts of the sea wall, measuring 3-4m thick, and other public structures. A particularly intriguing find was the excavation of a large oblong public building, partially submerged and oriented in a general North-South direction. Situated in the northwest cove of the bay, within an area enclosed by the ancient sea wall (from the south and east), whose course has been fully documented in previous surveys. The investigation of the building, based on a survey grid using 4 x 4-meter squares, utilized an "amphibian" excavation process, combining methods and techniques of terrestrial and underwater archaeology. This involved installing a coffer dam around the site and using two water pumps to extract seawater in a total area of 60 square meters. The building, with a width of 6m and a length of 32m, continues under the sediments to the north, on the seashore, and exhibits a square projection (wing) at its southern end. Based on the size, shape, and layout of its spaces, as well as other architectural elements, the revealed building possesses all the characteristics of an ancient stoa (arcade), according to the announcement. Its interior comprises at least six or seven rooms, with a significant discovery in one room having internal dimensions of 4.7 x 4.7m, where a large storage jar was found in the northwest corner. Of the building's outer walls, constructed with large stone blocks approximately 0.60m thick, only one or two layers of stone are preserved. The excavated section of the western long wall and the transverse internal walls reveal a solid, well-built foundation. The ancient ruins, along with other adjacent structures in the area of the Bay of Ampelaki, have been largely stripped of their masonry. Until the end of the 19th century, the area was heavily exploited for construction materials, used on other buildings on the island and the nearby mainland. Nevertheless, the excavation of the partially submerged ancient stoa has yielded numerous portable finds, including a large quantity of pottery from various periods. Significant amounts of pottery from the Early Byzantine and medieval-early modern periods were recovered from the low-lying marshy sediments. The ceramic findings related to the operation of the building include abundant fragments of pottery of various types, dated to the Classical-Hellenistic periods. Of particular importance is the collection of Athenian black-painted vessels from the Late Classical period (4th century BC), found on the floor level of the building. Numerous clay objects were also collected, including amphorae caps, as well as fragments of marble objects and 22 bronze coins, from Athens and elsewhere. Among the marble finds, two are especially noteworthy. Both dated to the 4th century BC, the first is a fragment of a column with part of an inscription, in two or three fragmentary verses. The second fragment, which would have formed the upper part of another column, reveals part of a relief depicting the muscular right hand of a large figure, probably a hero (Ajax?), crowning an upright bearded man. The scene directly refers to a similar relief representation on a marble stele from about 320 BC, on display at the Archaeological Museum of Salamis (MP 4228), depicting Ajax, an important hero in the epic cycle of the Trojan War, long associated with Salamis, being venerated at the ancient festival of Aiantia. The discovery of the stoa is a critically significant development in the ongoing examination of the topography and residential organization of the ancient city of Salamis. The building, situated with an open front to the west, likely designates the eastern boundary of the Agora of the Classical-Hellenistic city. This Agora would have expanded towards the west-northwest from the building. Pausanias, the ancient geographer and traveler, provided a description of the stoa in his work (1.35.3) during the mid-2nd century AD. Notably, this location aligns precisely with the low southwestern part of the Pounta peninsula, where W. Kendrick Pritchett proposed the site for the ancient Agora in 1959, building upon earlier observations by A. Milchhöfer (1895).
Partially submerged ancient stoa discovered on Salamis | eKathimerini.com