INSTITUT SUPERIEUR D'ANTHROPOLOGIE
INSTITUTE OF ANTHROPOLOGY
ONLINE COURSES / COURS A DISTANCE
SUMMER TERM : JULY 2017
REGISTER NOW
ROYAUME UNI –
Falmouth - Two Bronze Age roundhouses dating back to around 1,000 BC or earlier have been uncovered on farmland adjoining Bulwark Road, along with an Iron Age burial site and ditches, plus a small industrial area. The archaeologists have found significantly more features along the eastern site boundary than were anticipated from the radar survey results. The radar survey indicated that there would be no remains in this area, but the archaeologists have discovered two probable roundhouses, a possible prehistoric stone burial feature, together with further ditches, pits and postholes. Houses in the British Bronze Age were usually circular with either a dry stone wall or made from wattle and daub - strips of wood woven together (the wattle) that were then daubed with a stick mixture of clay, wet soil, sand, straw and animal dung. Previously the nearest examples of similar roundhouses could be found in west Penwith, at Bodrifty, where there are more than 20 Bronze Age monuments and an Iron Age village. The discovery in Helston suggests that settlers chose the spot at Higher Nansloe Farm for its raised position, overlooking the sea at Loe Bar.
http://www.falmouthpacket.co.uk/news/15346250.Bronze_Age_discovery_on_Helston_housing_site_raises_questions_over_its_future/
ROYAUME UNI –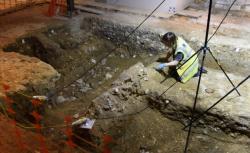 Canterbury - Archaeologists have uncovered the footings of an ancient church, dating back to the 14th century, on a university campus. Canterbury Archaeological Trust (CAT) excavated a site on Canterbury Christ Church University's North Holmes campus - where a £12m arts building is due to be built to support the region's creative art and digital industries - to ensure any Medieval, Anglo-Saxon and Bronze Age remains were protected. During the dig, historians found the footings of the St Augustine's Abbey precinct wall and the university has since decided to celebrate its discovery within the state-of-the-art building, with plans to expose a section of the wall beneath the glass in the main reception. A Benedictine monastery founded in 598, the ruins of St Augustine's Abbey in the cathedral city are now a World Heritage Site.
http://www.kentnews.co.uk/news/archaeological-excavation-in-canterbury-uncovers-14th-century-abbey-precinct-wall-1-5060380
USA - Stoddartsville - An archaeological dig in Luzerne County is unearthing an interesting past. It's quite a story these college students are uncovering in Stoddartsville, all dating back to 1815 with John Stoddart. "John Stoddart was a Philadelphia businessman who wanted to tap into resources coming out of the Wyoming Valley and so he builds Stoddartsville to do that," Khori Newlander, Professor of Anthropology at Kutztown University, said. The Lehigh River was a huge part of the reason why Stoddart decided to settle and build a business here because it empties into the Delaware, which ultimately goes into Philadelphia. However, he invested too much money into a two lane transport system in the river and that plan backfired. "He runs out of money and has to sell his land to folks who come in and use it as a lumber camp to support the coal mining industry," Newlander said. Eleven student excavators are now finding all sorts of artifacts.
VIDEO = http://wnep.com/2017/06/13/archaeological-dig-unearths-an-interesting-past-in-luzerne-county/
ISRAEL –
Judean Desert - Researchers and theologians around the world are buzzing about the recent discovery of some ancient extra biblical manuscripts in the modern West Bank area of the Judean Desert. The scrolls, found only 2 miles away from the location of the famous Dead Sea Scrolls, are estimated to have been written around 125 AD and may provide an answer to one of the Bible's biggest mysteries: what did Jesus write in the sand in the Gospel of John? "Finally! The answer to the question that has puzzled theologians for thousands of years!" exclaimed one researcher. "While we still have a lot of testing and research to do, it appears as if the scribe who wrote these manuscripts went to great lengths to show us exactly what Jesus drew in John 8. Painted on the parchment, and still maintaining some pigment, we find what appears an image that resembles the Facebook 'Thankful' emoji. We are going to have to relearn what we thought to be true about emoji usage in the 1st and 2nd centuries." Shown exclusively here is the only known photograph of the manuscript with the painted image. Admittance to examine the scroll has been very limited, yet all who see it comment on the uncanny likeness to the adored, but recently removed, emoji. The debates and discussion about why (and how) Jesus would draw a purple flower in the dirt have already begun. The scrolls are expected to be named the "Gracias Codex".
http://www.patheos.com/blogs/chorusinthechaos/archeologists-discover-ancient-manuscript-with-picture-of-what-jesus-drew-in-the-sand/
CHINE –
Gujun - Excavation of ancient tombs in Gujun village of Xingtang county, North China's Hebei province. The ancient tombs, believed to be built between the late Spring and Autumn Period (770 BC -476 BC) and the early Warring States Period (475 BC-221 BC), cover an area of 500,000 square meters.
http://www.china.org.cn/arts/2017-06/14/content_41025840_3.htm