15 JUILLET 2015 NEWS: Gamla - Brudenell Point - Mitchell - Kampung Tanjung - Rufford - Coree - Sagalassos - Biripada - Ste Marie - Manama
15 JUILLET 2015 NEWS: Gamla - Brudenell Point - Mitchell - Kampung Tanjung - Rufford - Coree - Sagalassos - Biripada - Ste Marie - Manama
ISRAEL –
Gamla - A repentant antiquities thief has anonymously returned 2,000-year old slingstones stolen from the ancient battleground of Gamla, a Second Temple-era Jewish city on the east shore of the Sea of Galilee. The thief left the stones, which were about 15 centimeters in diameter, lying in a bag in the courtyard of the Museum of Islamic and Near Eastern Cultures in Be'er Sheva. Gamla, a walled town precariously perched on the top and side of a crag, has been a rich source of ancient material of war. Almost 2,000 slingstones were found during archaeological excavations there. The Romans shot these stones at the defenders of the city in order to keep them away from the wall, and in that way they could approach the wall and break it with a battering ram. The stones were manually chiseled on site by soldiers or prisoners
http://www.haaretz.com/life/archaeology/1.665712
CANADA –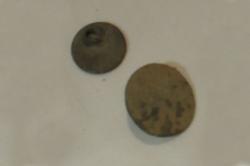 Brudenell Point - A rather remarkable find turned up at an archeological dig on Brudenell Point this week. Volunteers, students and First Nations folk were participating in the public dig on the foundation of the 200-year-old Malcolm Shaw homestead but something even older and earlier showed up. "We archeology nerds expect nails and bits of pottery, but this is pretty unique,'' Helen Kristmanson, provincial director of aboriginal affairs and archeology, says as she inspects the find. "I would say it's definitely pre-1820." The provincial director of archaeology gently turns a button in her hands. A metal button made of a copper alloy that has lost the sheen, but definitely not the shape. Even the hole for a wire thread to secure the dime sized item to a jacket was still there. "This is more like something we would find at a dig linked to the Acadian expulsion," says Kristmanson. "It would appear to be that old." That would mean the button found buried 30 centimetres below the surface at the Roma at Three Rivers site has been around for roughly 250 years. The significance means it could have popped off a man's jacket as he was led away in the Acadian deportations of 1775. Or, as Kristmanson suspects, it could be a button from a coat during the time Jean Pierre Roma established the first non-military settlement here in the 1730s.
http://www.theguardian.pe.ca/News/Local/2015-07-12/article-4210828/Archaeological-dig-at-P.E.I.s-Roma-site-unearths-rare-item/1
USA –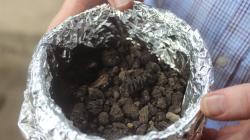 Mitchell- Archaeologists in in the northwestern state of South Dakota have uncovered corn cobs, corn kernels and sunflower kernels that are more than 1,000 years old. The discoveries at the Prehistoric Indian Village in Mitchell show that people who lived in the region at the time farmed and had a diverse diet, according to officials. The village is an active archaeological site open to the public. The team has found as much carbonized plant matter in the last two weeks than it had in the past 11 years, said Alan Outram, who's in his 12th year of brining students from London to Mitchell. rcheologists got an idea of where the best deposits at the site would be when the Thomsen Center Archeodome was being built, said Augustana archaeology professor Adrien Hannus. "This village isn't the origin of prehistoric agriculture, but it is one of the key sites in understanding what was done here," Hannus said. The new discoveries indicate the village dwellers weren't exactly primitive, Hannus told The Daily Republic (http://bit.ly/1MhusfG ). It was a successful village of farmers, hunters and foragers, he said.
http://www.mitchellrepublic.com/news/local/3781327-1000-year-old-seeds-dug-prehistoric-indian-village-archeodome
MALAISIE – Kampung Tanjung - A 200-year-old cannon has been dug up from a 0.82m depth at a construction site in Kampung Tanjung. The cannon, which is about 3m long and 30cm wide, is the longest one found in the country, said Khalid Syed Ali, director of archaeology at the National Heritage Department. "From the size and shape, this is a British-made iron cannon used in the 18th century," he said. But further study was needed for a more detailed background of the historical piece, he added. The cannon, which was dug up on Thursday, was the second one found at the site. Four days earlier, a 2.4m-long cannon was unearthed by construction workers. Based on interviews with several villagers there, more cannons could be in the ground, said Khalid. Some villagers had taken the cannons and hidden them during the Japanese occupation, he said.
VIDEO = https://www.youtube.com/watch?v=g_RcTD1Ddy8
http://www.thestar.com.my/News/Nation/2015/07/11/200yearold-cannon-found-Artefact-is-the-longest-one-found-in-the-country/
ROYAUME UNI - Rufford Abbey - Nottinghamshire community archaeologists are investigating the possibility of the remains of another medieval mill at Rufford Abbey – built by the monks there in the past to serve their estate. The remains of two other medieval mills have already been discovered in the area of the country park, and it is thought that there may well be others.
http://www.chad.co.uk/news/local/medieval-mill-dig-for-rufford-abbey-1-7348234
COREE DU SUD –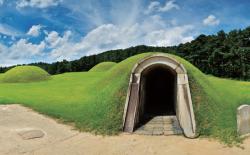 Eight ancient Baekje historic areas were collectively named as a UNESCO World Heritage site . The Baekje historic areas are a collection of sites built over the different periods of Baekje, spanning nearly 700 years from B.C. 18 to A.D. 660. The sites, including royal palaces and fortresses, tombs, temple sites and other archaeological sites, are scattered from Gongju and Buyeo in South Chungcheong Province to Iksan in North Jeolla Province. Together, these sites represent the later period of the Baekje Kingdom -- one of the three earliest kingdoms of the Korean peninsula -- during which time they were at the crossroads of considerable technological, religious (Buddhism), cultural and artistic exchanges between the ancient East Asian kingdoms in Korea, China and Japan," according to a UNESCO press statement released Saturday.
http://www.koreaherald.com/view.php?ud=20150705000316
TURQUIE –
Sagalassos - A structure that is believed to have been used as an ancient cold storage depot has been unearthed in the ancient city of Sagalassos in the southern province of Burdur's Ağlasun district. "A big two-story building was found in the upper agora. We think that it was used as a cold storage depot in the Hellenistic era," said Professor Jeroen Poblome of Belgian Leuven Catholic University, who is heading the excavations at the site. "Other ancient cities have similar structures, but this is the first in Sagalassos. It is such a big building that excavations may last five years." Stating that they were working in eight different spots this year, Poblome said: "We are looking at the early centuries of Sagalassos. We know that Alexander the Great fought here. Sources say that Sagalassos was not a small city. This is why we want to reach early periods of Sagalassos. We are working in the upper agora, believing that the city center was there. We have not so far found anything about Alexander the Great, but Hellenistic-era artifacts are gradually [coming to surface]." Poblome said the ancient city was home to important buildings and monumental structures from the 2nd century B.C.
http://www.hurriyetdailynews.com/Default.aspx?pageID=238&nid=85097&NewsCatID=375
INDE –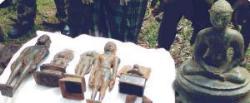 Biripada - Seven 10th Century Jain idols recovered from Biripada village under Muniguda Tehsil in Rayagada will find place in Odisha State Museum here in the capital city soon. The district administration had informed the state Archaeology department to take the recovered items into their possession. As of now, six idols have been sent to the department and one more is still there at the Ambadola police station. A faint impression of ancient scriptures inscribed on one of the idols has been found. Cleaning of the thick layer would help determine the civilisation to which the idols belong, he added. "The preliminary investigation reveals that the idols are of Mahaveer and Siddhanath. While three are in sitting posture, three others are in a standing position. The metal idols range from 4-6 inch high and one of them is made of bronze. It is very difficult to ascertain the type of metal of other idols as it is coated with a thick black layer. We would be able to identify the metal object after cleaning the layer," State Archaeology department Curator, Ashwini Kumar Satpathy said. Archaeologists are of the view that there might have existed a human civilisation on the banks of Bansadhara river as records suggest that Jain followers had settled down in the undivided Koraput district centuries ago.
http://odishasuntimes.com/134363/odisha-museum-to-house-10th-century-jain-idols-found-in-rayagada/
MADAGASCAR – Sainte Marie - Marine archaeologist Barry Clifford declared in May that he had solved an enduring mystery of the high seas by locating the wreck of Kidd's "Adventure Galley" ship and a 50-kilogramme (110-pound) silver ingot. But a team from UNESCO, the United Nations' cultural body, visited the site to verify Clifford's claims and brusquely dismissed his highly-publicised announcement. The UNESCO report said the "silver" ingot was just a lead weight, and that the supposed shipwreck was old rubble in a bay of Sainte Marie, a small island east of Madagascar. "What had been identified as the Adventure Galley of the pirate Captain Kidd has been found... to be a broken part of the Sainte-Marie port constructions. No ship remains have been found," the report said. "Also the metal ingot, recovered apparently from the above site, is not a 'silver treasure', but is constituted of 95% lead. "It does not contain silver and has been identified as a lead-ballast piece."
https://au.news.yahoo.com/thewest/a/28795916/?
BAHRAIN –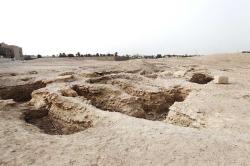 - Manama: Efforts are underway to bulldoze historic sites in an area known for its links to ancient civilisations, based on complaints that they have not been developed for tourism. Municipal councillors in the Northern Governorate want to flatten burial mounds and structures dating back up to 4,000 years, arguing the land was needed for modernisation projects. An application to recognise 11 burial mound locations, stretching 25km from the centre of the country to the northern coast, as a World Heritage Site was submitted to the United Nations Educational, Scientific and Cultural Organisation (Unesco) by Bahrain six years ago. That included the Buri mounds, which along with those in Dar Kulayb and Karzakan were described in Bahrain's application as: "The highest level of density of burial mounds in one field and the highest density of mound fields in a relatively limited territory." Bahrain hopes the mounds qualify for World Heritage Site status based on Unesco criteria that they "bear a unique or at least exceptional testimony to a cultural tradition or to a civilisation which is living or which has disappeared". It argued that each of the 11 sites "provides essential archaeological and scientific data defining the unique funerary practices of the Dilmun and Tylos civilisations". However, the Northern Municipal Council in April demanded that around 100 historic burial mounds in Hamad Town be bulldozed to make way for a new road.
http://www.gdnonline.com/Details/13689/Call-to-bulldoze-historic-sites?