INSTITUT SUPERIEUR D'ANTHROPOLOGIE
INSTITUTE OF ANTHROPOLOGY
ONLINE COURSES / COURS A DISTANCE
FALL TERM : OCTOBER 2015
REGISTER NOW
TURQUIE –
Aşıklı - The Aşıklı Mound, where settlement first started in the Cappadocia region 11,000 years ago, offers a chance to travel back in time. Archaeological excavations have been continuing for 26 years in the mound, located in Kızılkaya village in the central Anatolian province of Aksaray's Gülağaç district. The head of the excavations, Professor Mihriban Özbaşaran, said this year's work started in July. She said people who had previously settled near various places rich in plants and fruits started settling in Aşıklı Mound 10,500 years ago, adding the mound was Cappadocia's first and oldest settlement. Özbaşaran said the Aşıklı people chose the coast of the Melendiz River for a permanent settlement and lived there for 1,000 years. "As a research team, we have worked on how the people of Aşıklı struggled against difficulties during this process, how they survived as a crowded mass of people, what kind of social rules they created as well as their economy and technology," she said. Özbaşaran said they had obtained well-protected data about the new lifestyle of the Aşıklı people, and continued: "When the group first came here, they lived in round structures buried underground. We see that these structures came to the surface through time, became a square shape, and their walls were made of adobe blocks. We can observe the whole development of architecture in Aşıklı Mound. One of the firsts in Aşıklı was agricultural trials. Small-scaled agriculture grew in time enough to feed the whole group. We understand it from the large storages in the excavation area. They also domesticated animals. They first took animals under control. In the same way, they processed copper. We know that the oldest copper technology was in Aşıklı in central Anatolia." Özbaşaran said another first in Aşıklı was a skull, which is currently on display at the Aksaray Museum. "A hole made with obsidian stone in the skull is considered the world's oldest brain operation. It was the skull of a nearly 25-year-old woman, and after the operation she lived for about 10 days. Therefore we can call it an 'operation.'" The first village of Cappadocia is open to tourism, said Özbaşaran, adding they were working with an international team in Aşıklı Mound and had applied experimental archaeology method.
http://www.hurriyetdailynews.com/Default.aspx?pageID=238&nid=86967
ROYAUME UNI – Gleaston Castle - Since June, experts from Ulverston firm Greenlane Archaeology and Aerial-Cam have been gathering data, recording every aspect of the site - including a detailed record of the architecture and construction of the castle. An unmanned aerial vehicle – a quadracopter – was used, alongside more traditional archaeological recording techniques, to take thousands of digital images of the castle ruins, which will be transformed into a detailed 3D model of the site. Surprisingly, and until now, there was no accurate record of the castle other than plans drawn up in the early 20th century. This survey work is therefore creating a vital addition to the archaeological record for the region.
http://www.nwemail.co.uk/News/Ulverston/Cutting-edge-technology-reveals-secrets-of-Gleaston-Castle-79a4ab36-1969-472d-84e8-d627fc5ba73a-ds
TURQUIE –
Kibyra - Excavations in the ancient city of Kibyra in the southern province of Burdur's Gölhisar district have unearthed a 1,800-year-old bath. The bath is said to be from the Roman era and is 5,400 square meters. Assistant Professor Şükrü Özüdoğru, the head of the Kibyra excavations, said this year they had found the bath, which is the third largest structure after a stadium and an odeon (field for music concerts), adding, "This structure is one of the largest ones in Anatolia in terms of its size with 5,400 square meters. The main structure is 2,600 square meters. We see an underfloor heating system in the bath." Özüdoğru said they had attempted to understand the water and sewer system by reaching the bottom of the bath.
http://www.hurriyetdailynews.com/roman-bath-found-in-burdurs-ancient-kibyra-.aspx?pageID=238&nID=86977&NewsCatID=375
ROYAUME UNI – Douvres - A team of archaeologists has descended on Dover to pick through a building site before new construction begins. The scientists are hoping to get a glimpse into the town's past from several centuries ago, as David Johns explains.
VIDEO = http://www.itv.com/news/meridian/update/2015-08-15/dover-dig-archeologists-get-a-glimpse-of-the-past/?
ITALIE –
Po River - The 1570 temblor caused a 4- to 6-inch (10 to 15 centimeters) uplift of the right flank of the river and resulted in a major one-time shift of the final portion of the waterway, according to geoscientists Livio Sirovich and Franco Pettenati of the National Institute for Oceanography and Experimental Geophysics (OGS) in Trieste. As a result of the quake, the river's delta moved 25 miles (40 kilometers) north, to its current position. The 1570 quake was a 5.8-magnitude event and caused widespread damage in the city of Ferrara. At the time, Pope Pius V blamed God's wrath for the destruction, because the city was a refuge for Jews. The damage prompted Italian architect Pirro Ligorio to invent the first buildings designed to withstand earthquakes, according to Italian historians.
http://www.livescience.com/51862-medieval-earthquake-moved-po-river.html?
MEXIQUE –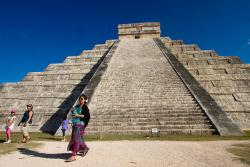 Chichen Itza - Researchers from UNAM discovered that underneath the Kukulcan pyramid in Chichen Itza, there is a small body of water "cenote", which offers the experts new clues about the symbolic value of these ruins for Mayan culture. This body of water has a volume of 25 by 30 meters and a depth of 20 meters under the Kukulcan pyramid. The discovery of the cenote was made thanks to investigations on practices that the Kukulcan represented for the Mayans before the Spanish epoch. The pyramid is erected in an equidistant manner over four cenotes, north, south, east and west, confirmed de Anda. The finding will now be the fifth, the "axis mundi" or center of the world, "the point where the sacred ceiba tree grew and whose roots reached the underworld and it's branches indicated the four cardinal points". But for de Anda, the most transcendent finding will come from knowing if a tunnel connecting the pyramid to the aquatic chamber exists and if there are offerings of any kind inside them. The team will begin archaeological works now in the second phase of the project, aided by the electrode technology, in order to see the infrastructure of the pyramid, it's constructive phases, and if there are any tunnels or hidden corridors that connect it with the underground body of water.
http://artdaily.com/news/80741/Archaeologists-report-Kukulkan-Pyramid-at-Chichen-Itza-built-over-an-underground-river?#.Vc90VN-c08o