INSTITUT SUPERIEUR D'ANTHROPOLOGIE
 INSTITUTE OF ANTHROPOLOGY
ONLINE COURSES / COURS A DISTANCE
 INSCRIPTION : Année Universitaire 2012/2013
   REGISTRATION : Academic Year  2012 / 2013
ROYAUME UNI –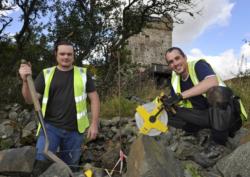 Kirkhope Tower - An Ettrick Valley tower has been the focus of attention from archaeologists, hunting a unique preserved glimpse of what life was like in the Borders in the 1540s. Lying hidden beneath the surrounding grounds of the A-listed 16th-century Kirkhope Tower, just outside Ettrickbridge, are believed to be some of the best preserved remains of what life was like in the early 16th century. An exciting early find during the revamp of the tower was a letter from a young soldier in the service of King Henry VIII. Writing in 1547, the soldier explained he had "burned down the villainous tower of Kirkhopp" and that he had "killed all the Scottis, taken the kyn (cattle] and plenishings (furniture]". Kirkhope was burnt and its stock removed as part of what was known as the 'Rough Wooing' of Mary, Queen of Scots, by the English king. The actual raiding itself is believed to have been carried out by Armstrongs. The tower is then thought to have been rebuilt by Wat of Harden around 1578. But Mr Clarke and archaeologists hired to investigate believe surrounding buildings, possibly including domestic rooms, stables and bakehouse and brewery, were never rebuilt and have been left untouched by the passage of time under tons of earth and rubble. Although the seven trenches failed to reveal any evidence of the destruction or uncover any noteworthy historical artefacts, they did reveal the remarkable depth involved and the substantial thickness of the walls involved in the courtyard's buildings. Expecting to find the floor level of the ruined buildings after digging down a few inches, Mr Cameron and his colleagues were staggered to discover remnants of what had been the top of the buildings located more than a metre below the surface.
http://www.selkirkweekendadvertiser.co.uk/lifestyle/entertainment/hunting-for-the-1540s-at-kirkhope-tower-1-2524935
USA –

 Fort Boonesborough - Nancy O'Malley wasn't just looking for 18th century artifacts, although she found some: a hoe, a skillet, buttons, buckles, bullets, hand-wrought nails, forks, bits of English ceramic and a blue glass trade bead. O'Malley, an expert on Kentucky pioneer settlements who first confirmed Fort Boonesborough's location in 1987, was trying to figure out exactly how much of the fort still exists. She was specifically searching for evidence of the most famous event that occurred there: a nine-day siege 234 years ago this week in which Daniel Boone and a small group of pioneers repelled an attack by several hundred Native Americans.
http://www.kentucky.com/2012/09/15/2338613/tom-eblen-archaeologist-in-search.html
ROYAUME UNI – Sidmouth - The Jurassic Coast was laid bare last week as an archaeological dig uncovered Sidmouth's prehistory. Archaeological project officer, Simon Hughes, said: "It's great working at such a prominent position in the landscape before it falls into the sea." Coastal erosion means the 7,000 years of history need to be understood before any more is lost, and the recent tree removal made the dig possible. The dig team is searching for evidence of Neolithic settlement from around 5000BC, and later, post-Roman 'Dark Age' occupation of 5th to 6th century BC. The team found some Neolithic tools and began excavating a Roman ditch. There was another group of archaeologists further down the hill at Mutter's Moor, looking for the site of an ancient stone circle.
http://www.sidmouthherald.co.uk/news/news/big_dig_on_sidmouth_hill_before_cliff_erodes_1_1517077
INDE - Pakka Kot - Excavations by the department of Ancient Indian History, Culture and Archaeology, Banaras Hindu University (BHU) at Ballia district's Pakka Kot village have established the region's historical importance as a major trade centre connecting Pataliputra and Lumbini between 5000 BC and seventh century AD. The department had recently carried out excavation work at the four mounds of Pakka Kot ruins and their vicinity. The findings also indicate that the region was a permanent settlement of human habitation from the Neolithic period to early Medieval period. According to Dr Sita Ram Dubey, head of the department, a vast archaeological treasure has also been excavated from the site. These include a handmade silver statue belonging to 300 BC to 400 BC apart from several copper coins, mud coins, animal bones, burnt grains, ornaments, terracotta beads, and utensils. Excavated objects are showing characteristics from different periods- Neolithic, Chalcolithic, Sunga-Kushan Period, and Gupta and post Gupta period, which point to the region's sustained cultural significance. According to Dr Ashok Kumar Singh of the department, the region was devoid of human habitation only for around 200 years in the 18th and 19th centuries. In fact, around 1000 people still live in the area and majority of these are Muslim. "The scientific dating of the excavated samples can also change the earlier concept of association of certain ceramics to certain periods, because antiquity of some sites goes back from 6th to 7th century BC to 15th to 16th century BC. An analysis of the ceramics and other objects obtained also shows the transition from rural to urban settlement in the Pakka Kot village. The site had the status of a full-fledged urban centre and connected Pataliputra to Lumbini via Masarh, Buxar, Tika, Deori, Khairadih, Kapilvatsu, Sohgaura, and Kopia," informed Dubey.
http://timesofindia.indiatimes.com/city/kanpur/Major-trade-centre-existed-in-Ballia/articleshow/16405268.cms
HAWAÏ – Kakaako - Archaeologists have found a human bone fragment along the route of Honolulu's planned commuter rail line, the state said Thursday. The discovery in the city's Kakaako neighborhood could delay or complicate construction of the  transit system. The State Historic Preservation Division and the Oahu Island Burial Council have agreed to leave the fragment in place for the time being, the division said in a statement. They've asked the archaeological firm doing the survey to continue excavating the surrounding area. Excavating around the bone fragment will provide better information about the area and how best to plan, the division said. KHON reported state archeologists determined the bone was older than 50 years. Old bones have been found in the neighborhood before. About a decade ago, 64 sets of remains were found during the construction of a Sam's Club and Wal-Mart superstore. Some of them were believed to belong to victims of an 1853 smallpox epidemic.
http://www.vcstar.com/news/2012/sep/13/archaeologists-find-bone-along-honolulu-rail/
USA –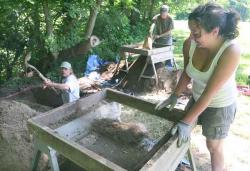 Warsaw - "This year's theme was the bicentennial of the War of 1812, and so our focus was on these various little-known forts," said Eve Hargrave, public engagement coordinator at the Illinois State Archaeological Survey's Prairie Research Institute. Investigation work at sites statewide, including Fort Johnson and Cantonment Davis, "contributed information that cannot be found elsewhere including the rediscovery of several fortifications," according to information on the poster. "Illinois State Archaeological Survey staff recently located the remains of Fort Johnson and Cantonment Davis which contained military buttons, gun flints, musket balls as well as kitchen items such as colorful bowls, knives and forks." The war started in 1812, but work on the fort began around Sept. 7, 1814. But the fort was burned to the ground that same year before the troops, under the command of Taylor, a brevet major, left for the safety of St. Louis after provisions ran short and ongoing harassment by the British and the Sauk Indians. About 1,500 troops returned to the site in 1815 for Cantonment Davis, which housed soldiers who built a series of military trading posts, including Fort Edwards in Warsaw. The fort discovery and the associated research "is bringing forth new insight on the War of 1812 in Western Illinois, as well as the everyday lives of military men on the frontier," said Warsaw resident Joe Bartholomew, who worked to spur interest in the fort site for years. "The sharing of this knowledge with others has brought about a new sense of pride of the citizens of Western Hancock County."
http://www.whig.com/story/19553402/warsaw-fort-highlighted-during-archaeology-awareness-month
FRANCE –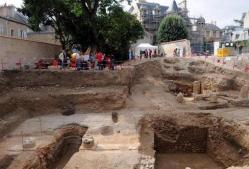 Poitiers - Le patrimoine caché sous les futurs jardins de Puygarreau est au grand jour. En ces Journées du patrimoine, des archéologues de l'Inrap s'étaient transformés en guides. Nicolas emmène un petit groupe à sa suite dans le fond du futur jardin. Trois étapes sont prévues pour observer les découvertes archéologiques sous divers angles. Pour cette visite grand public unique, les vestiges ont été dégagés de la terre qui les encombrait, les fragments de colonnes remontées et posées à leur emplacement initial. Le passé antique est remonté à la surface. Le spécialiste présente les différentes parties mises à jour : la voirie et des éléments de constructions (atelier et riche demeure). Un plan et un dessin facilitent la compréhension des visiteurs qui plongent du milieu du IIe et IIIe siècle à la fin du IIIe et début du IVe siècle. L'époque carolingienne est représentée par une cave et un mur. Mais le quartier a perdu son animation. Les matériaux de construction sont utilisés pour construire le mur d'enceinte.
http://www.lanouvellerepublique.fr/Toute-zone/Loisirs/24H/n/Contenus/Articles/2012/09/16/Les-fouilles-du-Puygarreau-attirent-les-Poitevins