14 MARS 2016 NEWS: Charminar - Kuruman - Tilaurakot - Cape Fear - Mount Latmos - Van - Gaur -
14 MARS 2016 NEWS: Charminar - Kuruman - Tilaurakot - Cape Fear - Mount Latmos - Van - Gaur -
INSTITUT SUPERIEUR D'ANTHROPOLOGIE
INSTITUTE OF ANTHROPOLOGY
ONLINE COURSES / COURS A DISTANCE
SPRING TERM : APRIL 2016
REGISTER NOW
INDE –
Charminar - An ancient cannon is found by a GHMC worker during digging to widen the Hussaini Alam to Koka-ki-Tatti road in the Charminar division on Saturday. It is found when an old building was demolished. To view the ancient cannon, hundreds of people gathered at the spot. Soon after finding the cannon, local informed the Charminar police. Some claimed that it belonged to the army of the Emperor Aurangzeb and was used to attack the Golconda Fort at the time of the Qutb Shahi Dynasty.. .
http://www.nyoooz.com/hyderabad/388867/cannon-used-by-aurangzeb-against-qutb-shahi-dynasty-found-near-charminar
AFRIQUE DU SUD –
Kuruman - Archaeologists excavating a 1.5-million-year-old Homo erectus habitation site this week unearthed the strongest evidence to date that early humans first used fire to impress their friends. "Based on the locations and prevalence of burn marks at the site, we can infer that fire was initially utilized by early humans to show off in front of one another, typically by leaping over a flaming pit or passing their hands quickly back and forth across the flame of a burning log," said Boston University researcher Benjamin Shostick, adding that the discovery supports the hypothesis that setting a grassy plain ablaze to crack up friends was an important part of hominid culture long before fire was used for cooking and warmth. "The evidence indicates that early man quite possibly vocalized a loud, confident grunt to a gathering of friends and then tossed a fiery piece of wood into the air and attempted to catch it, and oftentimes poked at unsuspecting buddies with the end of a smoldering branch for the group's amusement." Researchers also found fossilized footprints in a circle pattern and numerous charred bones, which likely suggest that early man got big laughs after accidentally setting himself on fire.
http://www.theonion.com/article/new-evidence-suggests-early-humans-first-used-fire-52515
NEPAL –
Tilaurakot - A team of archaeologists, including some foreign experts involved in excavation works at ancient Shakya Capital city of Tilaurakot, have claimed proofs to support the existence of historical stupas, monasteries and palaces in Kapilvastu district. The team has unearthed an ancient city of Tilaurakot believed to be the one mentioned by Chinese travellers Fa Hian and Hiuen Tsang in their travel accounts when they visited there in the fifth and seventh century respectively. Kosh Prasad Acharya, a senior archaeologist, said they have found the remnants of houses, roads, walls and wells after three years of digging. "These findings match what the two Chinese travellers had mentioned in their travel accounts. We are still exploring the site," he said. Robin Coningham, the chief archaeologist, said the ancient infrastructure could be at least 2,800 years old. The excavation began after a geophysical survey showed structure and an entry gate. Archaeologists suspect the structure could have been an administrative building of the time. A one-and-a-half-metre wide wall was also found 25-30cm below the ground during the excavation.
http://kathmandupost.ekantipur.com/news/2016-03-11/ancient-infrastructure-found-in-tilaurakot-dig.html
USA –
Cape Fear - A shipwreck found off the coast of North Carolina could prove to be one of the best-preserved sites from the Civil War. Billy Ray Morris, director of the Underwater Archaeology Branch of the Office of State Archaeology, said he believes his team has found the remains of the Agnes E. Fry, a ship that went aground near Cape Fear on Dec. 27, 1864. "We've only been on one dive, but it was so black we couldn't make anything out," Morris said. "Despite that obvious handicap, we can confirm several details indicated in the sonar image. The extant remains are 225-feet long, both engines and the paddlewheel are missing, and least one boiler is still in its bed and the stern of the vessel points toward the beach." These are all characteristics that point to the ship being the Agnes E. Fry, according to Morris. The two other blockade runners known to be in the area are too small and of an earlier design than the Agnes E. Fry, Morris said. The researchers will continue to examine the wreck this week as weather conditions permit.
http://www.morganton.com/news/n-c-underwater-archaeologists-close-to-identifying-recently-discovered-civil/article_e2da6de2-e71e-11e5-b3d7-1308b23bd074.html
TURQUIE –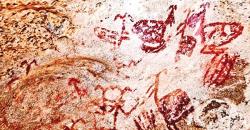 Mount Latmos - Professor Havva İşkan Işık said stone quarries have been given permission to mine Mount Latmos and workers are trying to erase historical paintings dating back 6,000 years in order to facilitate mining. Making a presentation at the conference, Mediterranean University academic Işık said hundreds of ancient rock paintings depicting spring feasts and wedding ceremonies were first discovered by a German archaeologist next to the Bafa Lake on Mount Latmos. German archaeologist Anneliese Peshlow-Bindokat discovered the rock paintings on Mount Latmos, also known as the Beşparmak Mountain, in 1949. They are considered the most important prehistoric archaeological findings discovered in recent years in Anatolia. The rock paintings date back to the late Neolithic Age and the Chalcolithic Age.
http://www.hurriyetdailynews.com/quarry-workers-erasing-history-in-antalya-with-soap-sponge-.aspx?pageID=238&nid=96328&NewsCatID=375
TURQUIE –
Van - A castle-like structure has been discovered in the eastern province of Van's Çaldıran district, near the Iranian border. The structure is situated in a field on a hill some 2,000 meters high in Çaldıran's Yücelen neighborhood, which overlooks Mount Ararat and a number of nearby settlements. The structure is mostly stone rubble around five meters tall. Associated Professor Rafet Çavuşoğlu, the head of Yüzüncü Yıl University's archaeology department said, "I have seen the photos. Considering the traces of the structure's foundation, it looks like a castle." He said that since the field was covered with snow, he could not say anything about the area surrounding the structure at the moment. "The structure resembles the early Iron Age castles which can be seen in the region. Also, the walling technique of the structure refers to the Middle Ages. The tower-like structures in the field we have never seen before in the region. The stones of the towers were piled on each other without mortar. A piece of cloth is attached to one of the towers. There are also graves in the field which are visited by villagers. It shows us that this field has a regional dimension," he said. Çavuşoğlu said examinations would be made in the area, adding, "Scientific work will begin when the weather gets warmer. Then we will get information about the function of the field. This work will solve a historical mystery."
http://www.hurriyetdailynews.com/castle-like-structure-discovered-on-hill-in-van-.aspx?pageID=238&nid=96330
INDE –
Gaur - An ancient Lord Shiva temple with intact idols has been discovered beneath an agricultural field in Gaur (K) village on the banks of Bori stream, a tributary of the Bhima in Afzalpur taluk in Kalaburagi district. Two sancta sanctorum and the remains of a temple constructed using huge boulders housing three Shivalingas carved on the solid rocks and imbedded in the soil, an idol of Goddess Brahmaramba, consort of Lord Shiva, an idol of Serpant God Nagaraja along with a few articles including a bell, a conch shell and other items were also found intact during the excavations taken up by villagers at the instance of the head of the Kailashalingeshwar Math, Kailashalingeshwara Swami. The land on which the temple was found belonged to Sunil Shivappa Dafedar, a local farmer. The digging work began on February 25 and from March 5 several villagers joined in the search, according to them. On March 5, the villagers during the excavation work found the remnants of some structure after digging around 2 to 4 feet and later found the entrance to a structure where the Shivalinga was first found, further excavation led to another sanctum sanctorum where the idol of Goddess Brahmaramba was found and at a distance, the idol of Serpent God Nagaraja was also found along with two more Shivalingas. The swami, an ardent devotee of Srisailam Mallikarjuna, who goes on a padayatra every year on the occasion of Sankranti, said that this was another temple of Srisailam Mallikarjuna and pointed out that in any temple three lingas were not found and the discovery of three lingas in the temple pointed to the fact that there should be at least nine more lingas on the site and wanted the government to take up further excavation. The age and other details of the temple can be ascertained only after authorities inspect the site.
http://www.thehindu.com/todays-paper/tp-national/tp-karnataka/ancient-temple-unearthed-just-4-ft-under-a-sugarcane-field/article8347472.ece