14 AVRIL 2015 NEWS: Bezenjan - Springbank - Wark - Ottawa - Penneshwaramadam - Patna - Mackenzie - Shanhu -
14 AVRIL 2015 NEWS: Bezenjan - Springbank - Wark - Ottawa - Penneshwaramadam - Patna - Mackenzie - Shanhu -
INSTITUT SUPERIEUR D'ANTHROPOLOGIE
INSTITUTE OF ANTHROPOLOGY
ONLINE COURSES / COURS A DISTANCE
FALL TERM : OCTOBER 2015
REGISTER NOW
IRAN –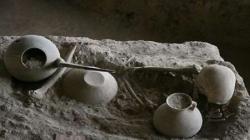 Bezenjan - Development projects in Bezenjan, Kerman province, led to the identification of an ancient site there. According to Iran Daily, Bezenjan has a brick-and-mud mausoleum under a mulberry tree, which is venerated by the locals. Relics have been discovered on the bank of Bezenjan River and the surrounding gardens. Bezenjan Municipality also found a number of historical vessels while implementing projects in Bezenjan Park. Ahmad Abbasi, an archeological expert, said Kerman province is a land of ancient sites and civilizations such as Jiroft Civilization that dates back to 5th millennium BCE. A majority of Kerman civilizations have thrived on the banks of rivers. Bezenjan is located on the bank of Bezenjan River. He said Bezenjan is surrounded by the two civilizations of Jiroft and Bardsir. The latter includes the ancient hills of Dashtkar and Sarband, which have been registered on the National Heritage List. They belong to the prehistoric era.
http://www.irna.ir/en/News/81569444/?
AUSTRALIE –
 Springbank Island- The Australian National University (ANU) has begun an archaeological dig on Springbank Island in Canberra's Lake Burley Griffin. The project, funded by ACT Heritage, hopes to unearth evidence for Canberra's first European and earlier Indigenous settlement at the site. The location is thought to be the site of one of the first European homesteads in the Canberra region, with the Springbank property marked out by Deputy Surveyor-General Robert Hoddle in May 1832. It became an island when Lake Burley Griffin was created in 1963. Project leader Dr Duncan Wright said that early stage work was promising. "Our ground-penetrating radar has shown that there is a possible foundation that could belong to the homestead," he said. "Best case scenario we'll start finding metal objects from the late 19th century. We may also find old glass, ceramics and stuff like that. "This is already starting to show up in the excavation. We have 19th century white-ware ceramics, nails and even a post hole. It's an exciting start. "A sediment core collected by Professor Simon Haberle also suggests burning well before the lake was formed, with a five centimetre layer that's chock-a-block with charcoal. We are yet to get down to this layer in excavations so don't know if this relates to the early homestead," Dr Wright said. The excavation would also be searching for evidence of Indigenous activity on the site. "I have been told by traditional custodians that this was a big meeting place for Indigenous people in the area," he said. "This is evident through archaeology with a good number of stone flakes and cores turning up in the sieve". Dr Wright said there was also a chance of finding illusive evidence for contact between Europeans and local Indigenous people.
http://phys.org/news/2015-04-springbank-island-archaeology-underway.html
ROYAUME UNI –
 Wark Castle - The archaeology team of the Flodden 1513 Ecomuseum project has announced the first excavation of 2015 will take place at Wark Castle from April 18-28.Wark Castle is historically renowned as an important location for border negotiation and English/Scottish communications. It is reported to have been besieged by the forces of James IV around August 22-25, 1513, falling with apparently little struggle to the Scottish. Excavations in 2014 at Wark Castle uncovered local medieval pottery together with considerable structural remains, proving that the site was far more extensive than originally believed. Chris Burgess, part of the Flodden 1513 Ecomuseum Project team explains: "Two of the trenches from 2014 will be re-opened and extended in the hope of resolving some of the questions left unanswered from last year."First to be re-excavated will be the area of the substantial wall feature discovered in 2014. The second location will be on the linear structures first identified on the geophysical survey, interpreted as a possible route or road way.
http://www.berwick-advertiser.co.uk/news/local-news/all-news/archaeologists-ready-for-new-dig-at-wark-castle-1-3741084
CANADA –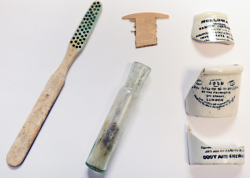 Ottawa - If Parliament Hill has sometimes seemed throughout its history like a boozy, male-dominated powder keg, it's worth noting that's partly what it was built on. Recent archeological digs outside some of the main buildings in the precinct have turned up tens of thousands of artifacts from the early 19th century. They tell a story of life before Sir John A. MacDonald, before MPs and senators, and before Ottawa was even called Ottawa.Starting in 1827, the area that is now Parliament Hill was called Barrack Hill, a staging ground for the British Royal Engineers to undertake the construction of the nearby Rideau Canal. It was overseen by Lt. Col. John By -- for which Bytown (now Ottawa) was named. It remained a military area until 1858, when Queen Victoria designated the site the future capital.
http://www.cp24.com/news/parliament-hill-dig-offers-glimpse-into-1800s-life-in-ottawa-1.2323611
INDE - Penneshwaramadam -  In a rare feat, school students have discovered a pre-historic site near Penneshwaramadam, a 12th century old Chola temple situated by the bank of the south Pennar river, 5km from Kaveripattinam in Krishnagiri district.Guided by heritage experts, the site was discovered when the students of the Savulur Panchayat Union Middle School, were taken on a one-day tour as part of a workshop on ancient history and culture. "The students have discovered a pre-historic site near the temple. They have also collected artifacts dating back to 2000 years from the site near the temple," said Sugavana Murugan, a heritage expert.
http://timesofindia.indiatimes.com/city/chennai/Students-discover-pre-historic-site-in-Kaveripattinam/articleshow/46901297.cms
INDE – Patna -  Some broken terracotta potteries and small balls, estimated to be dating back to 1500BC-1000BC, have been discovered during digging of a road stretching from Bihar State School Examination Board (BSEB) building to the corner of approach road of Sinha library. This has surprised the archaeologists here. Similar terracotta potteries, balls, animal figurines and beads were found during the demolition of the old Dak Bungalow and construction of the present-day Loknayak Bhavan, and piling work of Mahatma Gandhi setu," he said. The discovery of Mauryan period artefacts prompted the Archaeological Survey of India to conduct excavation at the Dak Bungalow site in early 1990 but the work was discontinued due to seepage of water after about a month. On the basis of pottery and other findings, the site was dated back to the Mauryan period, the ASI journal said. 
http://timesofindia.indiatimes.com/city/patna/Artefacts-found-near-Sinha-library/articleshow/46899823.cms
CANADA –
 Mackenzie Delta - Climate change is threatening archeological sites in N.W.T.'s Mackenzie Delta, says University of Toronto professor Max Friesen. He says thawing permafrost is endangering sites and artifacts dating back thousands of years."Instead of having the archaeological remains and the houses and whatnot being stable, they're actually eroding out of the cliff face," he said. "As you walk along the beach, you can actually see all the artifacts, animal bones, and even pieces of houses that are slumping down the slope and will eventually wash out into the ocean." Friesen says researchers need to act quickly and prioritize which sites should be excavated before their contents are destroyed.
http://www.cbc.ca/news/canada/north/permafrost-thaw-threatens-arctic-archeological-sites-says-professor-1.3030303
CHINE - Shanhu Island - A Chinese archaeological team has embarked on its journey to excavate a shipwreck near Shanhu Island in the Xisha archipelago in the South China Sea, local authorities said on Monday. The 25-strong team left Qinglan Port, Wenchang City, Hainan Province, on Sunday for its 45-day research mission, according to the provincial cultural heritage administration. This is the second notable landmark underwater archaeological excavation in the South China Sea following the Huaguang reef number one shipwreck in 2008 in the Xisha Islands, where a vessel loaded with porcelain sank more than 700 years ago. The team will also carry out an underwater survey on another sunken ship around Jinyin Island in Xisha, said the spokesman. The sites contain a substantial amount of stone building material and carvings dating back to the Qing Dynasty (1644-1911). The Shanhu Island site, which is 2,000 meters from the island itself, covers about 20,000 square meters, with the water depth ranging from two to seven meters. Another site, which is 2,500 meters from Jinyin Island, covers about 45,000 square meters, at a depth ranging from three to nine meters. As of last year, China had discovered more than 120 shipwrecks around Xisha, Nansha and Zhongsha islands.
http://news.xinhuanet.com/english/2015-04/13/c_134146356.htm?