14 AOUT 021 NEWS
INSTITUT SUPERIEUR D'ANTHROPOLOGIE
INSTITUTE OF ANTHROPOLOGY
ONLINE COURSES / COURS A DISTANCE
TERM : SEPTEMBRE 2021
REGISTER NOW
INDE –
Konthagai - Archaeologists working in the village of Konthagai in southern India have found a rusted iron dagger preserved in a burial urn alongside skeletal remains, the Times of India reports. The discovery is part of a major excavation effort in the state of Tamil Nadu that seeks to shine a light on the ancient Keeladi civilization. Though the dagger's 16-inch steel blade was rusted and broken in half, part of its wooden handle remained intact. R. Sivanandam, director of the Tamil Nadu Department of Archaeology, tells the Hindu that this type of weapon was used by warriors during the Sangam period, which spanned roughly the third century B.C.E. through the third century C.E. Since the start of the digging season in February, archaeologists in Konthagai have discovered 25 burial urns. Some were filled with bones, weapons and other objects. Carbon dating of artifacts dated some to as early as 580 B.C.E. The digs have yielded large numbers of cow, ox, buffalo and goat skeletons, suggesting agricultural activity by the ancient Keeladi people. Archaeologists have also found structures with clay floors; brick walls; and post-holes, which may have held wooden poles used to support roofs. Artifacts recovered at the site show that members of the civilization played board games and inscribed letters on pottery using the Tamil-Brahmi script.
https://www.smithsonianmag.com/smart-news/excavation-india-may-hold-clues-ancient-civilization-180978414/
ROYAUME UNI –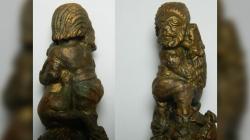 Leicester - Archaeologists in the United Kingdom have discovered an ancient Roman key handle that depicts a grisly scene — a lion devouring a shaggy-haired barbarian, while four spooked cupid-like youths look on, likely awaiting the same fate, a new study reports. The macabre bronze handle may have mirrored a real-life event, meaning it was likely "created to mark a significant occasion, an episode in which captives [were] killed in the arena by lions," study first author John Pearce. The expertly crafted figurine depicted on the handle is "best interpreted as a scene of damnatio ad bestias," a Latin phrase that describes the "killing of captives and criminals as punishment and spectacle," the researchers wrote in the study.
https://www.livescience.com/roman-key-lion-eating-barbarian.html
TURQUIE –
Soli‐Pompeiopolis - The recent excavations in the archaeological site in the Mezitli district have been focused on uncovering the memorial tomb of Aratus, the famous ancient Greek astronomer and poet of the Hellenistic Period. After Alexander the Great drove the Persians out of Cicilia, Soli‐Pompeiopolis fell under the rule of the kingdom of Macedon and then the Seleucid Empire. The ancient city lived its heyday during the Hellenistic period under Seleucid rule. Among the famous people from Soli of this period are Philemon, a poet of the New Comedy – a genre that adapted the portrayal of everyday life – the Stoic philosopher Chrysippus and Aratus. The latest excavations in the ancient city resume in the colonnaded street, where the memorial tomb of Aratus was spotted. Yağcı said that Aratus was among the most famed people of his period. "His fame even survived to date. Aratus was born in Soli‐Pompeiopolis but died in Pella in central Macedonia. Nevertheless, people built a memorial tomb for him in his birthplace." Mentioning the discovery process of the memorial tomb, Yağcı said, "The tomb was discovered by travelers in the 19th century and remained under the ground for many years. A sarcophagus with engravings is seen here. For this reason, it was named Aratus' tomb by the paleographer Victor Langlois. Afterward, Ghevont Alishan has transferred the tomb on the scaled plan. This is a crater-like place, a monumental structure. It has a symbolic meaning. It is not a very practical building functionally, but it has a monumental and symbolic significance."
https://www.dailysabah.com/arts/excavations-to-reveal-aratus-tomb-in-turkeys-solipompeiopolis/news
INDE - Nagayyanakoppalu - A 10th century inscription was found in Nagayyanakoppalu village near famous Jain pilgrimage town Shravanabelagola in Hassan district on Tuesday. TTe inscription has old Kannada literature on it and was found while cultivation. the inscription has information about Jainism and ruler Chandragupta of the Maurya dynasty.
https://www.newindianexpress.com/states/karnataka/2021/aug/12/10th-century-stone-inscription-found-near-shravanabelagola-2343557.html
ESPAGNE -
Guadalperal - Le Cromlech de Guadalperal, surnommé le « Stonehenge espagnol », est un site mégalithique vieux de 5000 ans, situé dans l'Estrémadure. Habituellement sous les eaux, il est actuellement visible pour la première fois depuis 2019 en raison de la sécheresse.
VIDEO = https://fr.yahoo.com/news/s%C3%A9cheresse-fait-r%C3%A9appara%C3%AEtre-stonehenge-espagnol-121603852.html
MORAVIE –
Přerov - Excavations began around Přerov in 2017 and finished this June. More than 4,700 objects and 150 burial sites were discovered in the area, archaeologists say, filling over 1,100 boxes that will now be analysed in greater depth. Among the objects are parts of enthroned god statues, which featured prominently among the art of the late Stone Age Neolithic period. Dr Jaroslav Peška iwhich was in charge of the excavations : We now know that at least three pieces of enthroned god statues were found around Přerov. "One is from the Linear Pottery culture period, which is the name for the oldest farmers who settled on our territory sometime around 6,000 BCE. We were able to date the throne by its decorations, which carry signature features of that period. "The two other thrones are also from the Neolithic period but are a bit younger. We believe they are connected to the Lengyel culture (5,000 to 3,400 BCE). This culture's art in the Moravian region is known for its richly painted pottery. In one case, we managed to also find a leg belonging to the god who sat on the throne, which is quite rare." Dr Peška says that the local cultures of the Neolithic period often depicted their gods in a sitting, enthroned posture. Usually, these were female figures, but could also feature gods of a male gender as more complete finds in nearby Hungary have shown. Another rare find was a fortified settlement from the period of the eight-millennia-old Linear Pottery culture. Dr Peška says that the site features a ditch and a palisade.
https://english.radio.cz/archaeologists-unearth-divine-thrones-thousands-neolithic-and-bronze-age-objects-8725713
IRLANDE –
Gortnacrannagh - A rare carved wooden idol made more than 1600 years ago was discovered in a bog in Gortnacrannagh, Co Roscommon, western Ireland. The artifact was made from a split oak trunk and carved into a vaguely anthropomorphic shape, with a small round head at the top, small shoulders and a long body carved with deep horizontal notches. It is one of only twelve Iron Age idols of its kind found in Ireland, and is the largest of them at more than eight feet long. Archaeologists believe this idol too was likely originally planted in the ground where it was the center point of some ceremony or ritual. It was found face-down and broken in two parts, so they don't believe it fell where it stood, but rather was decommissioned, taken down and laid to rest. It may even have become an object of sacrifice itself. Along with the idol, the team also found Iron Age ploughs, daggers, spears, Bronze Age gold pins and large quantities of animal bones and even some human bones. All of these are evidence that the Iron Age residents of the area used the bog for votive deposits and for animal sacrifice. Radiocarbon analysis dates the idol to between 200 and 400 A.D., which is actually on the later side for this type of artifact.
http://www.thehistoryblog.com/archives/61987
INDE –
Laudanki - A team from the group 'Rediscover Lost Heritage', on Friday claimed to have discovered a treasure trove of old temple idols and panels at Laudanki village near Satasankha on the Bhubaneswar-Puri road. The team had earlier discovered surface remains of an ancient temple strewn around the complex which comprised of carved stone blocks. The identified images include a three feet Kartikeya image in Mayurasana, a two feet Ganesh in Ardhaparayanika, a two feet Mahisasishmardini image, a seven hooded serpent image of Manasa besides an assortment of temple panels with intricate carvings of Alasyakanyas, Brushavas, Nara Vidalas etc. A small brass mask of Lord Shiva too was found. The antiquities, except the brass mask, can be dated to a period between the 9th to 12th Century C.E.
https://www.deccanherald.com/national/east-and-northeast/treasure-trove-of-9th-12th-century-ce-idols-found-in-odisha-village-1019380.html
ECOSSE –
Ness of Brodgar - Archaeologists at the Ness of Brodgar ceremonial center in Scotland have discovered two pieces of wood dated to the Neolithic era. Found in two postholes in the floor of a structure at the Orkney site, the prehistoric wooden stakes survived for 5,000 years due to a dip in the floor, which may have funneled moisture into the holes and helped preserve the material. [T]he smaller of the two stakes had a beautifully square base and rested on a flat stone at the bottom of the post-hole, which presumably acted as a cushion. The new find took place in the oldest part of the Ness, which dates to around 3100 B.C. The structure where the wood was discovered is near the complex's eastern entrance. Archaeologists say it may be a particularly important part of the site because it features external upright slabs called orthostats.
https://www.smithsonianmag.com/smart-news/5000-year-old-wood-found-preserved-orkney-ceremonial-center-180978430/