13 SEPTEMBRE 2021 NEWS

INSTITUT SUPERIEUR D'ANTHROPOLOGIE
INSTITUTE OF ANTHROPOLOGY
ONLINE COURSES / COURS A DISTANCE
TERM : SEPTEMBRE 2021
REGISTER NOW
USA –
Mississippi - What does a 750-pound alligator eat? Well, just about anything it wants, but items found in this particular Mississippi alligator's stomach defy odds and date back thousands of years. Shane Smith, owner of Red Antler Processing in Yazoo City, said he was examining contents of a 13-foot, 5-inch alligator that weighed 750 pounds and discovered two unusual objects. One he couldn't identify, but the other was clearly a broken stone arrowhead. James Starnes, Director of Surface Geology and Surface Mapping for the Mississippi Department of Environmental Quality examined a photograph of the point. He estimated it was made about 5000-6000 BC. 'That is the latter part of the Early Archaic and early part of the Middle Archaic (periods)," Starnes said. "How the base is made is real tell-tale in estimating the time period." Starnes also noted the object is not an arrowhead. It's a point used on an early weapon that launches a spear using a second piece of wood with a cup on one end which acts as a lever to increase velocity."That's an atlatl dart point," Starnes said. "People think all heads are arrowheads, but those (arrowheads) would be the little bitty points."Smith found a heavy, tear-shaped object roughly 1½ inches in length. Both he and the hunter who was permitted to harvested the alligator, John Hamilton of Raleigh, thought it was something more modern — a lead weight used for fishing. Starnes said it's known as a plummet and dates back to the Late Archaic Period, or about 1700 BC. The weight is accounted for because it's made of hematite, an iron oxide traded between early groups and shines when polished. Starnes said what purpose plummets served is unknown. "The plummets, we really have no idea what they were used for," Starnes said. "These things had some significance, but we have no idea. We can only guess." So, how did these ancient objects get into the alligator's belly? Ricky Flynt, Mississippi Department of Wildlife, Fisheries, and Parks Alligator Program coordinator, explained very hard objects, typically stones, aid the reptiles in digestion.
https://eu.clarionledger.com/story/sports/outdoors/2021/09/10/prehistoric-native-american-arrowhead-artifact-found-alligator-mississippi/5716686001/
CHYPRE –
Akrotirio - An important Christian site has been discovered in Cyprus with mosaics which bear clear inscriptions in Greek. The excavation, conducted on the Akrotirio peninsula by the Department of Antiquities of Cyprus, began in 2007. The uncovered mosaic, which is in excellent condition, bears the Greek inscription, "Lord, help those who fear Thy Name." The archaeological site includes a complex of two temples, totaling about 100 meters (300 feet) in length, on either side of an atrium, with areas to the south and east remaining to be investigated. However, a second atrium is being uncovered at the north side of the eastern temple. The first temple, which was unearthed between 2007-2010, belongs to a three-aisled basilica with a transverse aisle, and is 36 meters wide and 29 meters long. It does not have the prominent arch which forms part of a central elevated platform. All the interior floors are completely covered in mosaics. Also important is the "presence" of Byzantine Emperor Heraclius (610-641), who had been connected with the island and with Cyprus Patriarch Ioannis personally. Also, a bust of Alexander the Great on a plaque indicates the influence of Hellenism. The unique nature of the entire complex in its architectural layout, as well as its wealth of decoration, confirm that "this is a top monument of Christianity, of the times of Emperor Heraclius, when the empire was fighting a fierce war against Persia" according to its lead archaeologist. Dimitris Triantafyllopoulos, former professor of Byzantine archeology at the University of Cyprus, told AMNA that "this is a monument of martyrdom, a site of burial and worship of holy persons, similar to the site of St. Minas of Egypt."
https://greekreporter.com/2021/09/11/important-christian-monument-discovered-in-cyprus/
ROYAUME UNI –
Lincolnshire - A bronze-age coffin that was found in a golf course pond in Lincolnshire, England contains the remains of a 4,000-year-old man who was buried with an axe, researchers say. Archaeologists have since established that the coffin, which is 10 feet (3 meters) long, was made from hollowing out an oak tree trunk. They also believe that the man in the coffin was high-status because his body was cushioned with plants and raised over the grave with a gravel mound. The axe found alongside the man is another significant discovery due to how well-preserved and rare it is and experts believe it is more a symbol of authority than a practical tool.
https://www.businessinsider.fr/us/coffin-found-golf-course-pond-4000-year-old-man-axe-2021-9
TURQUIE –
Kayalipinar - Archaeological excavations will be carried out to unearth one of the most important temples of the Hittites in Kayalipinar, a 3,800-year-old ancient city in Turkey's central Sivas province. "There are many monumental structures and administrative buildings here. Those structures show us the importance of this place in both the Old Assyrian and Hittite periods. Maner, who will also head the excavation team in the ancient city, said Kayalipinar is referred to as "Samuha" in ancient Assyrian and Hittite cuneiform texts, adding that Kayalipinar was once the capital of the Hittites after Hattusa. Explaining the historical background of the temple, Maner said: "The cult of the goddess of night was brought to Samuha from the Cilicia region (southern Anatolia) during the reign of the Hittite King Tuthaliya II, and a temple was built for her." "This temple and cult were later renewed during the reign of Mursili II, and a temple was built for the goddess Shaushka-Ishtar. Hattusili III had declared Shaushka as his own goddess, while his son Tudhalija IV and the kings after him also continued this cult," she added. Stressing the importance of the excavation works, Maner said: "Cuneiform tablets are also likely to be unearthed. These will tell about the actual historical relations and correspondence at the time, including the literature, religion and political structure of the Hittite civilization ... as well as correspondence of the Hittites with other civilizations." According to some old texts, the temple has 14 rooms, while the excavation team currently does not know what they will encounter, she added. "The most beautiful (artifacts to be unearthed) would be the statue of the goddess, cult objects, and cuneiform tablets describing rituals."
VIDEO = https://www.aa.com.tr/en/culture/ancient-hittite-temple-in-turkeys-central-anatolia-to-be-unearthed/2362091
INDE –
Bilsarh - The ASI has found remains of an ancient temple dating back to the Gupta Period, 5th Century CE in Bilsarh village of Uttar Pradesh's Etah. The archaeologists discovered "two decorative pillars close to one another, with human figurines (found earlier). An inscription in Shankh lipi on one of the steps, datable to 5th century CE, Gupta period, possibly reading "Sri Mahendraditya..", identified as Kumargupta of the Gupta dynasty has been unearthed. Shankhalipi is an ancient script that was used from the 4th to 8th centuries CE for names and signatures. In the 5th century CE, Kumaragupta I ruled for 40 years over what is now north-central India.
https://www.dnaindia.com/india/report-asi-team-finds-remains-of-1500-year-old-gupta-period-temple-in-uttar-pradesh-etah-bilsarh-village-with-inscriptions-in-shankhalipi-script-2910666
INDE –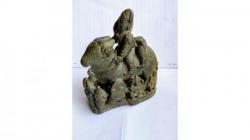 Maranakatte - A miniature sculpture of Umamaheshwara made out of greenschist was discovered at Maranakatte in Baindoor taluk of Udupi district. The sculpture was discovered while levelling a mound at the site. This unique sculpture is about 9 cm in height, 9 cm in length and 4 cm in breadth. The Umamaheshwara is shown riding on his vehicle Bull. Lord Shiva riding on the bull with four hands. Two hands in the front is shown holding the ears of the bull, holding like handle of the vehicle. While, in one of the back hands, he is shown holding Mriga (dear) and the left hand is mutilated. The back of the lord Shiva, Uma is shown sitting and holding the shoulders of the Shiva. But, unfortunately the upper portion of Uma has been destroyed. All the Shiva Ganas including Veerabhadra, Ganapathi, Brungi are depicted around the bull. Umamaheshwara cult, also known as Soma cult or Someshwara cult, which had its origins in Gujrat had spread across the country within no time. It was popular in 11th century and sculpture under study also belongs to 11th century.

https://www.deccanherald.com/state/karnataka-districts/unique-umamaheshwara-sculpture-found-in-udupi-1029392.html
CHYPRE –
Larnaca - An ancient cemetery was found as a result of anti-flooding works in the city of Larnaca, Cyprus. Dating back to the 12th century BC, but in use up to Roman times, the find is considered quite significant by archaeologists. More than 60 tombs have been identified along Petrakis Kyprianou Street and its side streets, which date all the way back to the 12th century BC and up to the Roman period. The oldest tombs were fewer in number and constructed in a more rough way compared to the later graves. These are tombs carved from the natural rock of the area and are of a rectangular floor plan.
https://greekreporter.com/2021/09/11/ancient-cemetery-discovered-under-street-in-larnaca-cyprus/
COREE DU SUD –
Gyeongju - Possible human sacrifice found in Silla palace foundations. The skeletal remains of a woman have been found under the west walls of the Wolseong Palace site in Gyeongju, South Korea, not 20 inches away from where the bones of a man and woman were discovered in 2017. The young woman's burial dates to the 4th century and she may have been interred there as part of a foundation sacrifice. When the skeleton was found in April of this year, archaeologists first thought it was a child due its diminutive stature (135 cm, or 4'5″). Upon further examination, she was confirmed to be a young adult around 20 years old when she died. Isotope analysis of her teeth found she has suffered from chronic malnutrition which likely stunted her growth. The couple unearthed in 2017 were older in age but younger in date — around 50 years old when they died in the 5th century. They were also small in stature and had suffered extended nutritional deficiencies. This suggests all three of the deceased buried under the west wall were of low social rank. An intact pot was found near her head. It was X-rayed and found to contain a second vessel, a small bowl, inside the neck. Archaeologists believe the larger pot contained a liquid, perhaps alcohol. Similar pots were found at the feet of the couple. These are not the typical grave goods found in Silla burials from this period, which underscores that these were not typical burials. Wolseong was the primary residence of Silla kings in Gyeongju, the kingdom's capital city, until the fall of the Silla dynasty in 935. According to a 12th century Korean history Wolseong was the primary residence of Silla kings in Gyeongju, the kingdom's capital city, until the fall of the Sill .