- 13 SEPTEMBRE
- INDI-UNI : ANTHROPOLOGY - ARCHAEOLOGY
REGISTRATION 2011 – 2012 ONLINE COURSES
INSCRIPTION 2011 – 2012 COURS A DISTANCE
- ISRAËL –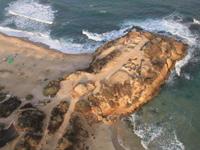 Yavneh-Yam - Perched atop a small promontory overlooking a Mediterranean beach, a local Don Juan appears to have built a Roman-era style bathhouse atop his fortress. Archaeologists from Tel Aviv University say that their dig at the Yavneh-Yam site, located between the current day cities of Tel Aviv-Jaffa and Ashdod, revealed a beautiful bathhouse, with duplex floors, a water heating system and underground ducts, all in the classic Roman style. Only it was totally out of place and smack in the middle of the remains of a fortress from the Early Islamic period of the ninth century, over half a millennium after the Romans, in their final incarnation as the Byzantine Empire, had been forcibly removed from the Holy Land by Muslim warriors. "I thought perhaps we had reached a Byzantine layer, but the pottery shards we found and the edifice we were in were definitely from the Islamic period," Moshe Fischer, a professor of archeology at the university's Department and the Institute of Archaeology, told The Media Line. "It was unusual because whoever built it used the technology from an earlier era and it could be one of the lasts uses of this technology we find," Fischer said. Yavneh-Yam was a port that served inland settlements almost without interruption between the Bronze Age (mid-second millennium BCE) until the Middle Ages.
Fischer, who heads the archaeological dig, said the promontory that it sits on projects into the sea and forms the southern boundary of a natural harbor that had been in use since the Bronze Age. Fischer said they uncovered the remains of a bathhouse was the only example he knew in the region of the use of a Roman-style bathhouse during the Early Islamic period and also the only example so far of the existence of a bathhouse in a military fortress. "I could be that some local commander who behaved like a Don Juan decided to build this style of bathhouse," Fischer said. "It wasn't that they didn't take baths -- they did for sure -- but that the used a Roman style bathhouse was a surprise."According to Fischer, both the fortification and the bathhouse discovered this year add to the archaeological evidence connecting Yavneh-Yam to the marine fortress of "Mahoz Yubna" (The Harbor of Yavneh), which served among other things to protect the coastal region. It was also used as a transit point for exchanging prisoners between Muslims and Christians in the Early Islamic period.
http://www.themedialine.org/news/news_detail.asp?NewsID=33234
- CHINE –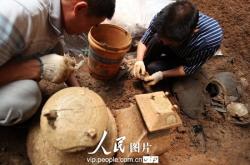 Xuyi - A Dayunshan Han Dynasty (206 BC-220 AD) tomb in Xuyi county is a great discovery for Jiangsu province. The host of the tomb is Liu Fei, the elder brother of Emperor Hanwu and the first King of Jiangdu. Two dishes, inscribed with the Chinese characters "Naoshi", were found by the Archaeology Institute of Nanjing Museum and the Dayunshan Han Dynasty tomb archaeology team. The dishes are the first unearthed remains which are not directly relevant to the King of Jiangdu, Liu Fei. According to archaeologists' analysis, "Naoshi" dishes are consistent with the historical "Naoshi", the succubus mistress of Liu Fei. Li Zebin, deputy director of archaeology Institute of Nanjing Museum and leader of the Dayunshan Han Dynasty tomb archaeology team, said the unearthed dishes vividly present a succubus mistress of "King of Jiangdu" and play an important part in the research of scenes from 2,000 years ago.
http://www.kaogu.cn/en/detail.asp?ProductID=3060
- TUNISIE – Carthage - Les travaux de construction ont repris, malgré l'arrêté du ministère de la Culture daté du 16 février, qui avait stoppé tous les permis de bâtir relatifs aux terrains à caractère archéologique et historique dans le périmètre du site Carthage-Sidi Bou Saïd. Rappelons que cette sombre histoire, qui remonte à l'époque de Zaba, concerne tout un lot de terrains archéologiques qui se trouvent à Carthage, plus précisément sur la route de la Maalga. Malgré le fait qu'ils aient été classés à l'époque en tant que « Patrimoine mondial de l'UNESCO », cela n'aura guère empêché la famille Trabelsi de le déclasser afin de revendre chaque parcelle au prix d'or. D'autant plus que parmi les édifices menacés de destruction, se trouve une découverte archéologique inestimable : La Basilique de Bir Ftouha découverte en 1994 daterait de la première époque chrétienne, et aurait été un lieu de pèlerinage peu après la période de Saint Augustin. Depuis la révolution du 14 janvier, les autorisations de bâtir avaient pourtant été stoppées par l'Etat qui avait même promis d'enquêter sur la question afin de délimiter la responsabilité de chacun dans cette affaire.
http://www.tekiano.com/component/content/article/21-n-c/4256-tunisie-nouvelle-attaque-contre-notre-patrimoine-archeologique-.html
- USA – Richmond - The pair, state archaeologists, are digging for history, one shovelful at a time, working to document the site of one, and it appears likely two, Colonial forts. They're documenting what they believe to be the site of Fort Richmond, which stood from 1740 to 1755, and an earlier fort they believe was on the same site as early as 1721. They're doing so to make way for a new bridge across the river between Richmond and Dresden. "The main thing is to document it before it gets bulldozed away," Smith said of the artifacts and other evidence of the two old forts which gave settlers to the area shelter from the French and sometimes-hostile Native Americans. The deteriorated 80-year-old swing bridge that takes traffic across the Kennebec River between Richmond and Dresden is targeted for replacement in 2013. As part of the preparation for its replacement, archaeologists have been investigating what's beneath the ground at the bridge site. While they are only in the second of likely three phases of work there, they've already found a lot. Historians already had some idea the site on the Richmond side of the bridge was also the approximate site of the second Fort Richmond, built starting in 1740 and standing until it was dismantled in 1955. Smith, an archaeologist with the Maine Historic Preservation Commission, believes they have confirmed the location was the site of the 1740 to 1755 fort. He said there also appears to be evidence of rebuilding, of a stone wall built over rubble. That would indicate a period of demolition and rebuilding, which may well indicate that the earlier, 1721 fort may have been on the same location. One discovery they've already made is the fort's palisade walls were significantly longer than previous documentation indicated --at least 168 feet -- and still counting -- compared to the previously thought 96 feet, Smith said. "So the palisade is like twice as long as it was thought to be," Smith said. "And I think I know why." He said two Indian raids on the fort are believed to have cost the fort dwellers their livestock. "You can't help but wonder if they extended the palisade walls out, to provide a grazing area for their livestock," Smith said. "Nobody had any idea that was there. That's something new."
http://www.onlinesentinel.com/news/richmondduo-digging-for-historical-treasure_2011-09-11.html
- ROYAUME UNI –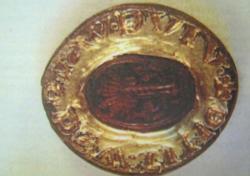 Ripon - AN intricately-carved medieval ring discovered near Ripon is an important archaeological find which qualifies as "treasure", a coroner has ruled. The piece was found by metal detectorist . In a report to North Yorkshire coroner Rob Turnbull, experts from the museum described the find as an oval silver-gilt seal matrix which would have formed the bezel, or top part, of a finger-ring dating from the 13th or 14th centuries. Because the ring is more than 300 years old and contains precious metals the coroner ruled it counts as "treasure" which public museums must be given a chance to purchase. The ring, which measures only 17mm long, is also set with a carnelian, a red semi-precious gem, carved with a picture of two cornucopaie or "horns of plenty" flanking a date palm. The silver around the gem is inscribed with three words translated as "live", "be well" or "farewell" and "fear".
http://www.ripongazette.co.uk/news/ripon/medieval_treasure_found_near_ripon_1_3753171
- ROYAUME UNI - Anglesey - Nearly £3m in public cash has been spent on an archaeological dig on Anglesey. The Welsh Government spent the money at the Parc Cybi site in Holyhead after Bronze Age discoveries were made during the construction of a new industrial park. Among the discoveries made was the foundations of an Early Neolithic (about 5,700 years ago) timber building plus two cemeteries – 4,000 and 1,300 years old. The Trust added the discovery of an Iron Age settlement of roundhouses caused the greatest work. A spokesman said: "The discoveries by Gwynedd Archaeological Trust are already re-writing our understanding of how and where the ancient communities of Holy Island, lived, worked and buried their dead."
http://www.dailypost.co.uk/news/north-wales-news/2011/09/12/nearly-3m-of-taxpayers-cash-spent-on-anglesey-archaeological-dig-55578-29403394/
- ARMENIE –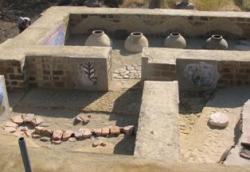 Hostun - The Armenian archaeological legacy—primarily household ceramics and metal items—that was unearthed from medieval Hostun village will be displayed at Erebuni Reserve-Museum, in Yerevan, from September 17 to October 17. During the event, 235 items dating between the 12th and 19th Centuries will be displayed.