INSTITUT SUPERIEUR D'ANTHROPOLOGIE
INSTITUTE OF ANTHROPOLOGY
ONLINE COURSES / COURS A DISTANCE
WINTER TERM : JANUARY 2016
REGISTER NOW
ROYAUME UNI –
- River Hamble - A timber vessel believed to be one of celebrated English king Henry V's "great ships" has been found in a river in southern England, heritage group Historic England announced Monday. Experts from Historic England believe the wreck that lies buried in mud in the River Hamble near Southampton is the "Holigost" (Holy Ghost). A major part of Henry V's war machine, the ship played a key role in two sea battles that enabled him to conquer territory in France in the early 15th century.
http://news.discovery.com/history/archaeology/one-of-henry-vs-ships-likely-found-151012.htm
BULGARIE –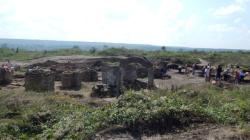 Rataria - The archaeological excavations of the Ancient Roman colony Colonia Ulpia Traiana Ratiaria in Bulgaria's northwestern town of Archar on the Danube River have been resumed as of October 8, 2015, Because of the meager funding, the 2015 digs at Ratiaria can hardly be expected to achieve the same results as in 2014 when the government funding was almost eight times greater, and the archaeologists discovered two altars from a temple of goddess Diana, excavated in full the residence of the Governor of the Roman province of Moesia Superior, and for the first excavated the city's northern fortress wall, among other things. The excavations will focus on a small section next to the Decumanus, i.e. the main street of theAncient Roman city, located next to the residence of the Governor of the province of Moesia Superior, which was fully excavated in 2014. The archaeologists are also planning to continue their work on the Late Antiquity thermae (public baths), and the northern fortress wall of Ratiaria which overlooks the Danube River.
http://archaeologyinbulgaria.com/2015/10/12/archaeologists-resume-excavations-of-ancient-roman-colony-ratiaria-in-bulgarias-archar-with-limited-government-funding/