INSTITUT SUPERIEUR D'ANTHROPOLOGIE
INSTITUTE OF ANTHROPOLOGY
ONLINE COURSES / COURS A DISTANCE
SPRING TERM : APRIL 2019
REGISTER NOW
INDE –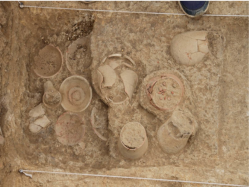 Kutch - After two months of excavation, archaeologists have stumbled upon what they believe is a massive burial site dating back to the Harappan civilization, around 360km from Dholavira in Gujarat's Kutch district. Archaeologists said this site is 300 m x 300 m big with more than 250 graves out of which 26 have been excavated. They found one full human skeleton that is around six feet in length, estimated to be around 5,000 years old. The find has lent further credence to the possibility of big human settlement at this place. Moreover, it is for the first time that burial sites in rectangular shapes have been found in Gujarat. The burial site is estimated to be 4,600 to 5,200 years old. "All the burial sites found in Gujarat till date are either circular or semi circular. We are trying to establish the significance of this rectangular shape," added Bhandari.
VIDEO = https://timesofindia.indiatimes.com/city/rajkot/5000-year-old-human-skeletons-found-in-kutch/articleshow/68367314.cms
TURQUIE –
Altunhisar – A farmer plowing his field in Turkey's central Niğde province discovered a large pithos believed to be dating back to the Byzantine period, reports said Monday. Experts unearthed the ancient pithos and put it under the protection of the museum. They noted that the pithos was made out of clay and was used to store grains and food supplies. Found in the Neolithic, Bronze and the Iron Ages, pithoi were used for bulk storage, primarily for fluids and grains.
https://www.dailysabah.com/turkey/2019/03/12/farmer-discovers-large-byzantine-era-pithos-in-central-turkey
ESPAGNE –
Hort de la Bequera - UB researchers found –in the site of Hort de la Bequera (Margalef de Montsant, Priorat)–, an artistic piece from 12,500 years ago in which humans and birds try to interact in a pictorial scene with exceptional traits: figures seem to star a narration on hunting and motherhood. Regarding the Catalan context in particular, this is an important finding regarding the few pieces of Palaeolithic art in Catalonia and it places this territory within the stream of artistic production of the upper Palaeolithic in the Mediterranean. The piece they found is a 30-centimeter long limestone which shows two human figures and two birds, which the researchers identified as cranes. Since they found the piece in 2011, they underwent all cleaning, restoration and 3D copying procedures to study it in detail. Those figures were engraved in the stone board with a flint tool so that they created an organized composition compared to the other pieces of the same period.
VIDEO= https://www.ub.edu/web/ub/en/menu_eines/noticies/2019/03/021.html?
CHINE - Anyang - Archaeologists announced Tuesday that they have discovered a monk tomb dating back to the Jin Dynasty (1115-1234) in the city of Anyang, central China's Henan Province. The brick-made tomb, 9.35 meters long and 3.6 meters wide, buried four famous monks and has an epigraph telling the life of the monks and murals depicting rare themes. "Monk tombs with an epigraph are quite rare. The tomb we discovered has both an epigraph and four buried monks," said Kong Deming, head of the Anyang archaeology institute. The tomb also has four chambers that respectively hold a pottery pot containing the remains of the monks in each chamber. The epigraph, placed on an altar table, also records the history of some Buddhist temples and local places and the murals feature rare themes such as visiting a doctor. "The murals are well preserved and they present the religions and beliefs, doctor visits and social life in the Jin Dynasty. All the findings make this tomb very unique, adding to its research value," Kong said.