13 MAI 2015 NEWS: Hereford - Gaziantep - Edinburgh - Khyber Pakhtunkhwa -
13 MAI 2015 NEWS: Hereford - Gaziantep - Edinburgh - Khyber Pakhtunkhwa -
INSTITUT SUPERIEUR D'ANTHROPOLOGIE
INSTITUTE OF ANTHROPOLOGY
ONLINE COURSES / COURS A DISTANCE
FALL TERM : OCTOBER 2015
REGISTER NOW
ROYAUME UNI –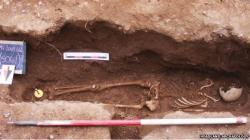 Hereford - The "mystery" remains of a Saxon child have been found buried on land next to Hereford Cathedral, archaeologists say.The child, who is believed to have been aged between 10 and 12, was found buried in Hereford Cathedral Close, at the site of a possible Saxon Palace. The discovery was made during an archaeological dig. Archaeologists said it was a "mystery" as to how the child came to be there. "We are still investigating it," said Andy Boucher, regional manager of Headland Archaeology, which carried out the excavation. "The child seems to have been a very poorly young person but was buried with dignity." The excavations also revealed a possible Saxon Palace built near the cathedral between 850 and 950AD. After the cathedral was plundered and destroyed by fire in 1055, it was rebuilt and the land nearby was used as Hereford's burial ground between the 11th and 19th Centuries. Thousands of remains were found, with 700 of the better-preserved burials being studied in more detail. The remains included a possible Norman knight. A Durham University investigation revealed he had sustained leg injuries consistent with a jousting accident.
http://www.bbc.co.uk/news/uk-england-hereford-worcester-32702798
TURQUIE –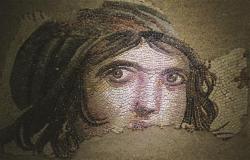 Gaziantep - Archaeological excavations have been ongoing in four different spots in the southeastern province of Gaziantep, which is one of the oldest settlements in the world. Italian Nicolo Marchetti is the head of the Karkamış excavations while German Engelbert Winter leads the Dülük excavations. Meanwhile, American David Scholen is leading work in Zincirli Höyük and Turkish Ankara University Professor Kutalmış Görkay is the leader of the ancient city of Zeugma's excavations. The highlights of the excavations include the Gypsy Girl mosaic, unearthed in Zeugma, which dates back to 300 B.C. and the biggest stela (a stone or wooden slab erected as a commemorative monument) of the Babylon King Nebuchadnezzar, which was found in Karkamış and dates back to 3,300 B.C.In the ancient city of Dülük, with settlements dating back to 6,000 B.C., stela and temple remains were unearthed. Ruins of historic buildings and the walls and foundation of a palace were among the findings unearthed in the 5,000-year-old Zincirli mound. 
http://www.hurriyetdailynews.com/excavations-reveal-history-in-gaziantep.aspx?pageID=238&nID=82310&NewsCatID=375
ROYAUME UNI –
  Edinburgh - The site of one of Scotland's largest whisky distilleries, where archaeologists found shoes once worn by workers at the 18th century spirit powerhouse, has been revealed to the public in a vision of the alcohol industry alongside Edinburgh's Union Canal more than 200 years ago.Lochrin Basin was operated by Grey's Distillers before its 1780 acquisition by John Haig, whose sister, Margaret, married into the Jameson family. The family also built and bought distilleries in Canonmills, Leith, and Sunbury, with Lochrin built to provide access to the canal network. Excavations at the site, which will be turned into student housing later this year, have unearthed original ceramics, glass, walls, wooden wharfs and the remains of an 18th century engine house thought to have pumped water to the brewery.
http://www.culture24.org.uk/history-and-heritage/archaeology/art526417-archaeologists-reveal-shoes-of-workers-at-18th-century-site-which-was-scotland-largest-whiskey-distillery
PAKISTAN –
 Khyber Pakhtunkhwa - For the first time two archaeologists from Pakistan and UK have joined hands to trace the origin of Kalash people, rumoured to have ancestral link to Alexander the Great, living in the remotest part of Khyber Pakhtunkhwa. Dr Abdul Samad, an archaeologist who is also currently the director of archaeology and museums Khyber Pakhtunkhwa, along with Dr Ruth Young, a British researcher and professor of archaeology at Leicester University, would be working together for three years to study and trace the origin of Kalash ethnic community living in three valleys of Chitral district. "Pakistan has amazing sites and archaeology here offers a lot of scope," says Dr Young, who did her PhD in 1977 and conducted excavation in Charsadda, Swat and Dir. She has been a regular visitor to Khyber Pakhtunkhwa till 1990s. "No archaeological excavation has ever been done in Kalash so it would be interesting to know in a remote valley about a remoter group of people," she told Dawn. Dr Young finds it interesting that there has been this little pool of people in Hindukush Mountains for thousands of years and there are so many myths about their origin. "Have they always been separate or there was a division over time. Do they also believe they are descendants of Alexander the Great or they have other stories," says Dr Young, who plans to look for the answers for these questions.
http://www.dawn.com/news/1181479/researchers-to-trace-origin-of-kalash