INSTITUT SUPERIEUR D'ANTHROPOLOGIE
 INSTITUTE OF ANTHROPOLOGY
ONLINE COURSES / COURS A DISTANCE
 INSCRIPTION  2012 /  Session III : Juillet 2012
   REGISTRATION 2012 /  Term III : July 2012
INDE –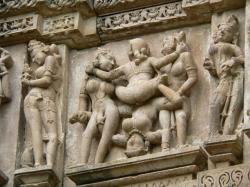 Khajuraho temples - The sudden discovery of dozens of erotic sculptures dating back to nearly 10thcentury on the pattern of the famous Khajuraho temples at a remote village Baidyanath at Ramgarh block in Naxal hit Kaimur district, has surprised everyone. The proper study of these sculptures is likely to throw a fresh light on the early medieval history of Bihar. The entire region is dotted with huge antiquities in adjoining Rohtas and Buxar districts. One of the oldest surviving centrally protected monuments in the country -Mundeshwari temple (1600-year-old) is also located in Maoist-hit Kaimur district. The temple situated atop a 608 feet hill is the 'oldest functional temple' in the country where regular prayers have been performed from past several hundred years. It may be mentioned here that Khajuraho is the evidences of the architectural geniuses during the times of Chandela dynasty situated in Madhya Pradesh. Interestingly, Khajuraho temples were also built in the short span of a hundred years, from 950-1050AD. A team of archaeologists led by its excavation officer incharge Anant Ashutosh Dwidevi during the recent course of digging work at the famous Chausa Garh in nearby Buxar district found such erotic sculptures scattered in the village. "It was a chance discovery of such erotic sculptures of the Pala period (10 thCentury AD) at the remote village in hilly Kaimur district last week. Villagers were quite excited in knowing more details of sculptures in this region", Dwivedi told TOI. Dozens of sculptures similar to Khajuraho temples "amorous couple' (celebrating life) are scattered in different parts of the remote village of Kaimur district.
http://timesofindia.indiatimes.com/city/patna/Erotic-sculptures-of-Pala-period-discovered-in-Bihar-village/articleshow/14098918.cms
ROYAUME UNI –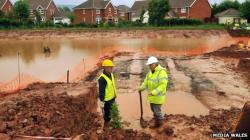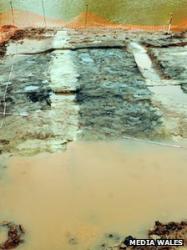 Monmouth - Archaeologists claim to have unearthed the remnants of a large prehistoric building.  Monmouth Archaeology, which found the wooden foundations, said they dated to at least the Bronze Age, but could be early Neolithic, about 6,500 years old. Steve Clarke of Monmouth Archaeology, who has 55 years' experience, claimed nothing like it had been discovered in Britain before and he was checking if something similar had been unearthed on mainland Europe. He said the structure, possibly a long house, had been built on the edge of a long-lost lake, which has silted up over time. The building's foundations were made from entire tree trunks, measuring about a metre wide. "We think it could be from the Bronze Age (about 4,000 years ago), but some of the experts we've brought in to see it think it could be early Neolithic. "We think it's a long house which would have been home to a family, and perhaps used for gatherings and meetings. Mr Clarke said the wooden foundations were at least 50ft (15m) long. He said most of the known long houses were built on posts about a 1ft (30cm) wide, but trees had been used for the base of the Monmouth structure, and they had been placed on a prehistoric "burnt mound". Mr Clarke said a burnt mound was a mass of stones which were heated in a fire, thrown into a pot or trough to boil water, although some experts think the stones were used to create an early type of sauna. Archaeologists have ordered radio-carbon tests of the foundations and the results are expected later this month.
http://www.bbc.co.uk/news/uk-wales-south-east-wales-18423528
EGYPTE – Alexandrie - Les fouilles dans la baie d'Alexandrie ont mis au jour de nombreux vestiges et statues dans un état de conservation quasi parfait. Des trésors alors accessibles uniquement aux plongeurs. Pour exposer ces somptueuses découvertes à Alexandrie, un projet gigantesque de musée sous-marin a été lancé. Il s'agit d'un musée révolutionnaire. Pour la première fois, il sera possible de visiter un musée sous l'eau, mais à sec. Le concept du futur musée d'archéologie sous-marin consiste à faire découvrir aux visiteurs les trésors des pharaons qui ont été découverts à la baie d'Alexandrie. Il s'agit d'un musée unique au monde qui sera installé sous la mer, à 7 m de profondeur dans la baie à côté de la grande Bibliothèque. L'accès au musée se fera par la terre ferme. Un immense dôme, construit le long de la baie, accueillera visiteurs et chercheurs. Le musée sera composé de deux grandes parties. La première est constituée par une immense stèle, comme « suspendue » au-dessus de la mer et appelée le « jardin des statues ». Et en dessous de ce jardin, des salles souterraines exposeront les premières œuvres des civilisations égyptienne, grecque et romaine. Puis, un long tunnel sous-marin conduira les visiteurs vers une expérience unique : la découverte de vestiges de cités englouties. Un voyage sous la baie. Le visiteur se perd dans l'histoire et le temps, comme par magie, dans le décor féerique et aquatique d'Alexandrie.  Le bout du tunnel s'ouvrira sur un immense patio aquatique, baigné de soleil. Les passionnés d'art ancien découvriront alors de magnifiques trésors antiques : Sphinx, sculptures monumentales, palais en ruine et vieilles carcasses de navires, témoins des fières civilisations passées. On pourra admirer ces trésors à l'endroit même où ils reposent depuis des milliers d'années.
http://hebdo.ahram.org.eg/arab/ahram/2012/6/6/voy3.htm
USA – Williamsburg - A building at the College of William & Mary in Williamsburg, Virginia, might be the oldest standing structure associated with black education in the United States, researchers believe. This summer, archaeologists, students and volunteers are excavating a site on campus, hoping to find evidence that a school for free and enslaved children once operated there. With a history entwined in the culture of slavery, Williamsburg, Virginia, seems an improbable locale for one of America's earliest black schools. But in 1760, Benjamin Franklin helped establish an institution for free and enslaved children of African descent near the College of William & Mary, which then catered to wealthy planters' sons. Funded by a London charity dedicated to the religious education of blacks in the British colonies, the Bray School taught reading, writing and the tenets of Christianity to roughly 30 children. Girls also learned to sew and knit.
http://www.history.com/news/2012/06/12/archaeologists-seek-evidence-of-oldest-black-school/
ITALIE –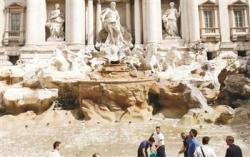 Rome - Several decorative pieces have fallen off the Trevi Fountain in Rome, raising the alarm that one of the eternal city's most famous structures needs a new major restoration. At the weekend, a few stone laurel leaves fell from the top frieze of the fountain, which marks the terminal point of one of the aqueducts that brought drinking water to ancient Rome. Police put barriers around the fountain and restoration experts checked the damage. They removed about five other pieces that appeared to be in danger of falling from the top. The basin of the fountain, which figured prominently in films such as "La Dolce Vita," "Roman Holiday" and "Three Coins in the Fountain," was to undergo its weekly draining and cleaning on Monday. Dino Gasperini, Rome city counselor for culture, asked for funds to protect the fountain from any more possible imminent damage and said another full-scale restoration was needed. The last major restoration of the fountain, whose current form was completed in 1762, was 20 years ago.
http://www.hurriyetdailynews.com/romes-trevi-loses-pieces-alarm-raised.aspx?pageID=238&nID=23002&NewsCatID=375
INDE – Gujarat - These are just a few of the 750 Indus Valley civilization sites spread across Gujarat.  Thanks to MS University's Department of Archaeology and Ancient History and Japan's Research Institute for Humanity and Nature (RIHN), all the Harappan sites of Gujarat dating back to 3,600 BC (5,600 years old) to 1,500 BC (3,500 years old), have been accurately mapped. As part of the Gujarat Harappan Sites Gazetteer Project, MSU and RIHN will publish a gazetteer to not only locate the sites geographically but also throw light on artefacts collected from these sites, excavators behind the discovery and the period to which they belong.  "Gujarat has one of the largest concentrations of Harappan sites as the Indus Valley civilization had flourished here for nearly 2,000 years. While there are few sites which date back to 5,600 years, Gujarat has a huge concentration of sites between the 2,500 BC to 1,700 BC period," says MSU's professor P Ajithprasad, who along with the head of RIHN's Indus Project professor T Osada completed the digital mapping.  The challenge so far was locating the sites. For instance, Zekhda in Patan has also been listed as Amasari no timbu (a local name of the mound where the site is located) by some. "Now, we have mapped the actual location and mentioned all the names of such sites so that there is no confusion," says Ajithprasad, whose team used global positioning and geographic information systems to map the sites. Archaeologists globally have been interested in Gujarat's Harappan treasure as when the urban phase of the Indus Civilization started declining from 1900 BC onwards in other parts of the continent especially the Indus Valley (from Punjab to Arabian coast), the decline did not happen in Gujarat.  "In Gujarat, the civilization continued to flourish for another 400 years or so," he says.
http://timesofindia.indiatimes.com/city/vadodara/Harappan-treasure-trove-unlocked/articleshow/14069733.cms