13 JUIN 2011 NEWS : Changping - Cagayan de Oro - St Charles -- Klicevica fortress - Pachrahi - Musandam - Barrowburn -
13 JUIN 2011 NEWS : Changping - Cagayan de Oro - St Charles -- Klicevica fortress - Pachrahi - Musandam - Barrowburn -
- 13 JUIN
- CHINE – Changping - Two ancient stoves ruins have been found in north China's Shanxi Province where the famous Battle of Changping took place which ultimately led to the unification of China for the first time. The stoves, with one furnace of 1 meter in diameter and the other 60 centimeters in diameter, were found 2 meters apart from each other in a hillside in village of Shahe, Linchuan County, said Li Junjie, vice chairman of the Changping Battle research institute. "The stoves were built on the hillside for two reasons, to be sheltered from the wind and hidden from enemies," said Li. The Battle of Changping took place in 260 BC between the State of Qin and the State of Zhao in the Warring States Period in China. The decisive victory of Qin secured its prominence and ultimately allowed Qin to unify China in 221 BC. "The ash in the stoves are believed to be burned pine and cypress branches based on our tests," said Li. Pottery pieces and iron arrowheads were also found near the stoves. "Arrows with iron heads were a main weapon of the State of Zhao's army," said Li.
http://www.kaogu.cn/en/detail.asp?ProductID=2885
- PHILIPPINES –
Cagayan de Oro - A GROUP concerned with the rich heritage of Cagayan de Oro City accidentally excavated pre-Hispanic artifacts at the city's Gaston Park Monday. A. Paulita R. Roa, City museum curator and a graduate of Archeology at the University of the Philippines (UP), said the accidental digging happened when the City Government beautified the Gaston Park by planting trees in time for the Charter Day celebration on June 15. The digging was done by a group called "Kagay-anon Kani-adto," who aims for the preservation of the city's heritage. After level three of digging, the group found artifacts that include 16th century earthen wares, Chinese porcelain, shells, trade ceramics, bricks and European ceramics. The artifacts were later cleaned and brought to City Mayor Vicente Y. Emano as the group needs confirmation for further digging in the area.
http://www.sunstar.com.ph/cagayan-de-oro/local-news/2011/06/13/artifacts-found-oros-gaston-park-160923
- USA – St Charles - Archeologists have finally discovered the home of Louis Blanchette, the mysterious 18th century French-Canadian fur trader and adventurer who first landed in what is now St. Charles in 1765 and returned in 1769 to found a permanent settlement. Archeologists from Lindenwood University and the University of Missouri have unearthed the floor of some of Blanchette's buildings four feet under front yard on Main St. in Old Town St. Charles. All we know is that Blanchette came to the settlement he originally named Les Cotes Petites--The Little Hills--from Quebec City in Canada, roughly 1,300 miles of paddling a 20-foot canoe across the Great Lakes and down the Illinois, Mississippi, and Missouri rivers. He was illiterate, and married a Native American woman in a Catholic ceremony. Historians know both facts because his marriage record still exists, signed only with a scrawled "X". Other than that, the man is a mystery. Blanchette was part of a group of traders, trappers, and adventurers known in French North America as "les voyageurs"--literally, "the travellers." "These were men who thrived on being alone," said Dr. Dasovich. "They really did well on their own outside of government and societal constraints. And they were very good at what they did, which was settling trading posts, exploring new areas, trading and trapping, and paddling their long canoes hundreds of miles at a time, often against very currents and through hazardous territory." The Blanchette excavation is small--perhaps four feet deep and seven feet on each side--but has already produced evidence of an original floor, as well as pottery and glass fragments that pre-date 1770. Archeologists plan to expand the dig site slowly throughout the summer.
http://www.kplr11.com/news/ktvi-historical-st-charles-dig-6911,0,3993264.story
- CROATIE –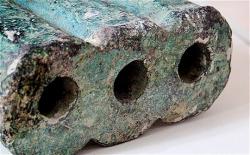 - Klicevica fortress - Archeologists have identified what they believe is the world's only triple-barrel cannon inspired by the inventions of Leonardo da Vinci. The bronze cannon, from the late 15th century, bears a striking resemblance to sketches drawn by the Renaissance inventor, notably in his Codex Atlanticus - the largest collection of his drawings and writing. Mounted on a wooden carriage and wheels, it would have allowed a much more rapid rate of fire than traditional single-barreled guns - in a precursor to modern day machine guns. Soldiers would have been able to fire three cannon balls instead of one. It was found in the grounds of the 15th century Klicevica fortress, in a part of southern Croatia that had strong trading links with the Venetian Republic and that was on the front line of defence against the invading Ottomon Turks. The cannon may not have been an enormous success - the lower part of the barrels has been blown away, suggesting it may have jammed and exploded, probably killing or seriously injuring whoever was operating it. The gun was found in 1968 by a group of children who were digging in the fortress, but it was only donated to the museum in the 1990s. Attempts to properly analyse it were stymied by Croatia's war of independence and a lack of funds.
http://www.telegraph.co.uk/news/worldnews/europe/croatia/8569045/Leonardo-da-Vincis-machine-gun-cannon-discovered-by-archeologists.html
- INDE –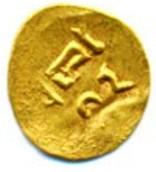 Pachrahi - The excavations at Pachrahi, district Kabirdham, Chhattisgarh opened many hidden treasures in the Indian archaeology and history. The excavation revealed more than 8 temples, big royal palaces, more than 200 coins of gold, silver and copper coins. The outstanding discoveries are the fossils of 15 crore years old and a large prehistoric site. The outstanding discovery is the finding of gold coins of Ganga period of Odisha.Gangas were the mighty dynasty of Odisha in the medieval period. In this dynasty one king Chodaganga dev has been considered to be the most powerful king of his time in eastern Inida.By erecting the Jagannatha temple and by increasing the importance of this famous shrine he also earned immortal fame in Orissan history. During his time he attempted to enlarged his empire in all the directions. So he attempted to occupy the some portion of South Kosala area(Chhattisgarh area).But by that time this South Kosala area had been occupied by the Kalachuris of Ratanpura.So he waged a war against the Kalachuri king Ratan dev II(AD1120-1135).But the result of the war is not clear.Howevere the findings of gold coins of this dynasty in the south kosala area or Chhattisgarh area ,clearly indicates that there was some sort of political or cultural or trade relation between the Kalinga country and south kosala area. Note: For the first time the gold coins of Ganga dynasty is found from this area which shows the cultural, political, and trade relation between two states in the then period.
http://indiaeducationdiary.in/Shownews.asp?newsid=9269
- OMAN – Musandam - Three international adventure scientists from the Canada-based 'Adventure Science' group, who recently went to the remote part of Musandam peninsula in Oman, searching for signs of tsunamis and ancient life, have instead come across over 20 interesting archaeological sites. In an interview , Dr Simon Donato, team leader (who is a geologist, tsunami expert and endurance athlete) said, "We did not find any evidence of preserved tsunami deposits. Searching for archaeological sites, however, was very successful and we found well over 20 sites that are not catalogued or known to science (at least outside of Oman)," he pointed out. "We hiked into remote regions with no roads or trails, found structures, preserved pottery, ancient (older than 500 years) pottery. It was incredible, and like walking back through time. The quality of the structures and preservation truly begs more attention from the government," he noted.
http://www.timesofoman.com/innercat.asp?detail=46229&rand=
- ROYAUME UNI –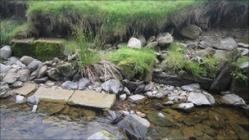 Barrowburn - A team of amateur archaeologists has won lottery cash to fund an underwater excavation in Northumberland , to search the River Coquet for a 13th Century cloth mill. Evidence of the submerged remains are already visible in a stretch of the river near Barrowburn. Experts believe the mediaeval fulling mill was operated by local monks. Timber samples from the site have been tested by experts at the Museum of London who have confirmed they are from the 13th Century.
http://www.bbc.co.uk/news/uk-england-tyne-13749247