13 JUILLET 2011 NEWS : Salme - Villedômer - Timrat - Lac Mungo - Nabucco - Sozopol - Kodiak - Angle - Kalavasos -
13 JUILLET 2011 NEWS : Salme - Villedômer - Timrat - Lac Mungo - Nabucco - Sozopol - Kodiak - Angle - Kalavasos -
- 13 JUILLET
- INDI-UNI :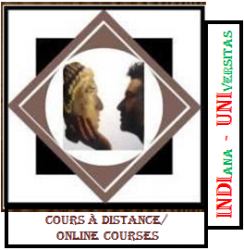 PRE-INSCRIPTION : 15 Juin – 15 Août
PRE-REGISTRATION: June 15th - August 15th
- ESTONIE –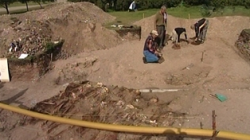 Salme - An archaeological excavation that resumed last week in Salme on the island of Saaremaa, a site where ancient ships were previously found has turned up more Viking-era ship rivets and sword fragments. "We don't have any major discoveries and finds to report yet, but we have received confirmation in the course of the work that they may come," archaeologist Jüri Peets told the island daily Meie Maa. "We have reached the sixth soil layer and right on the first day we found two rivets that are from the same era as the Viking ships. They are exactly the same kind and size that we have found in the past." In 2008, two Viking ships dating for 850 CE were found near the village of Salme. They had been used for ship burial and contained skeletal remains.
http://news.err.ee/culture/f72112bf-1841-4191-9ffe-8e887468063f
- FRANCE – Villedômer - La commune de Villedômer (Indre-etLoire), 1.360 habitants, a entrepris une rénovation de son coeur de village. Sous les pavés du centre-bourg, les archéologues de l'Institut national de recherches archéologiques préventives ont découvert huit siècles de sépulture. Des sondages font apparaître de nombreuses sépultures enfouies sous quelques centimètres de remblais contemporains. Les inhumations, sur trois niveaux, sont sur un mètre de profondeur. De la date de construction de l'église, qui a débuté au XI e siècle, à la création du nouveau cimetière, début XIX e , les archéologues estiment à 14.000 le nombre d'inhumations.
http://www.lanouvellerepublique.fr/france-monde/ACTUALITE/Politique/Des-fouilles-mettent-au-jour-14.000-squelettes-a-Villedomer-37
- ISRAËL –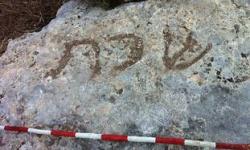 Timrat - An ancient rock inscription of the word "Shabbat" was uncovered near Lake Kinneret this week – the first and only discovery of a stone Shabbat boundary in Hebrew. The etching in the Lower Galilee community of Timrat appears to date from the Roman or Byzantine period. The inscription, discovered by chance Sunday by a visitor strolling the community grounds, quickly reached Mordechai Aviam, head of the Institute for Galilean Archeology at Kinneret College. "This is the first time we've found a Shabbat boundary inscription in Hebrew," he said. "The letters are so clear that there is no doubt that the word is 'Shabbat.'" Aviam said Jews living in the area in the Roman or Byzantine era (1st-7th centuries CE) likely used the stone to denote bounds within which Jews could travel on Shabbat. The Lower Galilee of Late Antiquity and the Early Middle Ages had a Jewish majority – many of the Talmudic sages bore toponyms indicative of Galilee communities. The engraving uncovered in Timrat is the first and only Shabbat boundary marker yet discovered in Hebrew – a similar inscription was found in the vicinity of the ancient Western Galilee village of Usha, but its text was written in Greek.
http://www.jpost.com/ArtsAndCulture/Entertainment/Article.aspx?id=228941
- AUSTRALIE –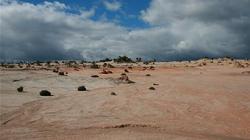 – Lac Mungo - A foundational project is currently underway at Lake Mungo and those lakes that abound it to document the history of human settlement, past environmental change and landscape evolution that has occurred in this area. Documenting the history of human settlement seems like an epic task in any part of the world; in the stark beauty of the Willandra Lakes World Heritage Area, it involves tracing back no less than 45,000 years. It is one of the oldest places outside of Africa to have been occupied by modern humans. The site of the world's oldest known cremation and ritual ochre burial, as well as the longest trail of ancient human footprints, surprisingly little is known about the people who lived here. "There's an untold story at Mungo; Mungo is famous because of Mungo Lady, Mungo Man; a trail of fossil footprints," says Dr Stern. "We know surprisingly little about how people actually lived in this landscape over 45,000 years - and that's really what I'm trying to document by looking at the archaeological traces in the Mungo lunette." The Mungo lunettes are half-moon shaped sand dunes built from ancient layers of the earth's surface. Containing rich deposits of information, the lunettes have preserved hundreds of rare, snapshot images of Australia's earliest history and provide a unique record of the ways in which the first settlers may have adapted to the changes to their climate over time. They form the basis for Dr Stern'a foundational research into this narrative of human evolution.
http://www.abc.net.au/local/stories/2011/07/13/3268249.htm
- BULGARIE –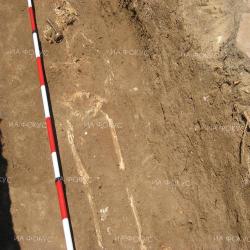 Nabucco - "There are more than 100 archaeological sites along the route of the Nabucco gas pipeline on the territory of Bulgaria," said Associate Professor Lyudmil Vagalinski, Director of the National Institute of Archaeology with Museum at the Bulgarian Academy of Sciences. In Vagalinski's words, there are prehistoric, ancient and medieval sites. "There are settlements, necropoleis, and great variety of sites. I guess we will come to a point when we will have to set to the tasks at the eleventh hour. These sites have to be archaeologically studied, excavated, to get information from these sites. There are no sites that would require change in the route of Nabucco. We have started talks with the Nabucco-Bulgaria so as to outline the financial and time parameters so as to tackle the issue efficiently and on time," Vagalinski remarked.
http://www.focus-fen.net/index.php?id=n254489
- BULGARIE –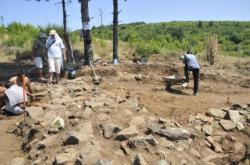 Sozopol - Bulgarian archaeologists have discovered 30 bronze coins with images of Ancient Greek god Apollo dating back to the 4th-3rd century BC. The discovery was made during excavations on the St. Marina hill near the Black Sea town of Sozopol. The bronze coins feature Apollo's head on one side, and on the other – Apollo sitting on an omphalos – an ancient religious stone artifact considered the center of the universe. The coins, which are typical of the Hellenic Age, have been found in the remains of a villa from the 4th-3rd century BC outside of the Greek polis of Apollonia. The villa is the first such archaeological structure outside the polis. The excavations at the St. Marina hill first started back in 2010 within a Bulgarian-French project called Apollonia-Pont-Euxin, French for the Ancient Greek name of the Black Sea, Euxeinos Pontos. The aim of the project is to create a map of archaeological sites from the Ropotamo River in the south to Cape Atiya in the Sozopol municipality.
http://www.novinite.com/view_news.php?id=130182
- USA – Kodiak - Excavation work for a new retaining wall for the Baranov Museum Saturday unearthed a part of Kodiak history when an on-site archaeologist recognized deliberately stacked rocks and old wood planks in the exposed earth. She then began documenting what is most likely a structure from the era of Russian colonization. Found in those excavation pits was similar wood planking, said archaeologist Sarah Corbin. One of the pits included a gunflint that was linked with the Russian era (1743-1867). In layers below the wood planking were chert flakes, remains from before Russian colonization, Corbin said. With this find just a few feet away from earlier excavations, Corbin said she feels strongly the new find is a continuation of those structures and therefore dates from the Russian era.
http://www.adn.com/2011/07/12/1963515/project-yields-likely-russian.html
- ROYAUME UNI –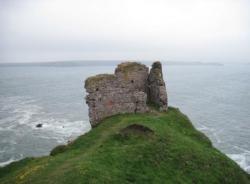 Angle - Archaeologists are about to start excavating the site of a blockhouse thought to have been built by Henry VIII on the Angle Peninsula to defend against French invasion. Clinging to the edge of a sea cliff in the Pembrokeshire Coast National Park, the blockhouse is a crumbling reminder of a bitter feud between Britain and France. It was probably built as part of Henry VIII's coastal defences after his divorce from Catherine of Aragon, when Britain was left politically isolated by a treaty between France and Spain – and the King was determined to defend his country from attack. Henry VIII built a series of blockhouses and other defence towers around the coast of Britain, from the Thames Estuary to Milford Haven. They were made to suit each location, and the fort at East Blockhouse is very small in contrast to some of the better known and larger defences such as St Mawes Castle in Falmouth and Southsea in Portsmouth.
http://www.newswales.co.uk/?section=Culture&F=1&id=21807
- CHYPRE – Kalavasos - The Ministry of Communications and Works, Department of Antiquities announces that the shelter of the Kalavasos archaeological site was seriously damaged by the explosion in the Naval Base of "Evangelos Florakis" and the site will be closed until its recovering.
http://www.moi.gov.cy/moi/pio/pio.nsf/index_en/index_en?opendocument