INSTITUT SUPERIEUR D'ANTHROPOLOGIE
INSTITUTE OF ANTHROPOLOGY
ONLINE COURSES / COURS A DISTANCE
SPRING TERM : APRIL 2014
REGISTER NOW 
OMAN -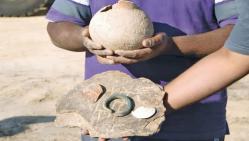 Bildat Al Ayoon  - The exploration team of the Ministry of Heritage and Culture has commenced documenting and exploring a new archaeological site at Bildat Al Ayoon of the Niyabat of Sinaw in the Wilayat of Al Mudhaibi, South Al Sharqiyah Governorate. The initial findings of the exploration indicate the presence of archaeological items which date back to the third century BC and some even dating back to the Iron Age. Sultan bin Nasser Al Bakri, director of Explorations and Archeological Studies Department at the Ministry of Culture and Heritage, said that the archaeological site was discovered during preparations for construction of Sinaw/Mahut Dual Road Project. The site was discovered along the road which led the ministry to carry out excavation works in order to preserve a number of graves/cemeteries. The site has around 250 graves, he added. He said that the discovery refers to the middle of the Bronze Age of the Majan Civilisation and to the Iron Age. The artefacts also include pottery and jewellery.
http://www.timesofoman.com/
EGYPTE –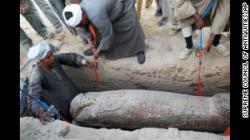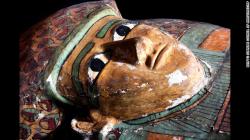 Louxor -  Archaeologists say they unearthed a rare find during a dig in Egypt: a sarcophagus that's 3,600 years old -- with a mummy still inside. Egypt's state-run Al-Ahram newspaper reported Thursday that a team working on a routine excavation at a tomb in Luxor uncovered the painted, human-shaped sarcophagus. It dates back to 1600 B.C., when the Pharaonic 17th Dynasty reigned in Egypt, the country's Supreme Council of Antiquities said.The sarcophagus belonged to a top government official, whose mummy was enclosed inside, Al-Ahram said, citing Egypt's antiquities minister, Mohamed Ibrahim. The sarcophagus is engraved with titles of the official, but archaeologists haven't yet been able to identify him, Ibrahim said. The Spanish-Egyptian team also found two other burials while digging at the Draa Abul-Naga necropolis on Luxor's west bank, Al-Ahram reported, but both were empty. "It is believed they were robbed in antiquity," the newspaper reported.
http://edition.cnn.com/2014/02/13/world/africa/egypt-mummy-discovery/index.html?
PEROU -
 Quinua - Archaeologists working on a Wari complex in Peru's central Andean region of Ayacucho said they may have found 1,000-year-old mausoleums, daily Peru.21 reported.Archaeologist Martha Cabrera said specialists have uncovered two underground galleries at the complex, which is located in the district of Quinua in the Huamanga province. The first gallery is 15 meters long, 1.4 meters wide and about 1.75 meters tall, Cabrera said. The other gallery is about 8.5 meters long. The archaeologist said that they found remains that suggest the complexes were collective burial sites for elite members of the Wari civilization. The Wari culture settled over much of current Peru's south-central coast and highlands from 500 AD to 1000 AD, prior to the advances of the Inca Empire. Cabrera has been working for over 10 years on Wari sites in the area with archaeologist Jose Ochatoma, who said that a six-meter long stone table was found as well as the remains of some 60 people. Work on these galleries began in 2012, funded by the Fondo Camisea (Focam).
http://www.peruviantimes.com/11/archaeologists-find-evidence-of-1000-year-old-wari-tombs/21537/
ROYAUME UNI - Edinburgh- The skeleton of a small Bronze Age man with worn-away teeth was today removed from his grave a metre beneath a primary school playground. The 4000-year-old remains were found by archaeologists surveying Victoria Primary School in Newhaven, Edinburgh, ahead of a proposed school extension. The archaeologists stumbled upon the well-preserved bones in late January while looking for evidence of the village's medieval harbour. The body was curled up in a foetal position common in the Bronze Age, and positioned alongside a pottery food or drink vessel to sustain them in the journey to the next world. Archaeologists who excavated the site today initially thought there were two skeletons, but the remains belonged to one person, thought to be a male around 5ft-5ft6in and aged in his fifties. His worn teeth show he had a high grain diet of stone-ground bread. Further analysis will now be undertaken in a bid to discover more about his life, and death. John Lawson, Edinburgh City Council's archaeology officer, said: "It was completely unexpected as we were looking for evidence from the 15th century associated with the harbour and ship-building. "What we found was the remains of an adult dating from around 2000BC. "It is a remarkable discovery as we know very little about prehistoric burials in Edinburgh. "This was a small individual, possibly a male, who would have stood 5ft-to-5ft6in tall. "The body was buried in a crouching position, in the sand dunes on what was a beach 4000 years ago. "We have also brought up prehistoric pottery, possibly a food vessel which may have been filled with a food offering."
http://www.edinburghnews.scotsman.com/news/education/bronze-age-skeleton-removed-from-school-playground-1-3305417
ROYAUME UNI -
  Cullaird Wood - A Bronze Age graveuncovered in the Highlands has revealed the remains of an active woman - albeit with bad teeth - who died in her forties around 4,000 years ago. Archaeologists from Glasgow-based Guard Archaeology were called in when a Bronze Age coffin, or cist, was inadvertently disturbed during landscaping works at Cullaird Wood in West Torbreck, south-west of Inverness. The team undertook a rescue excavation and found human remains. Osteoarchaeologist Maureen Kilpatrick analysed the bones and discovered that these were of a female aged 40-44 at the time of death. She said: "As the radiocarbon date demonstrates, this occurred at some point between 1982-1889 BC. "Dental disease in the form of periodontal disease and a periapical cyst were present and are probably symptomatic of poor oral hygiene and are probably secondary to the moderate dental wear observed on most of the teeth. "Both the right and left femurs appeared quite robust with fairly prominent muscle attachments suggesting that the individual probably led a physically active lifestyle." She added: "The burial appeared consistent with a period of use in the early Bronze Age, which was confirmed by the post-excavation analyses, which have now just been completed. The cist at West Torbreck is located within an area rich in prehistoric remains, many of which have only been discovered within the last few years, primarily due to development associated with the expansion of Inverness. Ms Kilpatrick said the area appeared important for prehistoric groups from early times. She added: "Despite the use of cists spanning a period of at least 300 years, many similarities exist such as location, orientation of burial and material used, suggesting that local traditions may have existed which continued over many decades. "However each cist is unique in some way and the West Torbreck burial is no exception. "For instance, pottery vessels are not always included in cists. In this case a beaker found in the West Torbreck cist was evidently part of the burial rites and its function was to accompany the individual to the afterlife. "Post-excavation analysis by Beverley Ballin Smith revealed that the unusual aspect of the West Torbreck Beaker is that it is undecorated. "Although a few others have been found in north-east Scotland they are generally rare in Scotland and rare across Britain as a whole. As a relatively rare type of vessel, this find gives weight to the importance of the region and its close links with the River Ness, and possibly the North Sea region beyond."
http://www.scotsman.com/lifestyle/heritage/active-bronze-age-woman-found-in-highland-woods-1-3304751
PAKISTAN –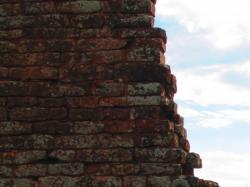 Multan - The Archaeology Department has prepared a Rs2 million estimate for repair and restoration of the two boundary walls of the 680-year-old mausoleum of Hazrat Shah Rukn-i-Alam, an Archaeology Department official said on Wednesday. He said water had badly damaged two walls on its north-east corner. The eastern wall, he said, had subsided with cracks and the northern wall had been found to be tilting towards north. He said the pre-Mughal era mausoleum had been declared one of the best preserved monuments in the country following conservation work at a cost of Rs 2.9 million in 1977.
http://tribune.com.pk/story/671026/rs2m-needed-to-repair-damaged-wall/
USA –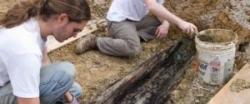 Jackson -While surveying land for a new parking lot at the University of Mississippi Medical Center, officials made a grisly discovery: more than 1,000 bodies thought to have been patients at the old Mississippi State Lunatic Asylum.It's possible there could be more unmarked graves belonging to tuberculosis patients, former slaves, or possibly even Civil War dead, according to the Clarion-Ledger.Opened 1855, the Mississippi State Lunatic Asylum operated on the UMMC site until 1935, when it moved to its present location at Whitfield, according to USA Today.
VIDEO = http://www.huffingtonpost.com/2014/02/10/1000-bodies-university-mississippi-insane-asylum_n_4761166.html