13 AVRIL 2016 NEWS: Vienne - Domaniç - Botad - Al Qurayyah - Hong Kong -
13 AVRIL 2016 NEWS: Vienne - Domaniç - Botad - Al Qurayyah - Hong Kong -
INSTITUT SUPERIEUR D'ANTHROPOLOGIE
INSTITUTE OF ANTHROPOLOGY
ONLINE COURSES / COURS A DISTANCE
SPRING TERM : APRIL 2016
REGISTER NOW
AUTRICHE –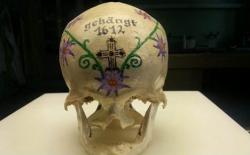 – Vienne - The skull had been found last week in saucepan in a meadow near Vienna's Wilhelminen hospital by a hospital employee and the theory at the time was that it was probably a replica. But tests carried out on the skull show that it is in fact real, although authorities are none the wiser as to where it has come from or why it is painted. As well as flowers, the skull is decorated with the words 'gehängt 1612' (hanged 1612), although archaeology experts say the bones are much too young to be be dated back to the 17th Century. They have not been able to date it exactly yet. The name 'Amelie Lagrange' had also been written on the skull but city archaeologist Karin Fischer-Ausserer confirmed to the ORF that it actually belonged to a man. Fischer-Ausserer said that although the skull is real, it appears as if parts of it have been put together. On the back a piece of vertebrae from a cow has been stuck on and she also believes that the jaw could have come from a different person "It is a compilation of several components, assembled artistically," she said, adding that the find is "probably a bizarre hoax". The archaeologist said that it's clear to her that it is not crime-related and she believes it has not come from a murder victim. But what exactly the skull was doing in the meadow and why it is painted remains a mystery.
http://www.thelocal.at/20160412/mysterious-painted-skull-found-in-vienna-is-real
TURQUIE - Domaniç - A Roman-era burial chamber has been unearthed during excavations in the western province of Kürahya's Domaniç district. Kütahya Museum Director Metin Türktüzün said archaeologists began excavations when they were informed about a historical structure in the Hisar neighborhood. He said the first examinations showed that the structure was burial chamber dating back to the Roman era 2,000 years ago. Türktüzün added that the excavation field was a registered cultural heritage, and continued: "We are cleaning the chamber, which is full of earth, rubble and etc. Works continue to open the outer gate of the chamber. We have found skeletons there; it might be a family grave from the Roman era."
http://www.hurriyetdailynews.com/burial-chamber-discovered-in-kutahya.aspx?pageID=238&nid=97703&NewsCatID=375
INDE –
Botad - Archaeologists from MS University have come across another Harappan site in Gujarat in Vejalka village in Ranpur taluka of Botad district of Saurashtra, about 50km from the famous site at Lothal near Ahmedabad. Recently, a team of students and teachers from university's Department of Archaeology and Ancient History carried out excavations at the village which revealed that the rural hinterland of Saurashtra had a settlement belonging to Indus Vally civilization period around 4,300 years ago. There are over 190 Harappan sites, mainly in Saurahstra and Kutch region. "This is primarily a rural site of the Harappan civilization (urban center). It is important to study the civilization's rural economy without which the urban economy could have never existed and hence we had carried out excavations at Vejalka," said head of the department professor K Krishnan, who led the excavation team. "The artifacts obtained from various places in the village date back to 2,300 BC to 2,000 BC. During the excavation, we explored various materials. We found a large number of pottery, animal bones, mud walls, beads and antiquities from this village," said Krishnan adding that it will take two more years to complete the ongoing project. He further said that the list of antiquities comprising of beads and stone blades suggest that apart from human settlement, there was also a small scale industry. "Researches say that in those days, houses were made of mud. We could locate such numerate mud structures that denoted domestic architecture," the professor added. Archaeological evidence also show the presence of an indigenous group in the village. "Micaceous red ware, a kind of ceramic was found in abundance in the village. Presence of this ceramic confirms that Harappan civilization existed in the region," Krishnan said.
http://timesofindia.indiatimes.com/city/vadodara/New-Harappan-site-found-in-Botad-village/articleshow/51787656.cms
UAE –
Al Qurayyah - An ancient burial site has been uncovered and saved by archaeologists working with the Fujairah Tourism and Antiquities Authority. The site, which dates to between 2000BC and 1600BC, during the Wadi Suq period, was discovered near a construction site in Al Qurayyah, about 14 kilometres north of Fujairah city, last week. "The burial site was found in the outdoor yard of a mosque that is being constructed in Al Qurayyah," said Dr Kristina Pfeiffer, head of the excavation team from the German Archaeological Institute. "During our rescue excavation of the burial, we discovered some remains of bones that we believe are from one of the earliest [human] inhabitants [of the region], while an examination of pottery found in the tomb showed that they were created in Wadi Suq period." The tomb is considered one of many that have been discovered in the area, finds that collectively form an ancient cemetery dating back 4000 years. Fujairah Tourism and Antiquities Authority has built a roof and fence at the site. The German archaeologists have also re-excavated late Bronze Age architectural remains in Qidfa, which was discovered in mid-1990s. The team reassessed the Qidfa walls using the latest technology. "Layers and structural modern studies have been made on walls dating to the late Bronze Age, 1550BC to 1200BC, which are considered very rare," said Ms Pfeiffer. The third part of the German team's excavation concentrated on the northern valleys of Fujairah, where they looked for evidence of Bronze Age settlements or agriculture. "These excavations are part of a long-term research programme to study the evolution of human communities in the country by selecting different geographical areas, characterised by different environments, resources and periods of time," Ms Pfeiffer said. Environmental and plant samples were collected and analysed, along with anthropology samples, to gain a better understanding of the natural and cultural aspects of ancient times in the area. All the collected data will be recorded on an online geographic information system. This was the first part of the archaeological campaign in Fujairah this year, and the second part will begin in June.
http://www.thenational.ae/uae/heritage/20160410/ancient-burial-site-found-during-fujairah-mosque-construction
Hong Kong –
Teachers and students of Department of Real Estate and Construction of the University of Hong Kong (HKU) discovered a long forgotten boundary marker stone from the very earliest days of the British presence in Hong Kong. This B.O. No4, boundary stone, is located in the Lei Yue Mun Park and Holiday Village in Sai Wan Shan. Research by Dr Stephen N.G. Davies, Lecturer of the Department, has identified the stone's provenance. "B.O." stands for 'Board of Ordnance', the British military authority in charge of surveying and mapping before 1855. That clue led to its identification on Hong Kong's oldest scientifically surveyed map, the Ordnance Map of Hong Kong of 1845 by Lt. Thomas Bernard Collinson Royal Engineers. The stone has suffered some damage over the years but all the original markings are still legible. However, unchecked growth of vegetation in the neglected Redoubt means a tree is now growing right beside the stone, threatening to push it over and further damage it.
http://www.eurekalert.org/pub_releases/2016-04/tuoh-1yo040816.php