13 AVRIL 2012 NEWS : Hebden - Monreith - Cambridge - Goytapa - Spaxton - West Cork - Corrèze - Newport -
13 AVRIL 2012 NEWS : Hebden - Monreith - Cambridge - Goytapa - Spaxton - West Cork - Corrèze - Newport -
INSTITUT SUPERIEUR D'ANTHROPOLOGIE
 INSTITUTE OF ANTHROPOLOGY
ONLINE COURSES / COURS A DISTANCE  
 INSCRIPTION  2012 /  Session III : Juillet 2012
   REGISTRATION 2012 /  Term III : July 2012
ROYAUME UNI –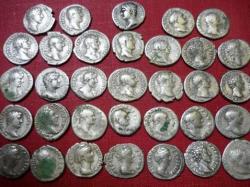 Hebden - A hoard of 33 rare Roman coins has been found in a field near Hebden. The 33 silver Roman dinari, dating from 30AD to 170AD, were found nine inches below the ground's surface. Mr Binns said: "It's likely that it was buried there for safekeeping by a legionnaire. Many of these men would have settled here after they finished in the Roman army."
http://www.cravenherald.co.uk/news/9645624.Dales_treasure_hunter_finds_rare_Roman_coins/
ROYAUME UNI –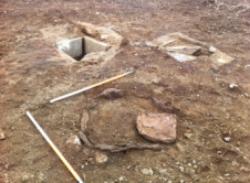 Monreith - Jock McMaster got a big surprise when he was ploughing his fields at Blairbuy Farm last week when his plough unearthed an ancient grave. The blade of the plough it and uplifted a huge stone slab, which Jock discovered was the lid of a cist. Inside was the remains of a skeleton from the Bronze Age. A spokesperson for Dumfries and Galloway Council said: "Our Council's archeologist Jane Brann said, "Historic Scotland responded to a request from the Council Archaeology Service to fund the excavation of archaeological remains recently discovered and reported by Mr McMaster of Blairbuy Farm, Monreith. While ploughing, a large stone was unearthed that turned out to be the capstone from a cist burial. The excavation has finished and in all three cists were found. Only one contained the remains of a skeleton. The archaeological company who carried out the excavation will analyse the findings and write a full report which it is hoped will be published in the Transactions of the Dumfriesshire and Galloway Natural History and Antiquarian Society in due course. The cists are likely to date from the Bronze Age some 3-4,000 years ago when nearby monuments such Drumtroddan Standing Stones and the Wren's Egg were erected."
http://www.gallowaygazette.co.uk/news/local-headlines/skeleton-found-at-monreith-farm-1-2214622
ROYAUME UNI –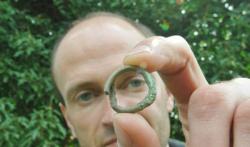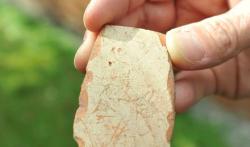 Cambridge - A major project to update and create state-of-the-art teaching and living space at Ridley Hall meant archaeologists were drafted in to carry out a survey. After removing the topsoil the experts from Access Cambridge Archaeology discovered the "tantalising possibilities" of a Roman settlement, and even some remains dating back 3,000 years to the Iron Age. The dig turned up multiple finds including a copper Roman ring, Roman animal bones and tiles, possibly used for a house or farm's heating system. But the majority of the discoveries were even older – including many flint blades from the Iron Age.
http://www.cambridge-news.co.uk/Home/Slideshow-Roman-and-Iron-Age-finds-at-college-13042012.htm
AZERBAIDJAN –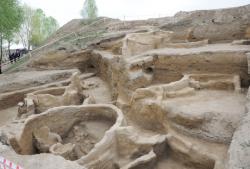 Goytapa – The archaeological site is the largest ancient settlement of Neolithic Age in the South Caucasus (sixth millennium B.C.). It covers the total area of two hectares.  Archaeological excavations had been carried out here with participation of representatives of the French National Research Center and University of Tokyo since 2008.
http://en.trend.az/news/politics/2013883.html
ROYAUME UNI – Spaxton - A fourth century Roman mosaic which sat in the storeroom of Bridgwater's Blake Museum for 47 years has been restored and unveiled to the public.Lady Gass, the Lord Lieutenant of Somerset, revealed the mosaic at the museum's Archaeology Gallery last week for the first time since the Spaxton Roman Villa was discovered nearly 50 years ago. Members of Bridgwater Field Club began to unearth a Roman villa near Roughmoor Farm, Charlynch, in the 60s. Wall foundations were identified, along with mosaic floors, one of which was intact.  Parts of the floor were preserved and lay in the museum's storeroom until the museum was rejuvenated and funds were raised to have two sections fully restored for public display.
http://www.thisisthewestcountry.co.uk/news/9646244.Roman_mosaic_revealed_at_Blake_Museum/
IRLANDE - West Cork - Piracy, prostitution and the pub trade were rife in the South-West in the 16th century when the area from Roaring Water Bay in West Cork and as far as Dingle in Co Kerry was a haven for swashbuckling pirates and bustling local trade. The subject is very much untapped, and archaeology connected with the pirates who moved en masse from Cornwall and Devon in the reign of James I to escape tighter laws in England, is often unrecognised, according to Connie Kelleher, an archaeologist with the underwater archaeology unit of the National Monuments Service. Up to 1,000 pirates were present between 1603 and the 1630s and steps, caves and other pirate lore are being uncovered by Ms Kelleher as part of her doctoral thesis. Little or no archaeological work has been done on the pirates' presence, but a cursory walk of a ploughed field had uncovered shards of a 16th-century Tuscan oil lamp, likely brought in by the pirates, she said.  A remarkable set of 12 steps in Crookhaven overhanging a cavern is where the pirates brought their booty ashore, and in Dutchman's Cove there are spaces for lanterns to guide the booty boats at the dead of night, Ms Kelleher said.  These, and other steps such as those in Finan's Bay, may even have been made by the pirates. Up to 12 pirate shipwrecks are recorded in naval records, she also noted. 

http://www.irishexaminer.com/ireland/south-west-was-haven-for-piracy-and-prostitution-190252.html
FRANCE – Corrèze - Les vestiges de Tintignac et des autres sites archéologiques corréziens retrouveront leur splendeur d'antan grâce aux images de synthèse. Les sanctuaires de Tintignac, de Margerides (près de Bort-les-Orgues), des Jaillants sur la commune de Pradines dans les Monédières et le site des Cars à Saint-Merd-les-Oussines sur le plateau de Millevaches auront chacun un clip de cinq à six minutes. Les fanums et autres mausolées dont seule subsiste la base des murs, retrouveront leur majesté d'antan. Dans l'imaginaire des visiteurs et le temps du film au moins. Ces vidéos en 3D constitueront le socle d'une exposition programmée pour l'automne au Conseil général. Les films seront associés à des éléments statuaires découverts à Tintignac et à Margerides. Cette exposition devrait ensuite prendre le chemin des communes de Corrèze.
http://www.lamontagne.fr/limousin/actualite/departement/correze/tulle/2012/04/12/les-sites-gallo-romains-correziens-seront-reconstitues-en-images-de-synthese-1141764.html 
ROYAUME UNI –  Newport - A silver pendant found in Monmouthshire was declared treasure at an inquest yesterday. The pendant, which could date back to the late 15th century, was found in Portskewett, Gwent Coroner's Court, sitting in Newport, heard. The pendant, which was in the form of a hanging flower head, was discovered in October 2010 by a man who was metal detecting. An analysis showed it was 97 per cent silver. Gwent Coroner David Bowen said similar types of pendants found in England dated back to the 16th century.
http://www.southwalesargus.co.uk/news/gwentnews/9647689.Silver_pendant_could_date_back_to_15th_century/