13 AOUT 2014 NEWS: Gdansk - Hinkley - South Wales - Alcázar de San Juan - Alt Wartenburg -
13 AOUT 2014 NEWS: Gdansk - Hinkley - South Wales - Alcázar de San Juan - Alt Wartenburg -
INSTITUT SUPERIEUR D'ANTHROPOLOGIE
INSTITUTE OF ANTHROPOLOGY
ONLINE COURSES / COURS A DISTANCE
FALL TERM : OCTOBER 2014
REGISTER NOW
POLOGNE –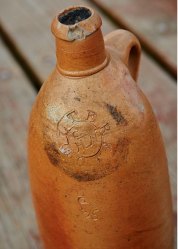 Gdańsk - Stoneware bottle recovered from the wreckage of a sailing ship, which approx. 200 years ago sank in the Gulf of Gdańsk, contains 14% alcohol - determined experts who examined the contents of the vessel. It could be a type of gin. Details will be known after further studies. The bottle has been recovered from the wreck, which rests on the bottom of the Gulf, at a depth of 12 meters, approx 4 km east of Gdynia Orłowo. Archaeologists recovered parts of the ship, including wooden blocks, but also fragments and whole specimens of ceramic and metal vessels, including a 30 cm high bottle. Stoneware dish was perfectly preserved and corked, and embossed writing "Selters" suggested that inside might be soda water produced for several centuries near the village of the same name in the Taunus mountain range in Germany. In early July, archaeologists transferred the bottle to research laboratory J.S. Hamilton in Gdynia. On Wednesday, experts issued a preliminary opinion on the contents of the vessel. "They have found that the bottle contains 14% percent alcohol distillate, possibly diluted with water, whose chemical composition corresponds to that of Selters soda" - told PAP Tomasz Bednarz, archaeologist with the National Maritime Museum, who led the work on the wreck.:Bednarz added that according to the laboratory staff, the alcohol may be a kind of genever gin (jenever) - traditional liquor of the Netherlands and Belgium. The archaeologist added that according to laboratory workers, the alcohol in the bottle is suitable for drinking. "This means, it would not cause poisoning. Apparently, however, it does not smell particularly good" - he explained.
http://www.naukawpolsce.pap.pl/en/news/news,401439,200-year-old-bottle-recovered-from-the-bottom-of-the-gulf-of-gdansk-contained-alcohol.html
ROYAUME UNI –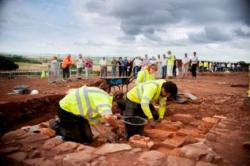 Hinkley - Important finds dating back to the Iron Age and Roman period have been uncovered at the site of a new bypass to be built as part of the Hinkley C project. Experts from the dig team were on hand to guide residents through the finds, which included remains of a substantial stone building dating from Roman times with underfloor heating and traces of painted wall plaster. Remains of a prominent building dating from around the 2nd to 3rd Centuries AD and traces of Iron Age buildings were also found at the site. Bob Croft, Somerset's county archaeologist, said: "What we have found surviving here are some of the most complete Roman buildings in West Somerset. Dating from around 200 AD, such Roman buildings are relatively uncommon here. "So this is a rare opportunity to record and understand part of West Somerset's Roman history." Once the dig is completed, the careful work of cleaning, identifying and interpreting the finds and other evidence will begin.
http://www.bridgwatermercury.co.uk/
ROYAUME UNI –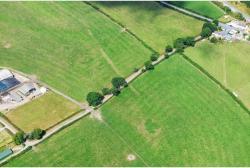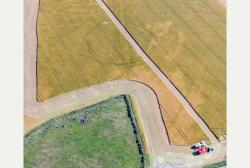 South Wales - Dry summer conditions have uncovered previously unknown historical structures across South Wales, including parts of Carmarthen's famous Roman road. Parts of the road which had not been seen at all since 1994 could be seen clearly from the sky in cropmarks in wheat fields and dried grasslands. The archaeological finds date back as far as the Roman period and even prehistoric times. Although they were not visible on the ground, archaeologists were able to see the incredible outlines from above. Dr Toby Driver said: "Despite the hot weather, frequent rain showers in many parts of Wales meant that cropmarks and parchmarks did not develop everywhere. Only in the south and west, across Pembrokeshire, Carmarthenshire and Glamorgan did the persistent drought reveal scores of prehistoric and Roman sites."Parchmarks of the Roman road running west of Carmarthen, as far as Wiston in Pembrokeshire, were seen for the first time since 1994 showing just how dry it got in the south-west." One of their most significant discoveries was that of a long forgotten Iron Age defended enclosure just north of Cardigan. The archaeologists' timing could not have been any better as shortly after they took photos of the cropmarks, the field in which they were seen was harvested, meaning the structure's outline could no longer be seen.
http://www.carmarthenjournal.co.uk/Wet-summer-unveils-West-Wales-s-hidden-history/story-22718695-detail/story.html?
ESPAGNE –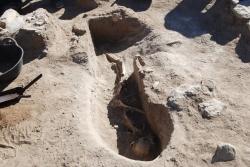 Alcázar de San Juan - Researchers in Spain's Ciudad Real province have found the buried remains of Spain's Islamic civilization in a site so full of riches they believe it could provide up to two centuries worth of discoveries. It has only taken two weeks but already excavations at a archaeological site in the Spanish town of Alcázar de San Juan have turned up some exciting finds. Researchers from the University of Castilla-La Mancha University say they have already unearthed fragments of household goods from the bronze age as well as a Roman inscription and traces of Celtiberian settlements. But project leader Víctor López Menchero says the the most exciting discovery is an ancient necropolis containing seven bodies. The positioning of the bodies — they are all facing towards Mecca — and a lack of accompanying items, both suggest a Muslim graveyard. For López Menchero, the discovery of an Islamic necropolis is key because it is one of the few pieces of evidence that Muslims lived in Castilla-La Mancha.Much of Spain was under Islamic rule from the eighth to the thirteenth centuries with the Mezquita of Cordoba and Granada's Alhambra palace being among the most visible symbols of the period.
http://www.thelocal.es/20140813/1000-year-old-islamic-necropolis-ciudad-real?
POLOGNE –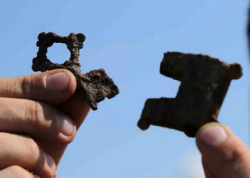 Alt Wartenburg - A Polish-German team of archaeologists working in the Warmian-Masurian region of northern Poland is excavating the remains of Alt Wartenburg, a Prussian town torched in 1354. Archaeologists are already referring to the site, which lies near the town of Barczewko, as the 'Warmian Pompeii' in an allusion to the fabled Ancient Roman settlement. "This is a dream place for archaeologists, as you can observe in a nutshell how time stopped," said Dr Arkadiusz Koperkiewicz of the University of Gdańsk, in an interview with the Polish Press Agency (PAP). Thus far, the team has excavated the remains of two buildings, and members have unearthed a number of items including bronze ornaments, belt buckles, spurs, coins and crossbow bolts. The town had been built by settlers from Silesia, with the rise of the State of the Teutonic Order, but it was torched by forces led by Duke Kestutis of Lithuania in 1354. Archaeologists took aerial photographs and carried out geophysical surveys of the site prior to launching the dig. The project is being led by Dr Arkadiusz Koperkiewicz and Dr Felix Biermann from the University of Göttingen. No remains of people have been found as of yet, but Koperkiewicz believes that survivors of the 1354 raid built a cemetery elsewhere after a new settlement was established in the area. http://www.thenews.pl/1/11/Artykul/178737,Archaeologists-hail-Warmian-Pompeii?#sthash.zahqE1e8.dpuf