12-13 MARS 2015 NEWS: Nevşehir - Allianoi - Coralie Bay - Regensburg - Tol-e-Ajori -
12-13 MARS 2015 NEWS: Nevşehir - Allianoi - Coralie Bay - Regensburg - Tol-e-Ajori -
INSTITUT SUPERIEUR D'ANTHROPOLOGIE
INSTITUTE OF ANTHROPOLOGY
ONLINE COURSES / COURS A DISTANCE
SPRING TERM : APRIL 2015
REGISTER NOW
TURQUIE –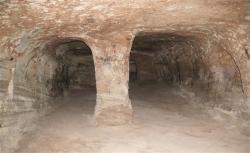 Nevşehir - A massive underground city, which was discovered last year in the central Anatolian province of Nevşehir and was the year's biggest archaeological discovery, is being cleaned with a geo-radar machine. Work has begun around the Nevşehir Fortress, carried out by the Nevşehir Municipality in collaboration with Turkey's Housing Development Administration (TOKİ), the Governor's Office and the Culture and Tourism Ministry. The geo-radar machine is able to determine all gaps and structures up to 10 meters below the surface, accurately mapping out the underground city. The data collected by the machine, which is operated by a technical team of three people, is then delivered to the excavation team. Thanks to data from this machine, the excavation process is able to be carried out in a way which limits the amount of damage to the structures of the city.  Nevşehir Mayor Hasan Ünver said the cleaning process had started a few days ago and has continued non-stop. He said the world's largest underground city was 113 meters in height and 460,000 square-meters in area and was very important for the future of tourism in Cappadocia, which is known world-wide for its Fairy Chimneys rock formation. The city is thought to date back 5,000 years and is located around the Nevşehir Fortress. Escape galleries and hidden churches were discovered inside the underground city.The tunnels in the city are believed to have been used to carry agricultural products. It is also estimated that one of the tunnels passes under Nevşehir and reaches a faraway water source. 
http://www.hurriyetdailynews.com/work-begins-in-massive-underground-city-.aspx?pageID=238&nID=79529&NewsCatID=375
TURQUIE –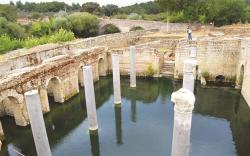 Allianoi - Turkish officials have refused to give permission to Professor Ahmet Yaraş, the former of head of the Allianoi excavations, to conduct a dig at an archaeological site of Güre in Balıkesir's Edremit district. The hot spring site is reportedly being used as a garbage dump at the moment because officials have refused for three years to grant Yavaş permission to conduct the dig after he ran afoul of politicians in agitating to protect Allianoi. Allianoi, which includes a Roman-era health complex that still survives, is located in the middle of the Yortanlı Dam. The ancient city was a unique archaeological heritage that should be preserved in its original place with its ancient bridges, historical spring and other immovable artifacts, according to scientists, yet the site was inundated. 
http://www.hurriyetdailynews.com/former-head-of-allianoi-not-given-permission-for-dig.aspx?pageID=238&nID=79534&NewsCatID=375
NOUVELLE ZELANDE - Coralie Bay - Students from Auckland University have uncovered the remnants of a moa being cooked in an oven from 600 years ago at one of New Zealand's earliest sites of human settlement.The archaeological students travelled to Great Mercury Island off the east Coromandel coast in February as part of course work excavating 15m by 10m of an ancient sand dune in Coralie Bay. During three weeks of excavation the students uncovered 13,000 objects, including stone artefacts and bones. Professor Simon Holdaway said one of the most significant finds was the discovery of moa remains in the remnants of an ancient oven. Finding moa bones is not uncommon, but finding signs of the bird being prepared and eaten, particularly in the North Island, are rare. Prof Holdaway says the site must be more than 600 years old, which makes it one of the earlier sites in New Zealand's history. Significant quantities of obsidian - naturally occurring volcanic glass - were also uncovered. Obsidian does not originate from the island, which suggests it must have been brought there by the people inhabiting Great Mercury, likely from nearby Mayor Island. A blade made out of obsidian was also found stuck inside the shoulder and flipper of a seal. The islands have not had a breeding population of seals for 600 years. The university's excavation team will return to the island in June to excavate another part of Coralie Bay. 
https://nz.news.yahoo.com/a/-/top-stories/26630153/uni-students-uncover-moa-in-ancient-oven/?
ALLEMAGNE –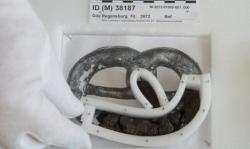 Regensburg - Archaeologists have made a remarkable - and delicious -discovery in Bavaria, where during an excavation they dug up a 250 year-old pretzel.Silvia Codreanau-Windauer from the Bavarian Bureau for the Conservation of Historic Monuments confirmed that: "this is definitely the oldest pretzel ever found" - although she would give no word on whether it was past its expiration date. Alongside the remains of the pretzel, archaeologists also found the charred remains of a bread roll and a croissant - suggesting that someone missed out on quite the historical breakfast buffet in the 18th century, the period the find has been dated to. The baked goods are only preserved because they were burnt when originally made. Archaeologists suggest that the baker must have thrown them away in disappoinment. The excavation site in the eastern Bavarian city of Regensburg has already proven a fruitful source for archaeologists, who discovered a wooden house thought to be up to 1200 years old there. Codreanu-Windauer added some historical context to the discovery: "The form of the pretzel is supposed to represent the crossed arms of monks. Eventually it ended up as a fasting meal."
http://www.thelocal.de/20150311/250-year-old-pretzel-found-in-bavaria?
IRAN –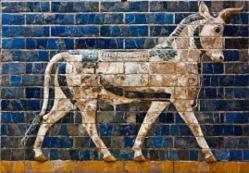 Tol-e-Ajori - A large structure believed to have inspired the Ishtar Gate of Babylon and a settlement dating from 2300-1700 BC are among discoveries revealed this week by Italian archaeological missions in Iran at an international archaeological conference in Tehran. The architectural structure resembling the Babylonian gate was found in the site of Tol-e-Ajori, near the ancient site of Persepolis, an ancient Persian ceremonial capital in southwestern Iran dating back to 500-330 BC. The settlement Chalow Tepe in the northeastern region of Khorasan is part of the Oxus civilization, or Bronze Age civilization of Central Asia, that covered parts of modern Afghanistan, Turkmenistan, Uzbekistan and Tajikistan. Italian archeologists are nearly alone in carrying out excavations in partnership with Iran, with missions that are co-financed by both countries.Seven or eight Italian-Iranian missions are currently at work, with the universities of Turin, Bologna, Naples and Rome's Sapienza involved. The excavations near Persepolis are under the care of Pierfrancesco Callieri of the University of Bologna and his Iranian colleague Alireza Askari Chaverdi. They have found a brick monument with a glazed facade similar to structures found from Babylonia. Part of it is decorated in relief with imaginary animals, like a dragon-snake and bull, resembling those on the Ishtar Gate, built 50 years before the Persian conquest. The University of Turin, meanwhile, is involved in excavations in the southwestern Iranian region of Khuzestan, where a stone temple and a monumental sanctuary from the Hellenistic and Parthian periods were found. The bronze statue of the so-called Prince of Shami, found on the sites, is now in the Tehran National Museum.
http://www.ansa.it/english/news/lifestyle/arts/2015/03/11/ancient-patrimony-unveiled-in-iran_553875ea-57fb-40f2-8d7f-1e7af36e9ff2.html?