INSTITUT SUPERIEUR D'ANTHROPOLOGIE
 INSTITUTE OF ANTHROPOLOGY
ONLINE COURSES / COURS A DISTANCE
 INSCRIPTION  2012 /  Session III : Juillet 2012
   REGISTRATION 2012 /  Term III : July 2012
KAZAKHSTAN –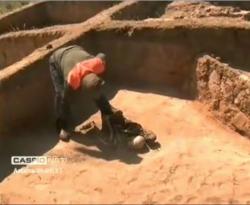 Zhaiyk - Specialists of the West Kazakhstan Centre of History and Archeology have found the burial of a young lady dated back to the Bronze Age. It is situated in the territory of the ancient city of Zhaiyk some 12 kilometres from Uralsk. Archeologists claim that their discovery is unique. The woman was buried in the fetal position and her body was directed to the west. It is believed that a person buried like that will receive the second birth. People buried their relatives and friends in such a manner in the Bronze Age, over 2 thousand years ago. It means that if earlier archeological information dated Uralsk back to the 14th century, today there is proof that this city is much older. The ancient skeleton was situated near the 800-year old brick furnace. The team accidentally found the landmark site during routine excavations. It means that the two discoveries located in close proximity were in fact two millennia apart. Murat Kalmenov, SENIOR FELLOW, WEST KAZAKHSTAN REGION CENTRE FOR HISTORY AND ARCHEOLOGY: 'The burial was higher than the base of the furnace. Then we have found an inscription, which said that there was a burial mound here in the 14th century. I believe that people living here hadn't recognised it and built a furnace near it. ' There are a lot of such historical complex areas in the territory of this region. This year excavations in Akzhaiyk, Chingirlau and Kaztal regions are planned to be launched. Serik Ramazanov, DEPUTY DIRECTOR, CENTRE FOR HISTORY AND ARCHEOLOGY:   'In 2009 we found a similar ancient city in the Kaztal region. It was bigger than Zhaiyk. The length of this city was 900 metres and the width was estimated at 300 metres. We also excavated one residential area within the city and we are going to continue working.'
VIDEO = http://caspionet.kz/eng/general/Archeological_excavations_in_West_Kazakhstan_region_1339387866.html
ROYAUME UNI –
 Londres - Four skeletons buried in an Iron Age settlement have been unearthed by archaeologists exploring the London 2012 Olympics site. They were found in a cemetery, along with the remains of a goat believed to have been sacrificed in their honour. It stood on the site of what has now become the Aquatics centre.  Other prized finds at the east London site include a 4,000-year-old Neolithic flint axe and a 19th century boat used for hunting wild fowl on the River Lea.  Roman coins have also been uncovered during Britain's largest archaeological survey which saw 140 trenches built over the 2.5sq km park World War II gun emplacements were also discovered along with more quirky items like chamber pots, a fragment of a decorated spittoon and a headless figurine of what is thought to be Queen Caroline. About 10,000 remains have either been photographed and recorded by experts at Wessex Archaeology or taken to form part of the Museum of London's collection.
http://www.metro.co.uk/news/901175-four-iron-age-skeletons-unearthed-at-stratfords-london-2012-olympics-site
PAKISTAN –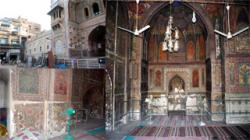 Lahore - The 400-year-old renowned Mughal monument Wazir Khan Mosque stands in dire need of restoration and preservation on an emergent basis.  The mosque, situated inside the Dehli Gate of the Walled City, is an exquisite structure that was built in 1634 by Hakim Ilmud Din Ansari, aka Nawab Wazir Khan, a native of Chiniot, who served as Punjab's viceroy during Emperor Shah Jahan's reign. Superb calligraphy and the octagonal minarets, one of the earliest of their type in Mughal architecture, are among the mosque's distinctive features. Sadly, today the monument stands in a dilapidated condition, surrounded by encroachments. Big cracks can be seen in the mosque's roof, through which rainwater seeps during the monsoon, accumulating on the mosque's floor. Also, the variegated glazed tiles and mosaic work on the walls are fading day by day. The designs, both in enamelled mosaic work and fresco paintings, have almost completely vanished.  he floor under the main dome of the mosque has also broken at various places, whereas the walls at the mosque's entrances have decayed and blackened. Also, water fungus can be seen in the pond which worshippers used for ablution.
http://www.dailytimes.com.pk/default.asp?page=2012%5C06%5C12%5Cstory_12-6-2012_pg13_6
BELGIQUE –
 Waterloo - Almost 200 years after Prussian and English troops defeated Napoleon at Waterloo, Belgian archeologists have unearthed the complete remains of a young soldier in what they dubbed a rare find. "You can almost see him dying," Belgian archeologist Dominique Bosquet said of the skeleton, lying on its back with the spherical musket bullet that felled the soldier still between his ribs. "The skeleton is intact," Bosquet told RTL television on Tuesday. Believed to have died June 18, 1815, the remains were found under 40 centimetres (15 inches) of soil as if the young soldier's comrades had hurriedly buried him when he fell on the battleground. His uniform had been eaten away but archaeologists were studying a spoon, a coin, a leather strap and a piece of wood carved with the initials C.B. to see whether they might help to identify the skeleton. It was found last week on land held at the time by English troops by a team of archaeologists investigating the site ahead of major renovation.
http://www.france24.com/en/20120612-rare-find-waterloo-intact-200-year-remains