12 JANVIER 2018: Ikinoshima - Tilaurakot - Rajahmundry - Bharatihuda - Yatton -
12 JANVIER 2018: Ikinoshima - Tilaurakot - Rajahmundry - Bharatihuda - Yatton -
INSTITUT SUPERIEUR D'ANTHROPOLOGIE
INSTITUTE OF ANTHROPOLOGY
ONLINE COURSES / COURS A DISTANCE
WINTER TERM : JANUARY 2018
REGISTER NOW
JAPON –
Ikinoshima - A fragment of earthenware excavated on an island here features one of the oldest uses of kanji characters on pottery in Japan, city officials said. The left half of the character for "shu" in Japanese, pronounced "zhou" in Chinese, was found on the shard, which is estimated to date back to the late Yayoi Pottery Culture period (300 B.C.-A.D. 300). It was discovered along with other relics, including items made of iron, in an archeological dig on Ikinoshima island northwest of the main Kyushu island between July and December last year, the Iki education board said Jan. 9. The pottery fragment, 7.5 centimeters tall, 8.8 cm wide and 4 millimeters thick, was likely part of a bowl. The kanji is believed to have been etched with a sharp tool on the finished piece.According to the Gishiwajinden (Biography of the Wa people) chronicle in "Wei Zhi," an ancient Chinese history book, a small nation also called Iki existed on the island during the Yayoi Pottery Culture period. The Karakami archeological site where the fragment was found is believed to have been a settlement of that nation. "As the dynasty called Zhou did not exist at that time (in China), the kanji was highly likely to have been used for someone's name," an education board official said. "It is a valuable artifact that supports the presence of letters in this time period in Japan." The shape of the bowl indicates that it was produced in an area around China's Liaodong peninsula and then brought to Ikinoshima. The fragment will go on display at the city-run Ikikoku Museum on Jan. 13
http://www.asahi.com/ajw/articles/AJ201801110030.html
NEPAL-
Tilaurakot - An excavation has begun again to identify the main part of King Suddhodan's royal palace where Gauram Buddha was brought up in Tilaurakot of Kapilvastu district. The Department of Archaeology has started the excavation here this week following the geospatial survey in and around ancient historical site. This is the fourth excavation in this place. A team of experts is said to undertake excavation in Tilaurakot and other places related to Gautam Buddha during the 55-day project. The rigorous excavation is expected to identify significant parts of the ancient city of Tilaurakot, said Officer at the Department of Archaeology, Ram Bahadur Kunwar. He further shared that the excavation would be carried out in two places of central complex of Tilaurakot Palace and Samayamai Temple. Earlier, an excavation was carried out in the mid part of Tilaurakot Palace, southern part of pond and Nigradharam Kudan. The Department and the Lumbini Development Trust have been putting their excavation and research in Lumbini and adjoining areas since 2014.
http://english.onlinekhabar.com/2018/01/11/411880.html
INDE –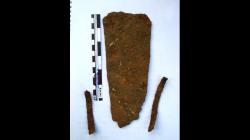 Rajahmundry - State archaeology authorities have found an ancient civilisation along the banks of Godavari river dating back to 10,000 BC in which people used tools from the stone age as well as from the metal age. Excavations being carried out at Rudramkota and Rayanapeta in Godavari districts have revealed broken pieces of pottery, planned burials, crystal beads and copper bracelet. In the wake of submergence of nearly 300 villages under the Polavaram irrigation project, the state archaeological authorities are carrying out excavations in the vulnerable villages to collect ancient relics to conserve and protect them and place them in archaeology museums. In the recent excavations, they have found stone tools, broken pieces of pottery and sophisticated megalithic burials where the bodies of dead were kept in big pots and huge stones with a capstone covering them. In some cases, after burning the bodies, their skeletal remains were placed in pots that were covered with huge stones from all sides with a capstone on top. The authorities were wondering how the huge capstones were lifted manually and placed there. The authorities have also found nearly 150 crystal beads of different shapes and colours. Some were drum-shaped while some were diamond shaped. Most of them were white while some were coloured. In metal age, authorities have found a copper bracelet and a knife made of iron and some tools indicating that the people led a civilized life using tools for varied purposes. The authorities say that using a copper bracelet as an ornament for the fore arm gives an indication that the people were fashion conscious realising what they should wear in terms of ornaments or clothing and also how they should appear to others.
https://www.deccanchronicle.com/nation/current-affairs/110118/rajahmundry-excavations-reveal-tools-crystal-beads.html
INDE –
Bharatihuda - A team of Archaeological Survey of India (ASI) is camping at Bharatihuda under Niali block where excavation has been expedited after recovery of ceramic relics of Prachi river valley civilisation believed to be from the Copper Stone Age. Led by ASI, Bhubaneswar circle Superintending Archaeologist DB Garnaik, the team began excavation on Monday, before unearthing some stones. A comprehensive excavation will be taken up since the Prachi valley civilisation is believed to have flourished at Bharatihuda which is a gigantic mound in Jalalpur village. The five metre high mound is spread over 12 acres. On the basis of the findings, archaeologists claimed that Prachi river valley civilisation flourished 3000 to 4000 years ago at the site. "We first came across the ancient civilisation on the basis of information provided by Purna Chandra Das, a resident of Tampada. After a preliminary analysis, observation and sample excavations in the region for a few days in May last year, archaeologists discovered artifacts used by the people of the ancient Copper Stone Age civilisation from the bank of Prachi river," said Garnaik. At that time, a few items including weapons made of clay and stones, earthen pots, animal and bird bones belonging to Copper Stone Age were found. "The findings had revealed that the civilisation was very ancient," Garnaik said.
http://www.newindianexpress.com/states/odisha/2018/jan/11/odisha-archaeological-survey-of-india-digs-deep-to-unearth-prachi-civilisation-1750514.html
ROYAUME UNI –
Yatton - A burial ground dating back to Roman times and containing hundreds of graves has been uncovered at a site earmarked for housing. Professional archaeologists have been at the site on the fringes of the village of Yatton to carry out a detailed excavation. Around 300 graves are believed to have been discovered at the site and it has been suggested that the finds include a fully intact horse skeleton. The area is known to have been a significant Roman and pre-Roman settlement. On nearby Cadbury Hill, ancient statues were found during excavations in the last century. A geophysical survey was carried out to identify the areas for further investigation
http://www.bristolpost.co.uk/news/local-news/roman-burial-site-300-graves-1032543