12 AOUT 2013 NEWS: Cuba - Montréal - St Maurice - Yeşilova - Williamsburg - Wellingham - Gênes - Rome - Vikramkhol -
12 AOUT 2013 NEWS: Cuba - Montréal - St Maurice - Yeşilova - Williamsburg - Wellingham - Gênes - Rome - Vikramkhol -
INSTITUT SUPERIEUR D'ANTHROPOLOGIE
INSTITUTE OF ANTHROPOLOGY
ONLINE COURSES / COURS A DISTANCE
FALL TERM : OCTOBER 2013
REGISTER NOW 
CUBA - An archaeological census performed by the Anthropology Institute within the Cuban Science, Technology and Environment Ministry has found that the human presence on the island hypothetically dates from between 8,000 and 10,000 years ago. The research uses maps with precise coordinates on the municipality level with the aim of providing a general idea about the aboriginal archaeological situation in the country, and it also includes a series of elements to allow the production of a more finished product: the Aboriginal Archaeological Atlas of Cuba. In compiling Cuba's human settlement history, the indigenous peoples are catalogued as pre-agro pottery (before the 3rd century B.C.E.), proto-agricultural (2nd century B.C.E.) and agro pottery (5th century C.E.) to encompass their diverse sociocultural connections. Archaeologists Jose Jimenez Santander, who is in charge of the census, and the head of the archaeology department at the Cuban Institute of Anthropology, Alfonso Cordova, said that so far more than 3,200 aboriginal archaeological sites have been located on the island. Some of the sites were human dwelling places, as surmised by the presence of food remains and hearths, along with other evidence of tools and trash, all of which show that those sites were inhabited by ancient communities for some time, the experts say. "Others functioned as rest stops, since they are areas ... without evidence of prolonged habitation made by ... mobile communities that moved periodically but repeated their stays, as well as inhabited caves," Jimenez Santander said. He also said that there are signs of the use of caves for ceremonies, burials, cave painting sites, shell workshops to make vessels and other objects, as well as evidence of chipped flint, tools and assorted work rubbish.
http://latino.foxnews.com/latino/lifestyle/2013/08/12/archaeological-census-reveals-human-presence-in-cuba-8000-10000-years-ago/ 
CANADA –
 Montréal  - Le site archéologique se trouve dans le Vieux-Pointe-aux-Trembles. Les archéologues ont trouvé de nombreux artefacts datant de l'épo­que co­lo­niale. Sur un terrain d'environ 335 m2 se trouvait au 17e siècle un bourg fortifié par les Français pour résister aux invasions des Iroquois.Tandis que des morceaux de la palissade qui entourait le bourg ont été retrouvés, les archéologues conservent l'espoir de découvrir des bastions du fort. Les fouilles archéologiques effectuées sur le site et dans les environs depuis 2009 ont permis d'inventorier 7 017 artefacts, auxquels s'ajouteront les objets trouvés cette année, soit environ 3 000 de plus. Parmi les objets extirpés du sol se trouvent des fragments de verres, de vases, de pierres et de pipes, ainsi que des ossements d'animaux. Fabriquée en pierres, cette pipe témoigne du moment où les Européens ont commencé à fumer du tabac, grâce aux activités de traite avec les Amérindiens. Sur le site, on a retrouvé de la céramique Saint-Onge, un produit provenant de France. On a aussi identifié plusieurs morceaux de céramique produite au Québec, lors des années 1700. De petits jouets pour enfants fabriqués de céramique blanche ont été découverts, ils datent des années 1850 ou d'une période plus récente, estiment les archéologues.
VIDEO = http://journalmetro.com/actualites/montreal/351726/fouille-archeologique-au-coeur-de-pointe-aux-trembles/
SUISSE –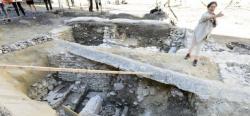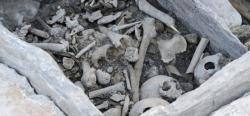 St-Maurice - Les fouilles entreprises à l'occasion de la réfection de la route qui longe l'abbaye de Saint-Maurice ont permis de mettre au jour une partie des murs d'une église. L'importance de la ville de St-Maurice dans l'histoire a certainement été plus grande qu'imaginée jusqu'à présent. Les dernières découvertes archéologiques témoignent d'un site ecclésiastique particulièrement vaste et peut-être d'une église funéraire royale. Les fouilles entreprises à l'occasion de la réfection de la route qui longe l'abbaye ont permis de mettre au jour une partie des murs d'une église. Le bâtiment se prolonge sous l'actuelle église de l'abbaye. Une découverte majeure qui met en lumière le rayonnement de ce haut lieu de la chrétienté, a estimé lundi le conseiller d'Etat Jacques Melly lors d'une présentation du chantier. Ces vestiges correspondent à une petite partie d'un complexe de grande envergure dont les habitations n'ont pas encore été découvertes. Seuls les restes d'un grand bâtiment ont été mis au jour lors des fouilles actuelles. Selon les archéologues, il pourrait s'agir d'un palais, vu sa taille.
http://www.lenouvelliste.ch/fr/valais/martigny/saint-maurice-importante-decouverte-archeologique-494-1208083 
TURQUIE –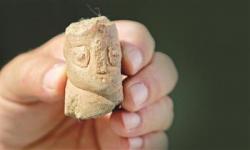 Yeşilova - The head of an 8,000-year-old statue of a goddess has been found during excavations in İzmir's Yeşilova tumulus.  Associate Professor Zafer Derin said they had found very important pieces during this year's excavations, adding that the four-centimeter head of the statue had a special meaning as it was the first of its kind discovered in Turkey.  Women and fertility were sacred in western Anatolian culture, Derin said, adding that the area was the center of the mother goddess culture. "We have the head of a mother goddess figure. We know that worship of mother goddesses was common in this region in the past, but we have found the four-centimeter head of a goddess statue for the first time in Turkey. People used to put this statue in their home to have healthier children. This small piece is a very beautiful one from 6000 B.C." Derin said the name of Anatolia came from the holiness of the mother goddess, according to the view of some, adding that they had seen the same portrayal in pots found in the region. He said another significant find unearthed during the Yeşilova excavations was a seal in the shape of a shoe. "People used to carry this seal with them and use it when a signature was necessary."
http://www.hurriyetdailynews.com/Default.aspx?pageID=238&nid=52338 
USA –  
Williamsburg - Twenty-odd stubs from worn-out slate pencils may not seem that noteworthy in a region so rich with history that significant archaeological discoveries are common. But at the site of the 18th-century Bray School off Prince George and Boundary streets in Williamsburg, they're providing a revealing look at a landmark experiment in black education. Founded in 1760 by William & Mary and an Anglo-American missionary group whose trustees included Benjamin Franklin, the pioneering Bray School is likely to have touched the lives of several hundred young black students over its 14 years, helping give Williamsburg a population of slaves and freemen who were unusually literate. See a video about the Bray School at http://www.dailypress.com
http://articles.dailypress.com/2013-08-11/features/dp-nws-williamsburg-black-school-dig-20130811_1_colonial-williamsburg-mark-kostro-bray-school
ROYAUME UNI –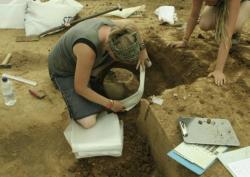 Wellingham - An upright urn, which may contain a cremation burial, has been excavated from the site at Bridge Farm, Wellingham. The six-week dig at the Roman settlement began last month and smaller discoveries include glass beads, coins, lead weights, a stylus for writing on a wax tablet, a ceramic spindle whorl and a complete lower quern stone. Also brooch and glass vessel fragments, Samian pottery with a maker's mark and hundreds of pieces of pottery and tile fragments from the Roman period. CAP Deputy Archaeological Director David Millum said it appeared the urn could possibly very late Romano British or even post-Roman as it sat above the main Roman features – and was caught by the bucket of the mechanical digger when clearing away the topsoils. Mr Millum continued: "With regard to the tile-lined pit/basin we would be very interested in any ideas readers might care to suggest, especially anyone who has worked in or studied rooftile manufacturing.  "The pit appears not to have been designed to hold liquid but to store or mix dry products with the tiles acting as a barrier from the surrounding soil."
http://www.sussexexpress.co.uk/news/local/roman-dig-site-in-wellingham-reveals-treasures-1-5369102
ITALIE – Gênes - An intact Roman ship from the second century B.C. has been discovered off the coast of Genoa in Italy, archaeologists say. The vessel, which contains hundreds of valuable amphorae -- earthenware vessels traditionally used to transport wine -- was spotted by police divers roughly one mile from the shore of Alassio in 160 feet of water, Italy's ANSA news agency reported Friday. The ship is thought to have travelled on trade routes between Spain and what is now central Italy and was loaded with more than 200 clay amphorae likely to have contained fish, wine, oil and grain.
http://www.upi.com/Science_News/2013/08/09/Intact-Roman-ship-complete-with-cargo-found-off-coast-of-Italy/UPI-29381376089380/?spt=hs&or=sn 
ITALIE – Rome - Ignazio Marino, the newly-elected mayor has already angered residents and shopkeepers by banning cars around the Colosseum and restricting traffic to buses and taxis. The mayor of Rome has revealed the next phase of a radical plan to transform the city by reuniting two ancient forums and ripping up theVia dei Fori Imperiali, the grand avenue created by Benito Mussolini that divides them.
http://www.telegraph.co.uk/news/worldnews/europe/italy/10237814/Rome-mayor-in-bid-to-create-biggest-archaeological-park-on-the-planet.html 
INDE –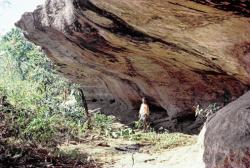 Vikramkhol - At a time when Odia is likely to receive the classical status, the cave inscriptions, believed to be one of the first written scripts in the state, at Vikramkhol lie in utter neglect. Linguists of the state had included the inscriptions as one of the evidences of the genesis of Odia language in a report that was considered by the Sahitya Akademi to grant the classical tag to Odia. The heritage site that dates between 3,000 BC to 4,000 BC (Mesolithic period) in Jharsuguda is facing the threat of fading forever due to authorities' negligence. The rock shelter of Vikramkhol, located 12km from Belpahar, lies in the reserve forest of the Belpahar range. The state's first rock art site, excavated by K.P. Jayaswal in 1933, has a wide range of engravings and paintings of the prehistoric times. Details about the Vikramkhol rock art were published in archaeological journal Indian Antiquary in 1935. Since then, rock art researchers from across the country have been thronging the area. "On studying the engravings, we find out symbols similar to the Brahmi script. This is a major evidence of Odisha's early civilization and scripts," said history professor of Sambalpur University P.K. Behera. Though the Archaeological Survey of India (ASI) has preserved the site, nature and negligence are taking a toll on the inscriptions. "Seepage of rain water into the cave has affected the inscriptions as the rock surface is slowly corroding. The inscriptions have, therefore, begun to fade. Earlier, those were clearer. Now, shapes of the engraved letters are slowly getting deformed and the paintings are losing sheen," said local resident Deepak Panda. The Vikramkhol rock shelter is 37-metre long and 8-metre high. Though geometric figures, characters and running horizontal lines confuse the interpreter, yet local researchers believe that the script runs from right to left such as Arabic. However, vandals have defaced the art by soiling it over the past decade.
http://www.telegraphindia.com/1130811/jsp/frontpage/story_17217786.jsp#.UgkVNZJM_wY