INSTITUT SUPERIEUR D'ANTHROPOLOGIE
 INSTITUTE OF ANTHROPOLOGY
ONLINE COURSES / COURS A DISTANCE
OPEN COURSE : FEBRUARY 2013
HRM 104 : INTRODUCTION TO INTANGIBLE CULTURAL HERITAGE
REGISTER NOW
ITALIE –
 Rome - Italian archaeologists have found brightly coloured fragments of frescoes depicting heroic and erotic scenes inside a corridor of the Colosseum in Rome, along with samples of ancient graffiti.! "We have found traces of decorations in blue, red and green," Rossella Rea, director of the 2,000-year-old amphitheatre, told AFP. The fragments "seem to depict the glory of the gladiator world, with laurels, arrows, victory wreaths and even erotic scenes," the Repubblica newspaper said. The frescoes were found in a corridor currently closed to the public while archaeologists were working to restore an area between the second and third floor of the Colosseum, which has fallen into disrepair in recent years. "We have also found writing dating back to the 17th century as well as the signatures of spectators and foreign visitors" who had come to watch the Colosseum's famed gladiatorial contests and mock sea battles, Rea said. "We hope to be able to find other traces in this corridor but that depends on the funds available to continue with the restoration," she added.  The frescoes are located in an area covering several square feet in a corridor which is around sixty metres long, and should be open to the public by summer 2014, Rea said. The Colosseum, which was completed in 80 AD by the Roman emperor Titus and is now one of the most visited sites in the world, is in a pitiful state.  Bits of stone, blackened by pollution, have fallen off in previous years, and some experts have voiced concern that the foundations are sinking, giving the amphitheatre a lean. The number of visitors to the Colosseum, which measures 188 metres (620 feet) by 156 metres and is 48.5 metres high, has increased from a million to around six million a year over the past decade thanks mainly to the blockbuster film "Gladiator".
http://www.google.com/hostednews/afp/article/ALeqM5gRjbdwcFqEQZ4pE84E5rh90W7zxA?docId=CNG.ecdbeaab85926ee4b764fabce45ac7b1.6a1 
INDE –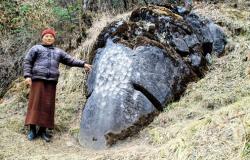 Lohit - It is a search for the ancient history of Arunachal Pradesh and it begins in the lofty hills and river valleys of the scenic Lohit district.  A team of archaeologists will set out on a hunt for pre-historic Buddhist relics in the region, which is expected to shed light on some hidden chapters of history of the region.  Though not much is known about the ancient history of Lohit district owing to paucity of historical evidence, there is evidence of the existence of ruins of ancient settlement, buildings and shrines in certain parts of the district, such as in Daphabum.:"We hope to discover Buddhist stone artefacts," Gupta said, adding that the exploration would be carried out mostly on riverbanks and hills, where human settlements are believed to have once existed. According to Gupta, B.P. Bopardikar from ASI's pre-history branch in Nagpur had found some ruins during an expedition to Lohit district in 1972. Since then, no such work was carried out in the area. Gupta said that Buddhist rock engravings and "cup marks" were discovered at Tak Tsang and Zemithang areas in Tawang district of Arunachal Pradesh during an exploration conducted last year. "An ancient Buddhist stupa, which appears to be modelled after the 13th century Buddhinath stupa in Nepal, was discovered at Zemithang in Tawang district," he said. "A figure of Buddha seated on a lotus pedestal in a meditating posture carved on a cliff of rock with local dialect venerating him was also found 30km west of Zemithang," he said.  A team of ASI officials led by Gupta also surveyed Lungphulian, Zotlang, Lianpui, Vangchhia, Dungtlang and Farkawn areas in Champai district of Mizoram last year to assess the archaeological potentiality of the region. "We found a large number menhirs (a large stone set upright as a memorial or monument in the ancient period) at Vengchhia, which will be protected by the ASI," he said. These menhirs put Mizoram on the ASI's map of protected sites in 2012 — a first for the northeastern state. The relics at Vengchhia satisfy all criteria required to become eligible for central protection. Mizoram was the only state in the region that did not have a single site protected by the ASI.
http://www.telegraphindia.com/1130112/jsp/northeast/story_16432310.jsp#.UPG1cyfX62Y
ROYAUME UNI – Lomond -  A two-mile stretch of land between Arrochar and Tarbet could hold vital clues to the Vikings' occupation of Scotland.  An archaeological project hopes to shed new light on how the Vikings used the narrow isthmus between Loch Lomond and Loch Long to expedite their notorious plundering exploits. The fierce Norsemen are said to have dragged their boats across the isthmus - now the route of the busy A83 - to raid the rich Lomond settlements before encountering defeat at the Battle of Largs in 1263. The group will employ a project co-ordinator with school involvement workers, and will be helped by experts, including national Viking specialist and local resident Dr Colleen Batey from Glasgow University. The project - called The Hidden Heritage of a Landscape: Vengeful Vikings and Reckless Rustlers -  aims to uncover evidence of how this significant strip of land has been used in the past, both before and since the Vikings. It also aims to train people in archaeological techniques and to promote the landscape's rich cultural heritage.
http://www.helensburghadvertiser.co.uk/news/thisweek/articles/2013/01/12/443365-dig-will-root-out-secrets-of-viking-past/ 
TURQUIE –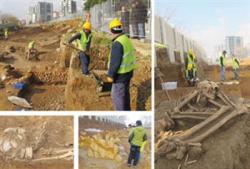 Pendik - Remains belonging to a village from the Neolithic period have been discovered in Istanbul's Pendik district during excavations under the authority of the Istanbul Archaeology Museum, daily Radikal has reported.  The 8,500-year-old foundations of houses, graves, and waste pools were unearthed as construction continues to enlarge the current railway as a part of the Marmaray project between Gebze and Pendik.  The village is reportedly located 50 meters away from the coast and around 1,500 meters from the district center.  Sea shells found in the uncovered waste pool reportedly show that people living in the area in Neolithic period had been eating seafood. Personal material, including hand axes, needles and spoons made of bones, and pots from the Byzantine period, were also found in the graves, the report said. Officials from the Archaeology Museum said they were working to clarify whether there was a relationship between the people of that era living in Pendik and Yenikapı, where excavations in another Neolithic period area, which was found when construction of the Marmaray began, have been ongoing for eight years.
http://www.hurriyetdailynews.com/8500-year-old-remains-discovered-in-istanbul-during-excavations.aspx?pageID=238&nid=38750