INSTITUT SUPERIEUR D'ANTHROPOLOGIE
INSTITUTE OF ANTHROPOLOGY
ONLINE COURSES / COURS A DISTANCE
FALL TERM : OCTOBER 2017
REGISTER NOW
EGYPTE -
Draa el-Naga - Egypt has announced the discovery in the southern city of Luxor of a pharaonic tomb belonging to a royal goldsmith who lived more than 3,500 years ago during the reign of the 18th dynasty. The tomb is located on the west bank of the river Nile in a cemetery where noblemen and top government officials are buried. Antiquities minister Khaled el-Anany said the tomb is not in good condition, but it contains a statue of the goldsmith and his wife as well as a funerary mask. He said a shaft in the tomb contained mummies belonging to ancient Egyptian people who lived during the 21st and 22nd dynasties.
VIDEO = https://www.reuters.com/video/2017/09/09/egyptian-archaeologists-discover-3000-ye?videoId=372502511&videoChannel=1&channelName=Top+News
http://www.itv.com/news/2017-09-09/archaeologists-discover-3500-year-old-tomb-in-egypt/
TURQUIE –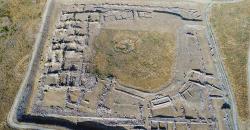 Kültepe - Clay tablets dating back 4,000 years show the beginnings of writing and literacy in ancient Anatolia, in the middle of modern-day Turkey, according to researchers. Excavations at an ancient mound in the central Anatolian province of Kayseri shed light on writing from around 2,000 B.C., said Fikri Kulakoğlu, a professor of archeology at Ankara University and head of the excavation team. Throughout the 70 years of excavations at Kültepe mound, located 25 kilometers northeast of Kayseri, 23,000 cuneiform-script tablets have been found."Excavations have been ongoing in Kültepe for 70 years but Kültepe has been known in the world literature since 1871. The most important reason it is well-known is because these cuneiform tablets were created by the Assyrian and Anatolian traders in Kültepe, especially in Karum. There are nearly 23,000 and most of them are on display at the Museum of Anatolian Civilizations in Ankara. Some 1,000 tablets are in the Istanbul Archaeology Museum and the rest are in the Kayseri Archaeology Museum," he said."Anatolian people learned how to read and write in Kültepe. The first-ever literate people in Anatolia are from Kayseri," said Kulakoğlu and added that these were the first written tablets in Anatolia. Many of the tablets excavated are exercise tablets, apparently used by children to practice their writing. The reading exercises in scripted tablets are signs of school-like instruction, he said. Alongside the practice tablets are ones used for trade or business, Kulakoğlu said. The tablets were used to record anything "valuable," he explained. "These tablets show that local merchants made their presence in Anatolia alongside the Assyrians," a people from a civilization in ancient Mesopotamia, he said. Kulakoğlu added that the clay tablets excavated from Kültepe are among the rarest in the world. Kültepe has been a candidate for the UNESCO World Heritage List since 2014. According to UNESCO's website, the site of Kültepe was the capital of the ancient Kingdom of Kanesh and center of a complex network of Assyrian trade colonies in the 2nd millennium B.C.
http://www.hurriyetdailynews.com/ancient-writing-in-turkey-dates-back-to-2000-bc.aspx?pageID=238&nID=117728&NewsCatID=375
ROYAUME UNI –
Vindolanda- Dig team stumble across thousands of pristine artefacts at ancient Vindolanda garrison site in Northumberland. A Roman cavalry barracks has been unearthed near Hadrian's Wall, complete with extraordinary military and personal possessions left behind by soldiers and their families almost 2,000 years ago. A treasure trove of thousands of artefacts dating from the early second century has been excavated over the past fortnight. The find is significant not just because of its size and pristine state, but also for its contribution to the history of Hadrian's Wall, showing the military build-up that led to its construction in AD122. The barracks pre-dates the wall: the Romans already had a huge military presence in the area, keeping the local population under control. Archaeologists stumbled on the site by chance and have been taken aback by finds in a remarkable state of preservation. These include two extremely rare cavalry swords – one of them complete, still with its wooden scabbard, hilt and pommel – and two wooden toy swords. One has a gemstone in its pommel. As well as other weapons, including cavalry lances, arrowheads and ballista bolts – all left behind on the floors – there are combs, bath clogs, shoes, stylus pens, hairpins and brooches. Sections of beautifully woven cloth have also been unearthed. They may have come from garments and have yet to be tested. There are also two wooden tablets covered in marks made in black ink. They are thought to be letters, but their contents have yet to be deciphered as they were rushed into a conservation laboratory to ensure their survival. The barracks, which dates from AD105, was found beneath the fourth-century stone fort of Vindolanda, south of Hadrian's Wall near Hexham, Northumberland. It is one of the site's earliest barracks. Hadrian did not begin his 73-mile defensive barrier – to guard the north-western frontier of the province of Britain from invaders – until 122. The artefacts survived because they were concealed beneath a concrete floor laid by the Romans about 30 years after the barracks was abandoned, shortly before 120. The concrete created oxygen-free conditions that helped preserve materials such as wood, leather and textiles, which would otherwise have rotted away.
https://www.theguardian.com/uk-news/2017/sep/09/hadrians-wall-lost-secrets-roman-vindolanda-unearthed
ROYAUME UNI –
Riseholme - A hoard of more than 280 gold and silver coins from the time of the Roman invasion of 
Britain has been unearthed by two metal detectorists.Dr Adam Daubney, finds liaison officer at Lincolnshire County Council, said: "Many of the coins in the hoard are stamped with names of people that we believe were local rulers. These are some of the earliest personal names ever recorded from the region."
http://www.granthamjournal.co.uk/news/harlaxton-detectorist-finds-hundreds-of-gold-and-silver-iron-age-coins-1-8141254
INDE –
Vedapatti - Examination of the antiquities, including ancient urns, though broken pieces, recently found at Vedapatti tank near Perur in Coimbatore, revealed that they belonged to the Sangam Age and had the unique inscription of 'burial urn'. According to R Sivanantham, Deputy Superintending Archaeologist, "A comparative analysis of the antiquities found at Vedapatti shows that they are 2,000 years old and belonged to the Sangam period, identified with Iron Age." One of the broken portions of an urn-of the size of 10.5 cmx6 cm- found in the site bore a two-line inscription made in Tamil Brahmi letters. A careful study of the letters by two experts, K Rajan, Professor of History, Pondicherry University and R Poonguntran, a retired official of State Archaeology Department, deciphered it as 'eemathazi' with the last letter denoting the name of a person. The term 'eemathazhi' has reference in a popular Sangam poetry 'Purananuru'. "The antiquities assume significance as it is for the first time that an ancient burial urn inscribed with 'eemathazhi' is found in Tamil Nadu and date back to 2000 years," Sivanantham told Express. One of the urns collected from Vedapatti had a one-feet long bone in ash colour. The archaeologists also found red ware and black and red wares-potsherds. Two 'ring stands' were also found. One was red in colour while the other was red outside and black inside. Another significant finding in the site was a 'did' ( a bowl) painted in white. The archaeologists also found red ware and black and red wares-potsherds, two 'ring stands'- one in red and other red outside - and a 'did' ( a bowl) painted in white
http://www.newindianexpress.com/states/tamil-nadu/2017/sep/09/urns-found-in-tamil-nadus-coimbatore-of-sangam-age-vintage-say-experts-1654449.html