INSTITUT SUPERIEUR D'ANTHROPOLOGIE
INSTITUTE OF ANTHROPOLOGY
ONLINE COURSES / COURS A DISTANCE
FALL TERM : OCTOBER 2013
REGISTER NOW 
ISRAËL –
 Herodium - While attention is focused on a blockbuster exhibition purporting to display the tomb of Herod the Great, two archaeologists claim there's no way the egomaniac king was interred there. In May 2007, at a dramatic press conference, archaeologist Ehud Netzer revealed that King Herod's tomb had been discovered on the slopes of Herodium. Now two archaeologists argue that what was found there can't be Herod's last resting place.
http://www.haaretz.com/archaeology/.premium-1.551881 
CHINE –  Beidazhao Qiandong - Archaeologists have unearthed about 300 pieces of cultural relics from a cluster of ancient tombs in north China's Hebei Province.  The tombs, located in Beidazhao Qiandong village of Nanhe County, 150 km south of the provincial capital of Shijiazhuang, are believed to be from the middle and late West Han Dynasty (206 BC- 24 AD) and middle Tang Dynasty (618-907), archaeologist Li Lianshen was quoted as saying by state-run Xinhua news agency.  Archaeologists have discovered 73 tombs altogether since the excavation started in May and more than 4,000 square meters of land have been combed through, Li said.  The relics are mostly pottery, chinaware and bronze ware that were used in daily life, Zhang Xiaozheng, head of the excavation, said.  Judging from their shape and structure, the tombs are likely to belong to ordinary families, he said.  About 10 more tombs are yet to be excavated, he added.
http://www.business-standard.com/article/pti-stories/ancient-tombs-discovered-in-china-113101100547_1.html
TURQUIE –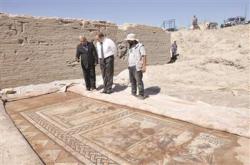 Tarsus - The mosaics from an ancient Roman city that were revealed last year during the construction of a district bazaar in the southern district of Tarsus will soon be moved to a museum for protection, according to officials. "During the final excavations in the historic area, we found floor mosaics with human figures. We will move these mosaics to the Tarsus Museum," said Tarsus District Gov. Hasan Göç. The official said the ancient city, had many earthen pots, medical tools, sculptured figures and oil lamps.  He also said the excavation works had revealed a 52-meter-long and four-meter-high water storage system, as well as an ancient fountain and pool.  Göç said the scientific excavation works were still continuing. "After the revelation of a Roman cistern, the Tarsus Museum directorate began work with the support of the Culture and Tourism Ministry. As part of the rescue excavations, a floor mosaic was found in the eastern part of the cistern. The mosaic has a sundial figure and is believed to be a palace bath from the Roman era."
http://www.hurriyetdailynews.com/ancient-mosaics-found-in-tarsus-to-move-into-museum-.aspx?pageID=517&nID=55953&NewsCatID=375