INSTITUT SUPERIEUR D'ANTHROPOLOGIE
INSTITUTE OF ANTHROPOLOGY
ONLINE COURSES / COURS A DISTANCE
SUMMER TERM : JULY 2013
REGISTER NOW 
INDE –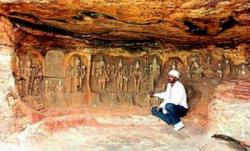 Badami - Rare sculptures dating back to the Chalukya dynasty found in cave in the historic town of Badami in Bagalkot district are evoking a lot of interest among tourists and experts alike. Impressed historians are demanding preservation of the  sculptures  found on a hillock nearly half-a-kilometre from  the existing four Badami caves. As many as 27 incarnations of God Vishnu have been sculpted in the cave, besides the images of various birds and animals.  It is believed that several sages  lived in the area in the 6th and 7th centuries and the then rulers carved these sculptures to create a congenial environment for them to meditate it in.  The venue has earned the name Arali Theertha as it is home to a small pond built for the sages. But as the site is in a state of neglect, historians are demanding that the authorities provide basic amenities, including proper roads around it. "The new cave and sculptures have not been mentioned in the book by research scholar George Michell or the Bagalkot gazetteers. The details of the site are also not found in the research book of any international historian. So the Archaeological Survey of India needs to creat awareness about the cave temple to attract more tourists,"  says assistant director, information department, Majunath Sullolli Sullolli who has done research on the many historical monuments of Bijapur and Bagalkot districts.
http://www.deccanchronicle.com/130609/news-current-affairs/article/chalukyan-sculptures-found-badami
USA –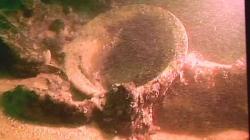 Queen Anne's Revenge -  He was a real-life pirate of the Caribbean and his reputation was known and feared.  Now, almost 300 years after his death, marine archaeologists have been recovering artifacts from Blackbeard's flagship, the Queen Anne's Revenge, located just off the North Carolina coastline.  The items recovered will go through an extensive conservation effort before going on public display. This week, divers are scheduled to head back to the wreck site, in hopes of bringing up more artifacts. If divers are successful in lifting more cannons from the QAR site, they would join more than a dozen other cannons that have been retrieved since the wreckage was discovered in 1996. However, since they have been underwater for almost 300 years, everything is encrusted with a substance similar to concrete. Many of the items recovered are called artifact conglomerates, or clusters of metallic objects, which have stuck together as they deteriorated. All of the wreck site has been explored, and more than half of the artifacts have been recovered.  In addition to bringing up large items, the teams have been affixing experimental zinc anodes to any large metal items they are not yet able to recover. The devices will conserve the artifacts before they can be brought to the surface by slowing, and possibly even reversing, the process of corrosion.
http://www.wect.com/story/22550086/divers-ready-to-recover-more-queen-annes-revenge-artifacts
ISLANDE -
 Hrafnseyri  - An archeological find last summer in the churchyard at Hrafnseyri in Arnarfjördur suggests that bones found are from 1020 to 11000. Hrafnseyri is famous in Icelandic history. Jón Sigurdsson (1811-1879), Iceland's independence hero was born there on June 17, 1811. In the 13th century Hrafn Sveinbjarnarson, a doctor and a well-respected leader in the Westfjords lived in Hrafnseyri. Archeologist Margrét Hallmundsdóttir tells bb.is that "the bones are from the first one hundered years of Christianity in Iceland and the man is buried out by the churchyard wall. This suggests that the church and the yard are from the year 1000 [the year Christianity was adopted in Iceland]. One sees the rest of ruins on the surface, but one does not know if there are older ruins below. There was a little left of the skeleton, parts of a skull and teeth, and it was probably and older individual, since the teeth were used up, and we guess a male because of where he was buried in the churchyard." Margrét goes on: "It is possible that this individual was from the lower classes since the bones are on the outer part of the graveyard, but it is difficult to be certain." The archeological research also recovered a small hut that Margrét thinks might have been a "kvennadyngja" a special house for women, often mentioned in the Icelandic Sagas. "We can see that people ate in the house and we see an open fireplace. Women used to work in this place. The "kvennadyngja" was used for a while, but suddenly people stopped using them and the women started working in the main farmhouse. Similar ruins have been found all over Europe, in the Nordic countries and Germany."
http://www.icelandreview.com/icelandreview/daily_news/Archeological_Find_A_Thousand_Year_OldChurch_0_400750.news.aspx