INSTITUT SUPERIEUR D'ANTHROPOLOGIE
INSTITUTE OF ANTHROPOLOGY
ONLINE COURSES / COURS A DISTANCE
SPRING TERM : APRIL 2015
REGISTER NOW
RUSSIE –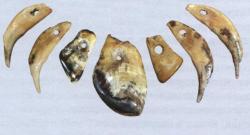 Denisov Cave - The most ancient artifact ever found in Eurasia was discovered in the Denisov cave in Altai Territory in early February 2015, says Science in Siberia magazine, which is published by the Siberian branch of the Russian Academy of Sciences. It is a pendant of elk teeth. It is at least 40,000 years old, and likely much older than that. According to Andrei Krivoshapkin, a researcher at the Institute of Archaeology and Ethnography at the Siberian branch of the Russian Academy of Sciences, it is the earliest such artifact ever discovered in Eurasia. According to him, ancient people would wear such pendants for a specific reason. "One of the hypotheses of why art appeared was that it provided identification of a person as a member of one or another group," said Krivoshapkin. "However, the sense of beauty cannot be ignored." For Krivoshapkin the main question he would like to answer is who produced the artifact in this period in Altai. "Did the Denisov man evolve, or it was it the work of modern man? But, again the main question is where did he come from?" So far, he notes, there is no clear idea about when modern man appeared in the Altai region. Siberian researchers consider the discovery of this pendant the most important scientific find of the season.
http://rbth.co.uk/news/2015/02/10/oldest_artifact_ever_found_in_eurasia_an_elk_tooth_pendant_discovered_in_43581.html
BELGIQUE –
 Waterloo - An international team of archaeologists specialized in battlefield excavations is headed for Waterloo in Belgium on the 200th anniversary of Napoleon's famous defeat at the hands of British and Prussian forces.Tony Pollard, head of the Centre for Battlefield Archaeology at the University of Glasgow, said in a statement that the excavations starting in April will allow a better understanding of the confrontation. "We hope archaeology can provide answers to many of the questions about Waterloo that remain unanswered," Pollard said on Monday. "These include the location of graves, which from accounts appear to have been scattered across a wide area," he added. Tens of thousands of bodies are believed to have been buried in mass graves at the site after the June 18, 1815 clash which forced Napoleon into exile.
http://post.jagran.com/archaeologists-head-to-waterloo-to-excavate-mass-graves-1423540315
EGYPTE – Assouan - The Egyptian Antiquities Ministry said in a statement on Monday that an American-Belgian archaeological mission succeeded in converting the digital images of the petroglyphic engravings of King Cheops in the far southern desert of Aswan into three-dimensional inscriptions. Cheops was a pharaoh of the Fourth Dynasty (2613-2494 BC) known as the builders of the pyramids. Antiquities Minister Mamdouh al-Damaty said the inscriptions shed light on the activities of King Cheops in Upper Egypt, adding that the archaeological documentation of these inscriptions with a new technology is of great importance. Dirk Hoag of the Brussels Arts and History Museum said the new technique facilitates the copying of petroglyphs, explaining that the engravings were digitally captured from various angles and merged into accurate three-dimensional models on a computer tablet. He added that the engravings include a large plate dating back to 3500 BC, a boat led by a falcon, an inscription with the name of Horus and plate bearing the name of King Cheops.
http://www.egyptindependent.com//news/american-belgian-archaeological-mission-turns-king-cheops-petroglyphic-engravings-3d-inscriptio
ROYAUME UNI –
 Lawford – Roman pottery has been found in Lawford giving evidence of a settlement in the area. A kiln and hoards of pottery have been found at the site of the new Summer's Park development in Lawford during a pre-build dig. he Colchester Archaeological Trust has spent four weeks excavating sections of a field off Cox's Hill before Rose Builders starts work on a 150 home estate. It is thought to be the first time evidence of a settlement has been discovered but a Roman road is said to have been built between Colchester and Mistley - possibly for a ferry crossing across the River Stour. Nigel Rayner, who has been managing the dig, said: "We found a pottery kiln with just the base left and this week we found a whole waste pot with cracks in it. "There is loads of pottery in some of the ditches and it would suggest there would have been habitation nearby.",,The artifacts will then be taken to the trust's base for cleaning.
http://www.braintreeandwithamtimes.co.uk/news/north_essex_news/11775090._/?
PANAMA - Caribbean coast - Panama is a top center for underwater archaeological exploration because of the many wrecks off its Caribbean coast, most of them Spanish colonial-era ships, archaeologist Carlos Leon Amores told Efe.During colonial times, most of the precious metals and other trade goods from Central and South America were transported to Panama to be loaded on ships sailing across the Caribbean Sea and the Atlantic Ocean to Spain. Imports from Europe came back via the same routes and pirates of different nationalities preyed on the ships. "There was a very intense maritime trade between the 16th and 19th centuries," Leon Amores said. "We have investigated 87 wrecks, 56 of them being Spanish vessels, and most of them are located in the areas of Portobelo and Nombre de Dios" off Colon province, located 80 kilometers (50 miles) from Panama City, in Caribbean waters, the marine archaeologist said.
http://latino.foxnews.com/latino/entertainment/2015/02/09/panama-caribbean-coast-is-no-1-in-undersea-archaeological-treasures/