11 AVRIL 2015 NEWS: Goytapa - Khammam - Nakum - Brightlingsea - Nine Mile Canyon -
11 AVRIL 2015 NEWS: Goytapa - Khammam - Nakum - Brightlingsea - Nine Mile Canyon -
INSTITUT SUPERIEUR D'ANTHROPOLOGIE
INSTITUTE OF ANTHROPOLOGY
ONLINE COURSES / COURS A DISTANCE
FALL TERM : OCTOBER 2015
REGISTER NOW
AZERBAIDJAN –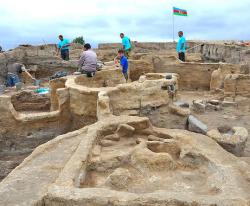 Goytapa - The archaeological site of the Neolithic period Goytapa is the biggest settlement relating to the early Neolithic period in Azerbaijan and South Caucasus. The settlement which covers an area of more than 2 hectares, was discovered in 2006 by an archaeological expedition of the Azerbaijani Archaeology and Ethnography Institute, the National Academy of Sciences and French experts. A radiocarbon analyses at the site revealed that the Goytapa settlement dates back to the sixth millennium BC. This means that Tovuz has a history of urban culture dating back eight millennia. The settlement's exceptional importance consists in studying the main features of development processes in the region during the Neolithic period. Scientists have already explored construction techniques and social structure - way of life - during period. Archaeological sites such as Goytapa are internationally believed to be the starting point of primary civilization, the period, when primary urban culture started to emerge and people began to live in compact settlements.
http://www.azernews.az/travel/80195.html
INDE –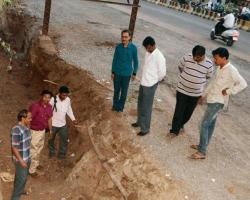 Khammam  - A megalithic cist burial was found abutting the main road in front of SR&BGNR Government Degree and P G College by workers while they were digging a pit as part of the ongoing road widening works here on Thursday. The sprawling college campus has over 20 megaliths scattered randomly across the complex. Various historical objects including pottery, iron implements and skeletal remains were earlier discovered from the megalithic site during an archaeological excavation conducted on the premises of the campus in 2012.Meanwhile, some faculty members of the History Department of the college informed the officials of the Department of Archaeology and Museums and other allied departments about the discovery of a megalithic cist burial in front of the college during road expansion works on Thursday. They prevailed upon the workers engaged in the road widening operation to refrain from digging at that particular site to avoid damage to the megalithic monument. They sought the intervention of the district authorities to ensure retrieval and preservation of the archaeological remains.
http://www.thehindu.com/news/national/telangana/megalithic-monument-unearthed-in-khammam/article7087591.ece?utm_source=RSS_Feed&utm_medium=RSS&utm_campaign=RSS_Syndication
GUATEMALA –
 Nakum - Maya cities are known to have managed water; their existence in areas prone to seasons of excessive rainfall and long dry spells demanded it, but have these systems of water channels, aqueducts and reservoirs been viewed simply as utilitarian civil engineering? Recent excavations at the Maya site of Nakum in north-east Guatemala have revealed that the Maya might have had a more nuanced and symbolic approach to water and its management, one that reflected their belief system, replicated their interpretation of the cosmos and facilitated the use of water in ritual architecture and the display of power.
http://journals.cambridge.org/action/displayAbstract?fromPage=online&aid=9635019&fileId=S0003598X1400009X
ROYAUME UNI –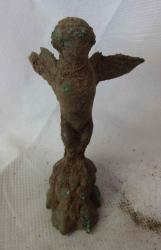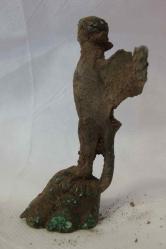 Brightlingsea - On Wednesday (1st April), the Trust completed our archaeological excavation at Moverons Quarry in Brightlingsea. In September 2014, we also made a remarkable find on the site. Now that we have finished our fieldwork there, we would like to share the find with you. It is a bronze Roman figurine, about four inches high, of an upright bird with a human head. Trust archaeologist Ben Holloway made the discovery, in the top part of the fill of a field-boundary ditch. We excavated fragments of Roman pottery and imbrex(roof-tile) from the same context. The figurine is at a secure location but has not yet been sent away for conservation or to be studied by a specialist, so our preliminary comments here are purely speculative! Trust senior archaeologist Howard Brooks thinks that it is an intriguing find: we don't know if it was lost, displaced, discarded, or deposited as a votive in a burial or at a shrine. We think that the figurine represents a harpy. It is quite finely detailed, and is in the form of an upright bird with a woman's head and with small wings which are fully open. The figure has feathers and talons, and braided hair; however, it seems to have a serpent's tail which functions as a support. It is standing on a damaged base and also seems to have been attached at the top of the support. A harpy was a figure in Greek and Roman mythology and harpies are often represented in ancient art and literature. There were three harpies: they were the daughters of Thaumas (son of the sea) and Electra (daughter of Oceanus) in Greek mythology. Their names were Aello, Ocypete and Celaeno. The harpies originated as beautiful winged women, goddesses, but over time they developed into monsters. They were spirits of the wind or storm winds. They were employed by the gods to punish or carry wrong-doers to the Underworld, or as messengers from the Underworld. Trust archaeologist Emma Holloway thinks that the figurine is similar to two figures which decorate the two front corners of a small, portable, domestic Roman brazier or grate for indoor use, at Pompeii.
http://www.thecolchesterarchaeologist.co.uk/?p=19296
USA –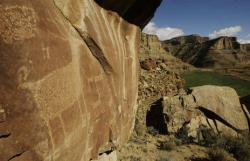 Nine Mile Canyon - A Gate Canyon site is well preserved in Nine Mile Canyon, Utah, Tuesday, Oct. 26, 2010. The executive director of a nonprofit archaeology organization says the vandalism that was recently discovered at a primitive rock shelter in Utah's Nine Mile Canyon is one of the weirdest things he's ever seen.
http://www.deseretnews.com/article/865626007/Primitive-rock-shelter-vandalized-in-Nine-Mile-Canyon.html