INSTITUT SUPERIEUR D'ANTHROPOLOGIE
INSTITUTE OF ANTHROPOLOGY
ONLINE COURSES / COURS A DISTANCE
FALL TERM : OCTOBER 2013 
REGISTER NOW
BULGARIE –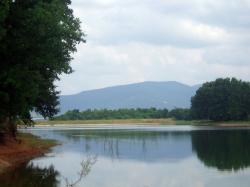 Lac Ticha - The dry spell characterizing Bulgaria for the past two months has resulted in an unexpected archaeological discovery, with the remains of a 7000-year-old defensive wall emerging from the waters of the Ticha accumulation lake near the town of Shoumen in northeastern Bulgaria.  The wall is more than five meters tall, made of rocks that are being held together by clay. The wall has an arrowslit and appears to be better built than other fortifications dating back to the same period in this part of Europe, historian Stefan Chohadjiev from Veliko Tarnovo University told Bulgarian National Television.  On the southern approach of the hill, the fortification is at its strongest, with three parallel lines of defence built to repel attackers. The inhabitants of the stronghold appear to have been a frequent target of attacks, this being the most likely reason why its defences have been built up, instead of featuring only the more traditional moat, according to Chohadjiev. Inside the wall, the remains of a village that had been inhabited for several centuries can be found. According to Mr. Chohadjiev, this was probably the stronghold of the local warlords who ruled the surrounding vale. The items found on the site, including luxury items (marble and jade jewellery) and military equipment, appear to confirm such a hypothesis, he said. The wall had been rebuilt at least once, after parts of it collapsed inward, likely as a result of an earthquake, destroying several nearby homes.
http://www.archaiologia.gr/en/blog/2013/09/11/sunken-prehistoric-village-emerges-from-water/ 
ROYAUME UNI –
 Salford - The University of Salford's archaeology department and local people are to excavate a park in Salford that contains a historic home designed by the architect of the Houses of Parliament.  The site, Buile Hill Park, situated off Eccles Old Road, is made up of two former estates which each contained a mansion house. One of them, Buile Hill, still stands in the centre of the park and is a Grade II Listed Building. Built in the 1820s, Buile Hill was designed by Charles Barry, future architect of the Houses of Parliament, at the behest of Thomas Potter, a Manchester linen draper. A second mansion house, Hart Hill, once stood towards the north-west of the park but was demolished in the early 20th century. It had been built in 1859 for James Dugdale, a merchant, and comprised a house in Elizabethan style with adjoining service rooms, a glasshouse and conservatory together with a yard and coach houses. The house built by James Dugdale replaced an earlier structure, shown on a map of 1815 as the property of a Mr Simpson. It was situated in wooded grounds and by the 1840s was approached via a lodge on Eccles Old Road. This residence in turn probably replaced an earlier farmhouse. 'Harts Hill' is mentioned in the Eccles parish registers as far back as the 17th century. 
http://manchestergazette.co.uk/archaeologists-excavate-historic-salford-home/ 
USA –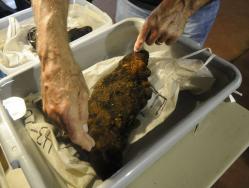 Wellfleet - The wreck of the eighteenth century pirate ship Whydah lies just off the coast of Wellfleet. Over two hundred thousand artefacts have been discovered on the wreck. 
VIDEO = http://capeandislands.org/post/new-discoveries-whydah-shipwreck 
IRAK –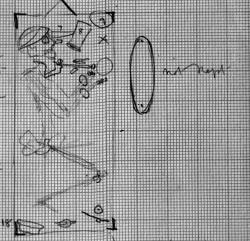 Ur  - Tens of thousands of artifacts were uncovered in the twelve years of excavation at the ancient city of Ur, from 1922-1934. The Ur of the Chaldees project, with lead funding from the Leon Levy Foundation, is still uncovering exactly where each of them went, piece by piece. It is a difficult but fascinating process, one in which we must reconstruct not just the procedures governing the recording and distribution of objects, but also recreate conditions and mindsets of the day from letters, photos, diaries, and any other information we can acquire. Understanding how and why Woolley assigned numbers to objects is vital since he did not consistently record every piece. Therefore, objects without a direct paper trail exist in all of the primary museums involved in the excavation. – 
http://www.penn.museum/blog/museum/ur-digitization-project-august-2013/#sthash.6Y5a5DAN.dpuf
TURQUIE –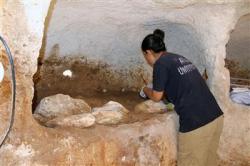 Midyat - Construction in the southeastern province of Mardin's Midyat district has unearthed ancient rock tombs that are believed to date from the pagan era between the third and second centuries B.C.  The tombs were discovered during construction works that were being conducted to enlarge a road heading to a tent city erected for Syrian refugees.  A total of four rock tombs were initially discovered, but subsequent excavation work at Mor İbraham Church and other venues revealed an additional 11 tombs, some with human skeletons. There are skeletons, as well as effects belonging to the people and gifts bestowed upon them posthumously buried there indicating that they came from a pagan culture. The tombs date from Roman times, said Erdoğan, adding that that the grave sites were in extremely good condition. "This area has been taken under protection and declared an archaeological area," he said, noting that the tombs were very important in terms of casting light on the ancient era. "There are many works from the fifth century [A.D.], but for the third and second century [B.C.] we do not have enough information." The excavations works that are continuing in the area are expected to show and reveal other areas in which the family was buried in ancient times. Until now, bracelets, teardrop bottles and necklaces have been found. The findings will later be analyzed and dispatched to a museum to be displayed. Midyat, a prominent site for Syriac culture, has many attractions such as the Mor Sobo Cathedral, which served as the center for Syriac metropolitans for nine centuries, as well as the Virgin Mary Church, which is located near a 2,000-year-old monument.
http://www.hurriyetdailynews.com/pagan-era-rock-tombs-unearthed-in-southeastern-part-of-turkey.aspx?pageID=238&nID=54105&NewsCatID=375
ROYAUME UNI –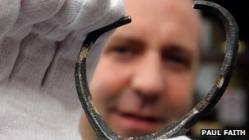 Kircubbin - A man who found a dirty piece of metal in a field has discovered he is actually the lucky owner of a silver Viking ring. David Taylor, from County Down, Northern Ireland, discovered a bracelet-shaped object while helping lift stones from a field. His wife thought it was a bull ring and told him to throw it out. The artefact is thought to date from sometime between the 10th and 12th Centuries. Such finds are not usually made in Ireland and it is thought the ring may have originated in Shetland or the Orkney isles which were ruled by Vikings at that time. Vikings often used jewellery as a form of currency before they adopted coins. According to University College Cork archaeologist John Sheehan the ring was found close to the remains of a medieval church. Mr Sheehan told the coroner's court that religious sites were often used as a storage place for valuable items. He suggested the ring may have been stolen from Viking settlers by the native Irish.
http://www.bbc.co.uk/news/uk-northern-ireland-24013530